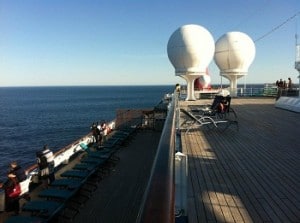 Congratulations to MTN Satellite Communications (MTN), the leading global provider of maritime communications for celebrating the 15-years of its Internet solution aboard cruise ships. Since 1999, more than 150 million passengers and crew members have logged in to the Internet to stay connected in some of the most remote locations around the world.
"Over the past 15 years, the communications landscape has changed dramatically, forcing cruise lines and communication providers to revisit how Internet enabled devices are being used by passengers and crew," said Brent Horwitz, Senior Vice President and General Manager of Cruise & Ferry Services at MTN Satellite Communications. "As a pioneer in the industry, we are evolving the Internet Cafe, not just in functionality, but in how to charge onboard. We consistently look for reliable ways to keep crew and passengers connected via their mobile devices, while also considering the price, speed and overall user experience."
MTN continues to evolve and meet cruise passenger's needs. Mostly recently MTN launched the Connect at Sea mobile application (currently available on Oceania Cruises), making it more affordable to stay connected back home while at sea.
Subscribe to our Cruise News Updates.