Cruise lines have always been fairly regimented regarding dining times. Eat around six or eight thirty.
So what if you want to stay at the resort a little longer, drink another pina colada on the beach or watch the sunset into the ocean….. will you miss dinner totally?
This post comes from a phone call I received today asking about the dining options.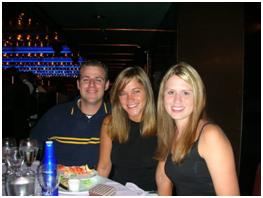 First off let's get the jargon straight.
My Time Dining: Royal Caribbean's phrase for flex dining between 6:00 pm and 9:30 pm. RCCL offers My Time Dining on the following ships: Oasis of the Seas, Legend of the Seas, Enchantment of the Seas, Brilliance of the Seas, Freedom of the Seas, Serenade of the Seas, Monarch of the Seas, Jewel of the Seas, Radiance of the Seas and Independence of the Seas.
Your Time Dining: Carnival coined this phrase for their flexible dining option. You can walk up and eat pretty much at any time between 5:45 pm and 9:30 pm. Currently Your Time Dining is available on the following ships: Liberty, Legend, Sensation, Fantasy, Paradise, Miracle, Conquest, Ecstasy, Elation, Pride, Spirit, Dream, Victory and Freedom.
The menus for these dining options are typically the same as the main seating, the meals are served in the general (main) dining area and once you started eating, no additional guests will be seated at your table (awesome). There is also a maximum guest limit for flex dining, so book early!
You must sign up for these dining options and pre-pay your gratuities.