On my last cruise I really wanted to do something that I haven't done before while visiting Nassau, Bahamas. I mean, I've been there a couple dozen times and my liver and wallet can only handle so much Senior Frogs!
Enter Melia Nassau Beach
This time I did a little research before my trip and found the Melia Nassau Beach. They have a day pass program starting at $30 per person.
Getting there
Getting there was easier than I thought. Soon as the cruise ship docked I walked to the Festival Plaza (cruise terminal with free wifi) and hailed a cab to Cable Beach.
Cable Beach is a popular area for cruise passengers so there are a lot of cab services and shared ride options to get to there. We opted for a single cab and it was $7 per person and a 10-15 minute ride.  It took 15 minutes to get there, most of that was spent leaving the terminal area with all the cruise passenger congestion.
You can also take bus #10 at the cruise pier for $1.25 per person each way.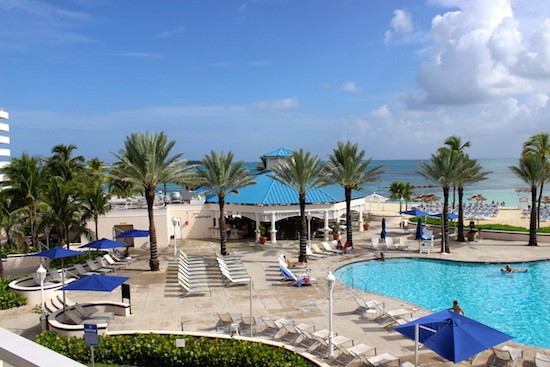 First impressions
The cab dropped us off right in  the front of the Melia and it was very simple to get our day pass from the front desk.
You pay, get a wristband and get the lay of the land. Once you're told where to go you have free run of the place.
There was a full service Starbucks in the lobby. I thought that was a nice touch, even though in the middle of the summer coffee wasn't the first thing I was thinking – but a lot of people were!
There was also free wifi in available in the lobby.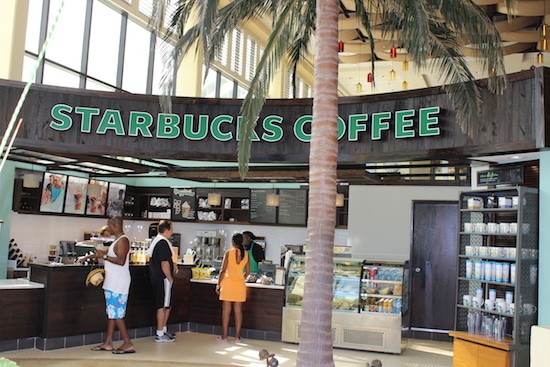 Resort area
Walking outside the resort there were five pools and a wide open beach. I was like a kid trying to figure out which pool I wanted to go in first. But after seeing the swim-up bar, I knew where I was going.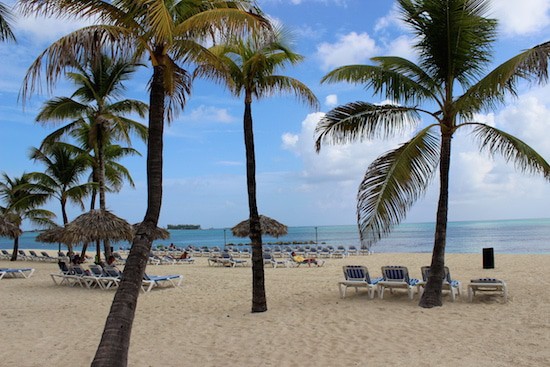 The beach area had dozens of chairs and a roped off swim area for safety. You could also get drink service by the pool or head under an umbrella to relax. The beach was practically waveless, which was nice.
One of the added bonuses was the non-motorized water sports that were included, like kayaking and stand-up paddle boarding. I started paddle boarding the summer before so I thought that was really cool to say I paddle boarded in the Bahamas.
Returning to the ship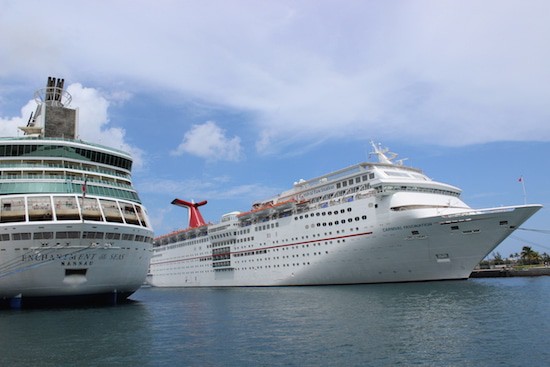 There were a line of cabs in front of the hotel to take us back to the ship. For some reason the cab ride was $2 more per person on the way back, I figured it was because we were the only two people in the shuttle bus.
Final thoughts
Every day thousands of cruise passengers flock to the Atlantis, which is on the opposite side of the Melia. If peace and serenity is your thing, I highly suggest this destination for your Nassau day pass.
For more information about the Melia Nassau Beach and what other people are saying check out the Trip Advisor page here.
Video
The video was shot in 2013, before the ownership changed from Sheraton to Melia.
Click here to watch video on YouTube.