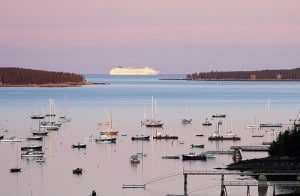 Cruising has become more than just a way to go on holiday, it has become a way of life. Cruises are gaining popularity every day. And with an estimated passenger carried set to exceed 23 million by 2015, people will continue to line up for a chance to cruise the open sea.
You are probably familiar with the more popular cruises to areas such as Hawaii, the Caribbean, and even the Mediterranean. How much do you know about Canadian/New England cruises that are packed with endless natural beauty, history, and culture? Here are the four reasons why you should make your next cruise a Canadian/New England destination:
1. The History and Culture
There are so many cities full of history. Boston has museums, art galleries, and numerous historical sties. You can retrace the route of Paul Revere's Ride, view the restored Boston Tea Party ships, and take a stroll through Boston's Public gardens.
If you are looking for something a little farther north you can visit Halifax, Nova Scotia's capital. This beautiful city is home to Canada's Museum of Immigration, Pier 21, and the Museum of the Atlantic (home to a collection of Titanic memorabilia).
2. The Climate
Believe it not, one of the best aspects of a Canadian/New England Cruise is the weather. Sure, the Caribbean has scorching heat and endless sunshine, but that can get old after a while.
The summer months are beautiful in New England and Canada, and you may even see some seals off the coast of Prince Edward Island during summer months. However, where else can you see leaf-peeping on a boat? Lay back with a glass of wine and enjoy a romantic evening watching the leaves change along the coast line.
The Canada/New England cruise season is from May to October, with most ships embarking in August and September.
3. Location, Location, Location!
These cruises are filled with nonstop fun destinations. Here are just a few cities you can visit on a typical Canadian/New England Cruise:
Newport, R.I.: This former playground of the rich and famous is loaded with decadent mansions of the Guilded Age. You can visit the Stroll Newport's famous Cliff Walk, a breathtaking 3.5-mile path among the rocky coastline.
Bar Harbor, Maine: "Bah Hahba," as the natives call it, is home to Acadia National park, 47,633 acres of rocky shores, forested mountains and towering cliffs. This was the first park founded east of the Mississippi.
Quebec City: You don't have to go to France to get a taste of the culture! You can visit sites like the Palace Royale, a picturesque plaza that is something to write home about. Brush up on your French as you visit Montmorency falls, which is higher than Niagara and less crowded.
4. You Will Want to Come Back
Between the untainted landscapes, vast history, and endless lobster you will find yourself longing to come back for another visit. If you plan to extend your stay, you can get a Canadian Boating License and explore the northern coasts to your hearts content.
Photo: Creative Commons image by Dana Moos
Related articles