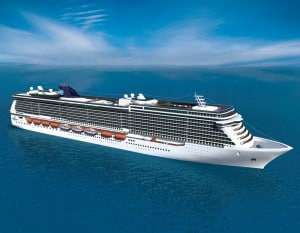 Norwegian Breakaway, Norwegian Cruise Line's newest 4,000-passenger ship went on sale on Monday, October 17, 2011, perfect timing for National Cruise Vacation Week.
When launched in 2013, Norwegian Breakaway will sail a seven-night Transatlantic cruise from Southampton, England to NYC. One arriving in NYC, she'll sail a series of 22 seven-day Bermuda sailings. Prices on the Transatlantic start at $749 per person and Bermuda sailings start at $1199.
Norwegian Breakaway is part of the line's two new builds titled "Project Breakaway." The Breakaway class ships, Norwegian Breakaway and Norwegian Getaway, will each be 144,017 gross tons and will have approximately 4,000 passenger berths. The first NYC sailing will begin May 12, 2013.
Contact your travel agent for more information.