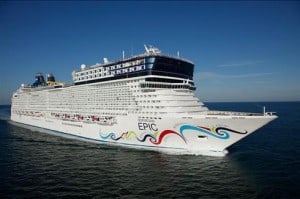 On November 3, a new cast is set to take the stage aboard Norwegian Epic's popular tribute show, Legends in Concert. The new musical artists will continue paying tribute to the world's most recognized entertainers — Michael Jackson, Donna Summer and Jimmy Buffet.
"Our guests absolutely love the Legends in Concert performances on board Norwegian Epic. The next round of tribute artists, Michael Jackson, Donna Summer and Jimmy Buffet, three extraordinary performers, are destined to be fan favorites," said Kevin Sheehan, Norwegian Cruise Line's chief executive officer.  "With Norwegian Epic returning to its homeport in Miami, this is the perfect time to introduce these three talented performers to guests sailing to the Caribbean."
Legends in Concert is a live musical celebration featuring the world's greatest celebrity tribute artists.  Legends in Concert on Norwegian Epic features three celebrity tribute performers taking the stage in the Epic Theater for six 45-minute shows over three days during a seven-day cruise.  In addition, a Legends "Unplugged" show is performed on three additional nights in the Manhattan Room, the ship's New York-inspired supper club, providing an unprecedented dining and entertainment experience.  The celebrity performers change every four months, keeping the show fresh and exciting. The last performers were Steven Tyler, Lady Gaga and Elvis Presley.
Norwegian Epic returns to her Miami homeport on November 3, 2012. The ship will sail a series of seven-day Eastern Caribbean cruises, departing every Saturday, through April 13, 2013.
Source: NCL
Subscribe to our Cruise News Updates.