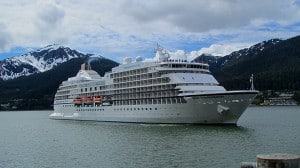 Regent Seven Seas Cruises recently announced that it has entered into a definitive contract with Italy's Fincantieri shipyard to build the most luxurious cruise ship in the era of modern cruising with delivery scheduled in summer 2016.
Accommodating just 738 guests, the new ship will be named Seven Seas Explorer and will be the luxury line's third all-suite, all-balcony ship. At 54,000 gross-registered tons, Seven Seas Explorer will be the largest vessel in the Regent Seven Seas Cruises fleet. The contract price for the vessel is approximately US$450 million, making Seven Seas Explorer the most expensive luxury liner ever built.
According to Del Rio, "The moment you step aboard, you'll know you've arrived somewhere special. The ship's upscale yet timeless design, extreme use of exotic stones and polished woods, designer furniture, rich fabrics and sophisticated lighting combined with what promises to be a museum-quality, eclectic art collection will clearly position Seven Seas Explorer as the new standard in luxury cruising."
Seven Seas Explorer will feature spacious and sophisticated designer suites, ultra-elegant public areas, a wide-range of gourmet dining options, a world-class spa and many other amenities all created with the personality, warmth and soul of classic and timeless design. "At Regent, we believe more is best," Del Rio quipped.
World-renowned architectural and interior design firms Tillberg Design AB, RTKL Associates and ICrave are designing the vessel, which will feature 369 suites ranging from 300 square feet to 1,500 square feet, six open-seating gourmet restaurants, Regent's signature nine-deck atrium, the two-story Explorer Theater, three boutiques and an expansive Canyon Ranch SpaClub®.
The specifications for the ship call for a hull 732 feet long, with a beam of 102 feet and a draft of 23 feet. The ship will be powered by diesel-electric engines with a service speed of 20 knots. Seven Seas Explorer will be a "green ship" employing the most advanced environmental systems and state-of-the-art technology.
With the Seven Seas Explorer, Regent Seven Seas Cruises' overall fleet capacity will grow nearly 40 percent, making the brand the world's largest luxury cruise line.
Further details about the ship will be announced in the coming months.
 Source: Regent
Subscribe to our Cruise Updates.
Related articles