MSC Cruises has announced new details on the restaurants that will be found aboard its new flagship, MSC Seashore. 
The vessel will launch this July and arrive to the United States in November. It will feature 12 indoor bars and lounges, six outdoor ones, five specialty restaurants, and four main dining venues.
"For MSC Seashore, we have reimagined the design to highlight a strong connection to the sea – the ship offers new venues, al fresco dining, brand-new restaurants and more outdoor space than any of our ships sailing from the U.S.," said Rubén Rodriguez, president of MSC Cruises USA.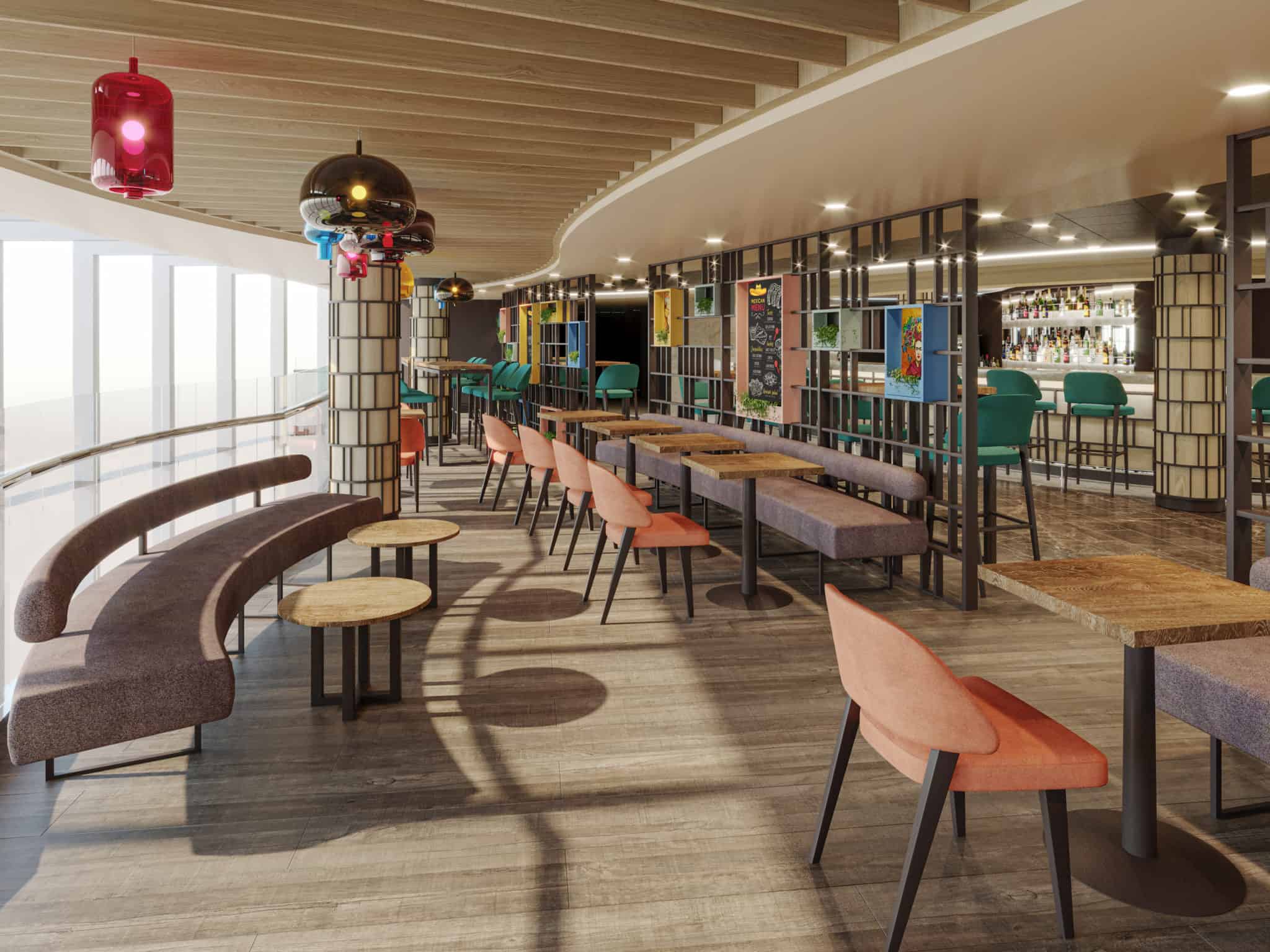 In addition to the dining, most of MSC Seashore's public spaces have been entirely reimagined from the other ships in the class. There will be over 139,000 square feet of outdoor space on the ship in total.
"We have taken the dining experience on MSC Seashore to the next level with carefully considered new options, both outdoors and in, that are fit for this spectacular flagship vessel," said Food & Beverage Vice President Jacques Van Staden.
"The goal of our talented in-house culinary team is to create something for every palate and preference, providing a diverse array of outstanding international culinary experiences. We are sure that the new dining concepts and incredible array of restaurants and bars will make for a truly memorable gastronomic experience for MSC Seashore guests."
Redesigned Chef's Court
Seashore's Chef's Court will be home to the ship's five specialty restaurants, situated in a new location on deck 8.
Kaito Sushi Bar
For the first time in the fleet, the popular Kaito sushi bar will include a sushi conveyor belt for guests to select dishes from, featuring fresh sushi, sashimi, tempura, and more. The venue will offer authentic Asian cuisine prepared in front of guests with the best ingredients.
Butcher's Cut
MSC's signature American-style steakhouse serves select Linz heritage angus beef, the gold standard in high-end angus beef thanks to the best genetics in breed. The menu includes a range of prime cuts along with New World wines and cocktails. And for the first time, Butcher's Cut will offer al fresco dining along the ship's waterfront promenade.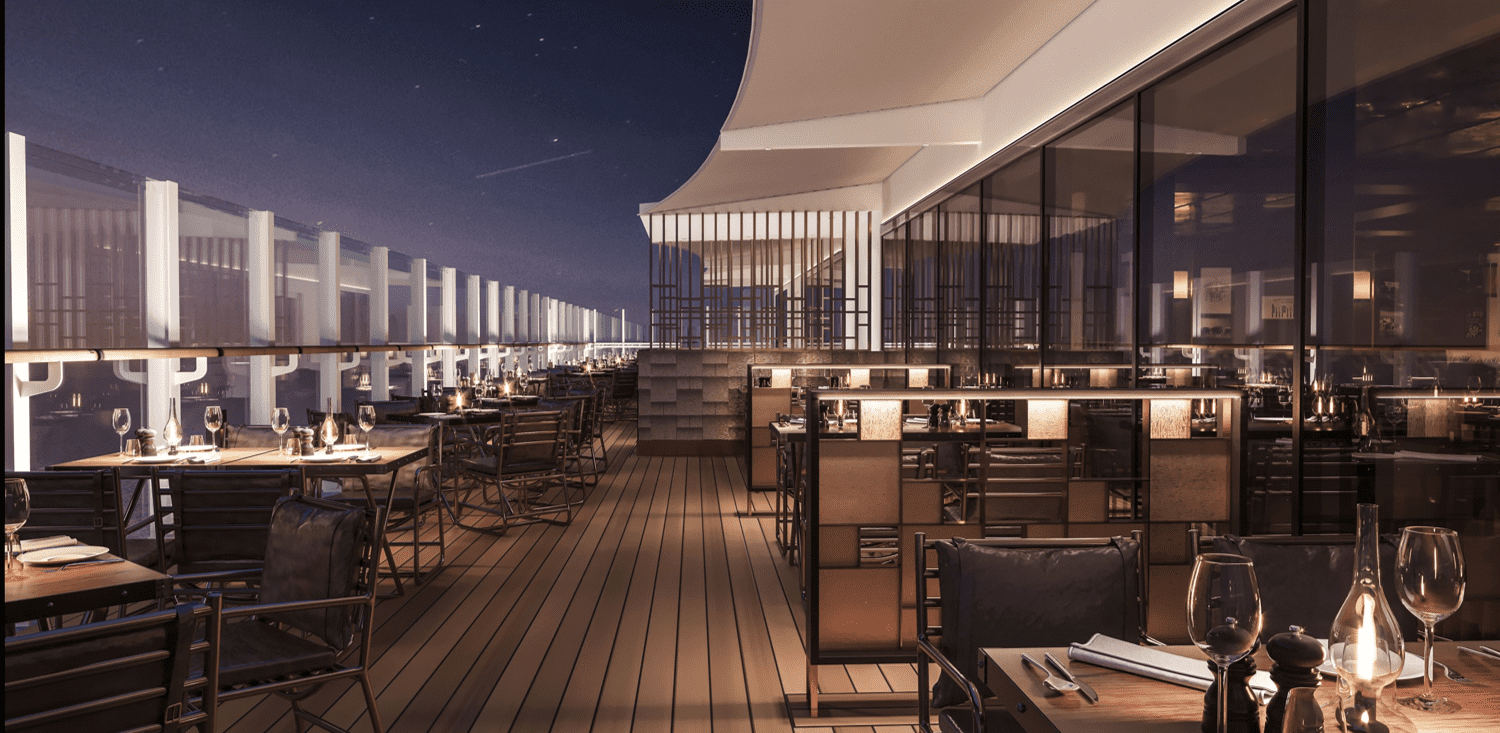 HOLA! Tacos & Cantina
The first in the Seaside class and the second in the fleet, HOLA! Tacos & Cantina will feature Latin American and Mexican-inspired cuisine in family-style dining. Passengers can enjoy a number of street food specialties and choose from an extensive list of tequilas and mezcals in a fun setting.
Ocean Cay
This chic seafood restaurant will serve Mediterranean-style fish and seafood dishes made with fresh ingredients, complemented by an extensive wine list.
Kaito Teppanyaki
An interactive experience, passengers love the spectacle of this venue which features eight grills — becoming the largest teppanyaki restaurant on any MSC ship. In the combined entertainment and dining experience, chefs cook with flair on an open grill with sizzling ingredients.
READ MORE: MSC Cruises Reveals New Details on Upcoming MSC Seashore
Included Dining
MSC Seashore will feature four main dining restaurants, including a dedicated venue for Aurea guests, serving first-class Mediterranean and international specialties. Menus change daily with delicious dishes created for breakfast, lunch, and dinner.
For more casual dining, the Marketplace Buffet has been redesigned to give passengers a real marketplace feeling with three distinct areas: Il Mercato, La Piazza, and La Trattoria. In addition to its 1,100 indoor seats, the buffet features a new outdoor dining area at the aft, as part of the Sky Bar area.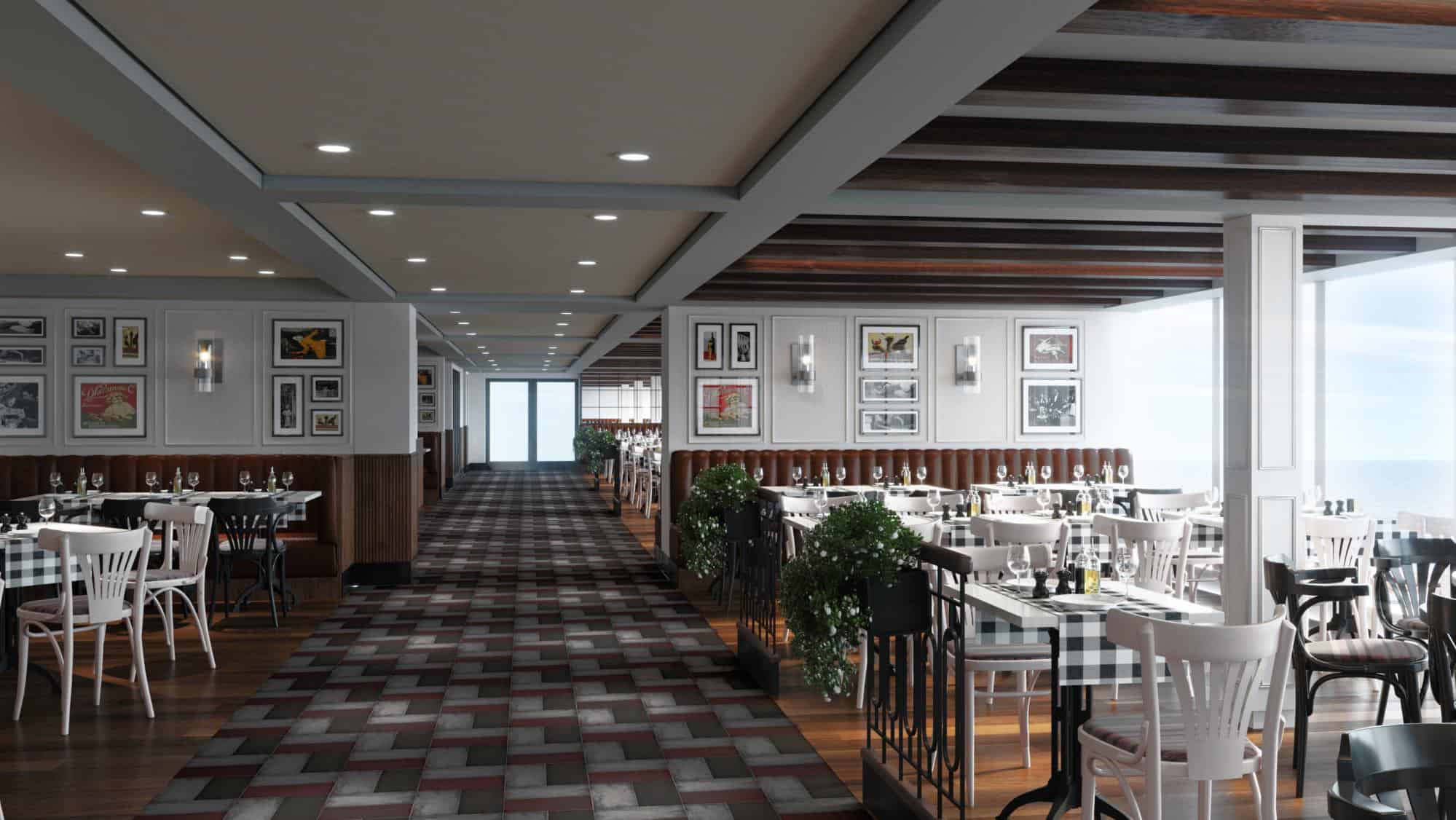 Seashore's MSC Yacht Club, the largest in the fleet to-date, will offer private fine-dining for breakfast, lunch, and dinner. The a la carte menu will feature chef's specials that change daily, as well as a wide choice of gourmet dishes and an extensive wine list.
Bars & Lounges
Here are some highlights among the 18 bars and lounges that will be found aboard MSC Seashore:
The Wine Cellar: A brand-new concept, this venue includes a walk-through wine cellar and oenological tasting experience.
Chef's Court Cocktail Bar: Located in the new Chef's Court area, this newly-designed welcome bar is the ideal venue to enjoy a pre-dinner cocktail.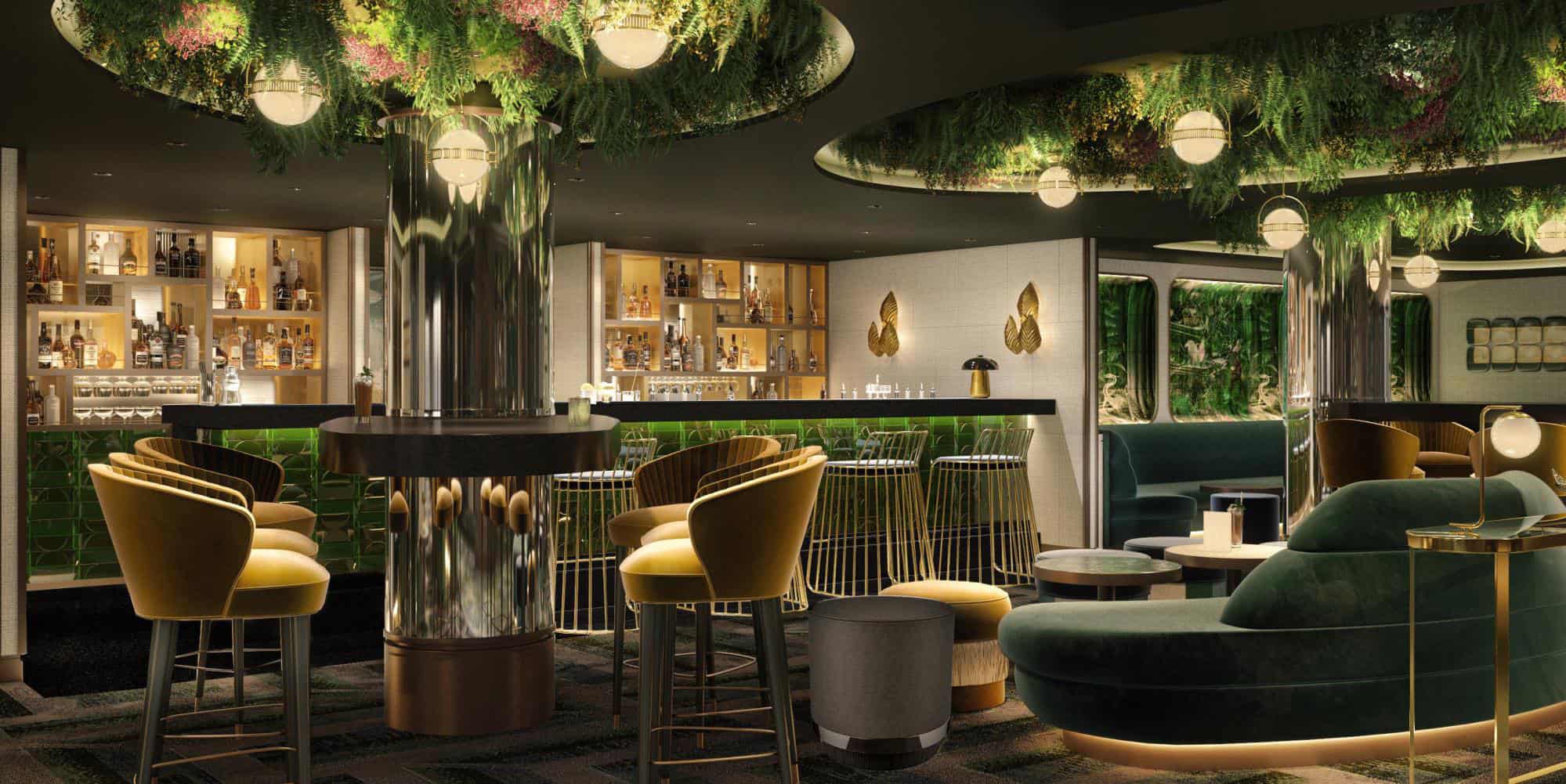 Sky Bar: For panoramic sea views, this rooftop bar is the ideal stop for cocktails.
Horizon Bar: Situated on deck 19, the Horizon Bar offers comfortable outdoor lounge seating.
The Sports Bar: Decked out with sports memorabilia, this classic sports bar now features a new billiard room.
The Uptown Lounge: A piano lounge and bar, the Uptown Lounge is perfect for those looking to enjoy some live music after dinner.
MSC Aurea Bar: Aurea guests will enjoy the Top 19 Solarium's stylish bar, featuring an outdoor lounge area.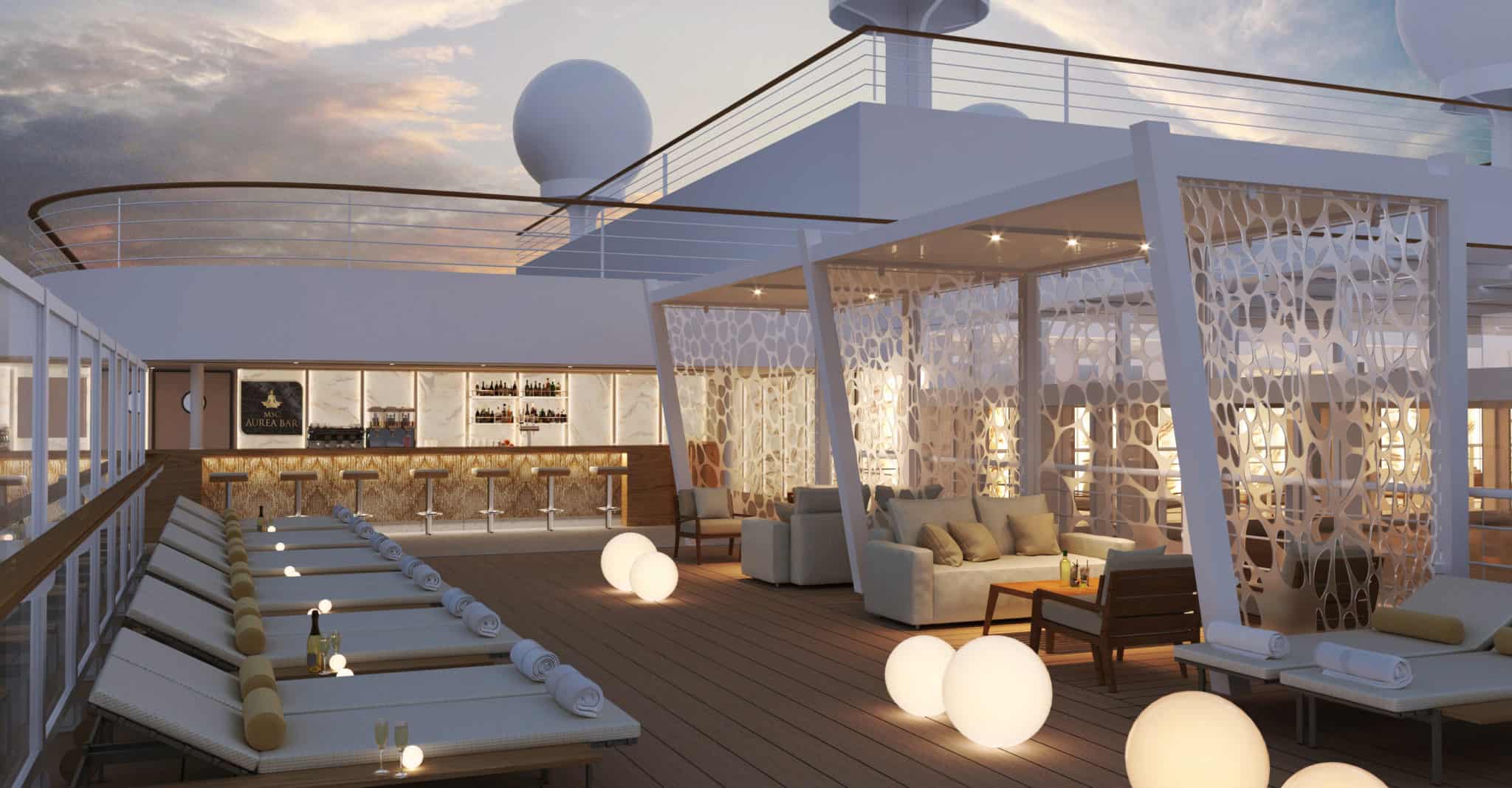 Returning favorites on MSC Seashore will include Venchi 1878 Gelato and Venchi 1878 Chocolate and Coffee Bar, as well as the Champagne Bar, Shine Bar, and Seashore Bar.