MSC Cruises has signed a lease with the Bahamian prime minister Perry Christie to develop a private island for the cruise line.  The project will be developed in the next two years and will be called Ocean Cay MSC Marine Reserve.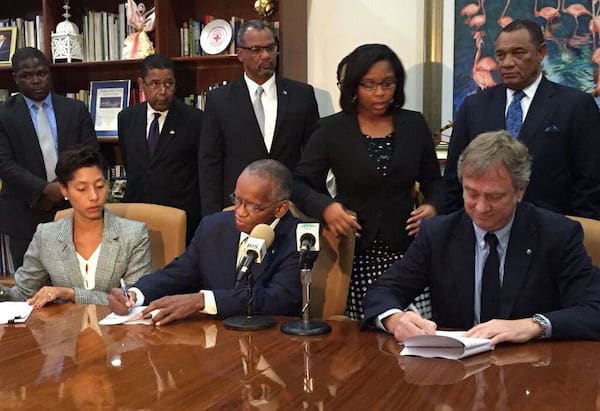 The cruise line will work closely with the Bahamian government and ecologists to develop the cay into a thriving marine reserve that will coexist flawlessly with the ecosystem.  The island will offer some of the best beaches in the world, and a variety of Caribbean-inspired experiences.
MSC will invest about $200 million into creating a lush, natural haven from the desert island it currently is.  At 95 acres in size with 11,400 feet of beach front across six beaches, Ocean Cay MSC Marine Reserve will be the biggest island development by any cruise company in the Caribbean.  It will feature a berth and pier, meaning that guests will not have to tender; they'll be able to walk right off the ship onto the island.  All shipboard operations, including the casino, will stay open while docked there.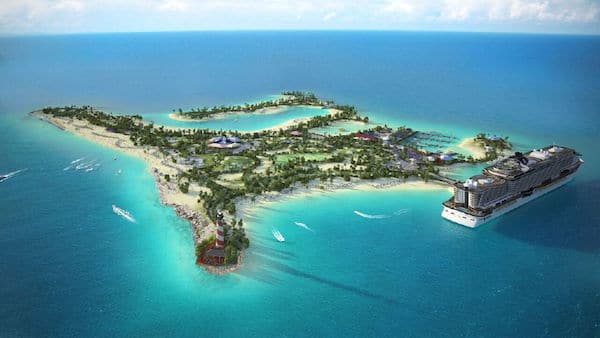 The cruise line has an extensive landscaping plan for the island, and will be bringing more than 80 indigenous plants, such as Beach Morning Glory and Jamaica Dogwood, to be planted across the island.  There will be an architecturally accurate Bahamian village, full of shops, restaurants, and bars, all surrounding an island-themed music gazebo.  Ocean Cay MSC Marine Reserve will also feature a family beach with a kids' restaurant, a inland lagoon, a zip line crossing the island, and a pavilion for weddings and other celebrations.  For MSC Yacht Club guests, there will be an exclusive wellness sanctuary and spa with private bungalows and massage huts on the northwest corner of the island.
MSC plans to break ground in March 2016 and the island will open to guests in December 2017.  Guests aboard the upcoming ship MSC Seaside's maiden voyage will be the first to visit the cruise line's island.
Island rendering and photo courtesy of MSC Cruises.