Royal Caribbean has announced new details on their upcoming ship, Symphony of the Seas. The vessel will claim the title of largest cruise ship in the world when she debuts in April 2018 for her inaugural season in Europe.
Reimagined Boardwalk
Symphony will introduce a new generation of Royal's famed mega-ship Boardwalk neighborhood, infused with new venues and experience for all ages. Playmaker Sports Bar & Arcade will be the place to watch the "big game" from around the world across 30 big-screen TVs. Spanning the length of the boardwalk, the vibrant sports bar will be a family hot spot for wings, burgers, and craft beer on draft, along with everyone's favorite arcade games. Adjacent to the Boardwalk's iconic carousel will be Sugar Beach, a candy and ice cream shop bursting with colorful candy-packed walls and temping ice cream and toppings. The venue will also offer family-friendly activities for aspirational bakers.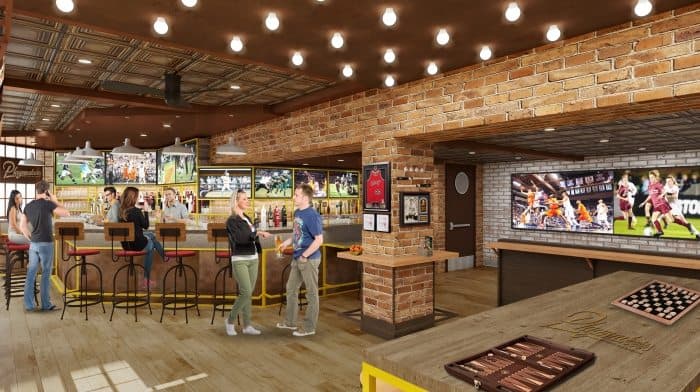 Other additions will be the Ultimate Abyss, which will be taller and even more thrilling than the version aboard Harmony of the Seas. Johnny Rockets will be aboard for guests to satisfy their burgers and shakes cravings, and the AquaTheater will offer awe-inspiring aquatic acrobatics shows for a fun family evening.
The Ultimate Family Suite
Aboard Symphony of the Seas will be a brand-new type of family suite. The two-level Ultimate Family Suite is a dream come true for kids of all ages, offering a slide from the kid's bedroom to the living room below, a floor to ceiling LEGO wall, an air-hockey table, and hidden nooks for relaxing.
A separate 3D movie theater-style TV room includes a popcorn machine and library of video games across multiple gaming systems. On the outside, the suite boasts an impressive 212-square foot balcony with a pool table, climbing experience, and full-size hot tub. The suite is 1,346 square feet and can accommodate a family of up to 8 in two bedrooms. Guests in the cabin will also have access to their personal Royal Genie (butler), who will take care of their every need.
New Dining Options
The vessel will be debuting new dining concepts for Royal Caribbean across the seven neighborhoods. Hooked Seafood is Royal's first New England-style seafood restaurant with fresh seafood and a large raw bar. Located in the Solarium, the casual restaurant will offer expansive views of the open water, serving lunch and dinner. El Loco Fresh, located in the sports zone, will serve up made-to-order tacos, burritos, and other Mexican fare.
Some of Royal Caribbean's signature favorites like Wonderland, Jamie's Italian, 150 Central Park, Park Café, and Izumi Hibachi and Sushi will also be onboard.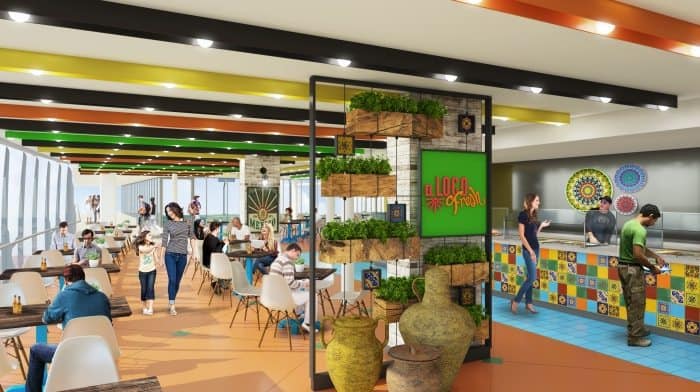 Entertainment at the Next Level
Back by popular demand, the brand's first Broadway musical at sea – "Hairspray" – will return on Symphony with a total refresh. "Flight," a historic satire on the evolution of air travel, will end with homage to the Wright Brothers. In the AquaTheater, a new aqua show, "HiRo," offers lots of wow factor with high-diving and acrobatics. Studio B will showcase a new time-travel adventure, and a new high-tech ice-skating show "1977" will bring guests to London on the eve of the Queen's Silver Jubilee when her Crown Jewels are stolen in the heist of the century. The ship will also boast glow-in-the-dark laser tag and a Puzzle Break submarine-themed escape room experience.
Mobile Check-In
The latest technological innovations will be integrated throughout the ship, including a redesigned check-in process that eliminates lines and the need to wait at the counter. The new process will leverage facial-recognition, bar codes, and beacons to make boarding quick and easy. Guests check in on Royal's new mobile app and upload their security photo to create their onboard account at home. Upon arriving, guests go through security and head to their cabin, where their key will be waiting. Symphony will also offer VOOM high-speed internet and virtual balconies.
Symphony of the Seas will be the 25th ship in Royal Caribbean's fleet, kicking off her maiden season in the Mediterranean before heading to Miami in November 2018 for Caribbean voyages. It will span 16 decks and carry over 5,500 guests.
Renderings: Royal Caribbean
SaveSaveSaveSave