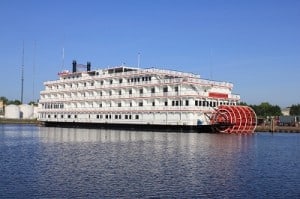 This American Cruise Lines' theme cruise sheds light on the many tempting dishes of the South, and will give you a new appreciation for true southern comfort foods from Cajun to Creole and barbeque. Culinary experts, local historians and featured chefs will introduce you to some of the South's most vibrant cities and their famous cuisines.
Held on the new paddlewheeler, Queen of the Mississippi, you will journey to a land of bayous and southern belles from New Orleans on December 15. Discover romance in the quaint historic district of Natchez, boasting more antebellum homes than any other U.S city, or pay tribute to the blue and gray at the Vicksburg National Military Museum and Park. The rich history and lively culture of this region makes for a cruise of a lifetime.
Schedule:
Day 1: New Orleans, LA
Day 2: Natchez, MS
Day3: Vicksburg, MS
Day 4: Day of River Cruising
Day 5: St. Francisville, LA
Day6: Baton Rouge, LA
Day 7: Oak Alley, LA
Day 8: New Orleans, LA
Prices start at $3,995 for the seven-night sailing from New Orleans.
Source: ACL
Subscribe to our Cruise News Updates.
Related articles