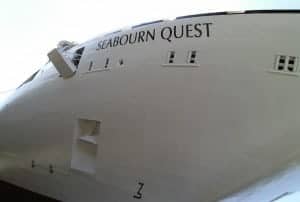 SEATTLE (November 21, 2011)—- After spending nine days cruising the Atlantic Ocean from Europe, the new Seabourn Quest made its maiden arrival in the U.S., arriving into Port Everglades at Fort Lauderdale, Fla., early on the morning of November 21, 2011.
Seabourn Quest will be docked for two nights in Port Everglades, where it will roll out the red carpet and host local travel agents and their clients for a special dinner and show on both nights.
"Since her Europe debut in the summer, Seabourn Quest has received many rave reviews and positive feedback from guests, travel agents and press alike," said Richard Meadows, Seabourn's president. "We are very proud to show her off to agents and their clients in South Florida, so that they can see what the excitement has been all about in recent months."
Following the two nights in Port Everglades, Seabourn Quest will operate a series of 13- and 14-day roundtrip Caribbean cruises from Ft. Lauderdale. On Jan. 5, 2012, Seabourn Quest will embark on its 109-day Maiden World Cruise on a unique eastbound course via South America, South Africa, the Indian Ocean, Southeast Asia, the Middle East, and the Mediterranean. The voyage ends in Venice, Italy on April 23, 2012. Limited space is available for guests wishing to book segments on the World Cruise.
Introduced on June 20, 2011, Seabourn Quest is the third iteration of the sleek and widely admired design that first appeared as Seabourn Odyssey in June 2009, and has been hailed as "a game-changer for the luxury segment."
Seabourn Quest's 225 luxurious and spacious suites, 90 percent of which offer private verandas, feature separate living areas and bedrooms, writing desks with personalized stationery, and generously sized granite bathrooms with separate bath and shower and twin sinks. Suites are outfitted with walk-in closets, an interactive flat-screen TV with a wide selection of music and movies, and iPod and MP3 connections. Personal bars and refrigerators are stocked according to guest preferences.
Like its sister ships, Seabourn Quest houses an 11,400-square foot Spa at Seabourn, the largest spa on any luxury vessel, providing the ultimate pampering experience at sea. The two-deck facility features a Kneipp Walk, an herbal bath facility and aroma steam bath with salt inhalation, and a Kinesis Wall. A Spa Villa is available for guests seeking an indulgent private experience, with a treatment area large enough for duet treatments, a shower, a bathtub big enough for two, a private balcony for sunbathing, a full living room, a dining table and double daybed for relaxing.
For foodies everywhere, Seabourn Quest offers gourmet dining experiences in four dining venues that rival the finest restaurants anywhere, all at no extra charge. The Restaurant is a fine-dining and open-seating gourmet experience, with the capacity to seat all guests. Restaurant 2 offers exciting avant-garde dining, serving innovative small-plates tasting menus. The indoor/outdoor Colonnade features an open-kitchen style, while the Patio Grill offers al fresco poolside dining on deck. Guests can also enjoy meals from The Restaurant menu, served course by course in the comfort and privacy of their suite or on their veranda. All dining venues, as well as six bars and lounges, serve a full range of beverages, including Champagne, fine wines and spirits, with Seabourn's compliments.
Source: Seabourn