I woke up super refreshed after an awesome dinner last night in the Manhattan Dining Room and a bit of time spent on deck watching the ship go between mountain ranges. Today was a sea day spent cruising the Inside Passage, so I did a lot of exploring around the ship and got to experience what the Nieuw Amsterdam was like during a sea day, where a ship has to entertain over 2,000 guests.
Breakfast
Since I woke up quite early this morning, I went to have breakfast in the Lido Marketplace. I'm not much of a breakfast person beyond coffee and fruit, but the stuffed French toast caught my eye and I couldn't resist. One thing I love about Holland America is the silverware, mugs, and water glasses are already at the table so it's not a balancing act going from buffet to table.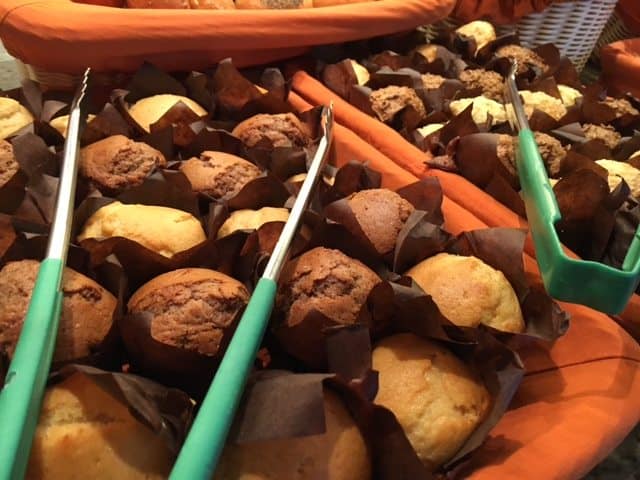 Galley Tour
This morning I got to experience a galley tour, but it wasn't your ordinary galley tour. It was a tour while the chefs were preparing lunch, so we actually got to see them in action, along with the servers and how the process worked behind the scenes. After the galley tour, we got to go down to A and B decks (not quite below the water line, but close!). We got to see where the laundry is done, where the liquor is locked and kept, as well as the provisions for the ship. They told us they order dry food and liquor every 14 days and fresh vegetables and meats every seven days. It's quite the operation below deck.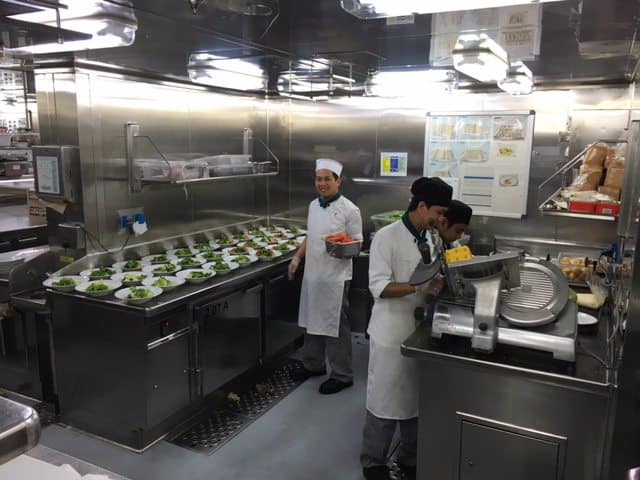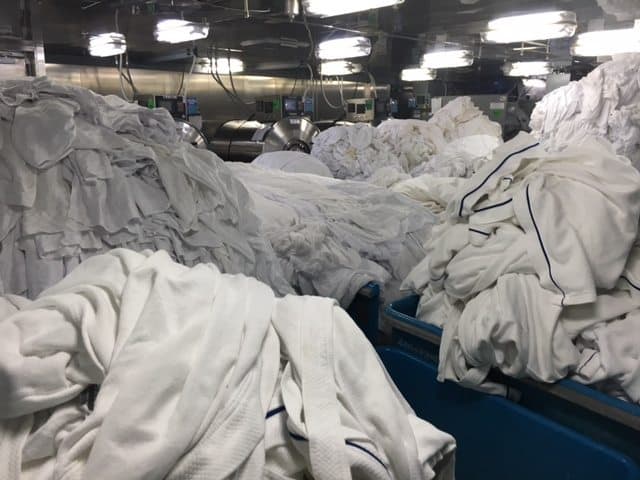 Lunch Rush
So far, I've been very impressed with the food aboard Nieuw Amsterdam. Everything has been spot on. On my show, I always say one thing that really defines a ship is how it behaves on sea days. The buffet area was a bit packed for lunch. I did three laps around it to find a table. Granted, it was a rookie mistake of my own for going to lunch at prime time. It was also raining so 75% of the outdoor aft seating was inaccessible. But after the galley tour and a tour of the bakery where they make the bread fresh 24 hours a day, I was all but salivating. So I did pasta, a chicken sandwich, and a hot dog from Dive-In grill (this is my favorite spot on the ship). I didn't want to eat that much…I just did.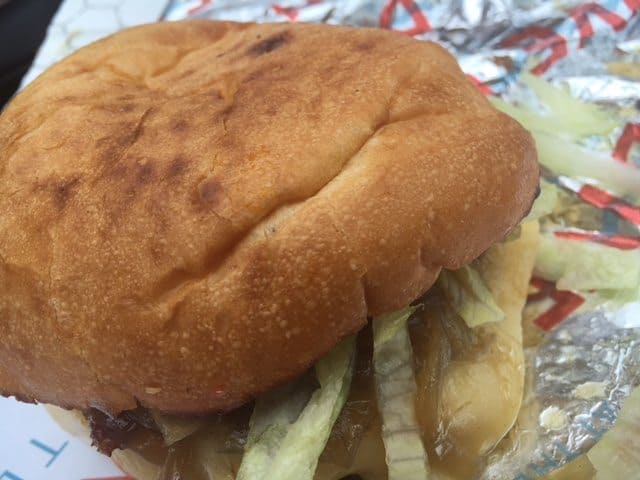 Whale Watching
Since Alaska is a bucket list destination, it only makes sense to make the most of the experience. I'd highly suggest booking a balcony stateroom when sailing up here. I was doing some work on my balcony this afternoon and saw a pod of whales a couple hundred yards from the ship. At first I thought I was seeing things and then I kept seeing all these spouts of water. Sure enough, whales! And those sights continued throughout the afternoon and dinner.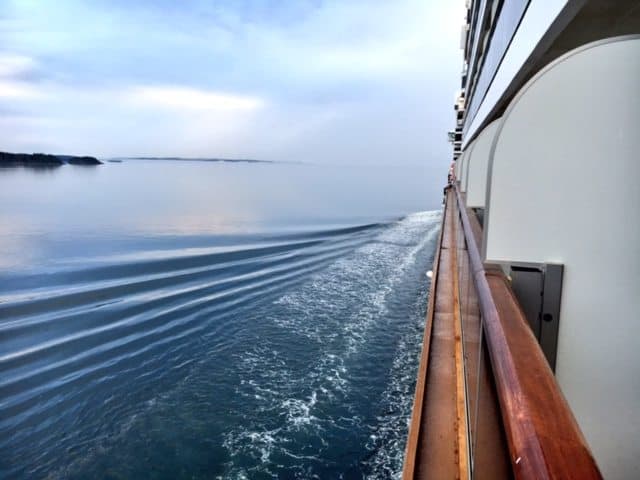 Pinnacle Grill
This is going to be a post on its own because it was fabulous all around, and you can't beat the price. This is Holland America's signature specialty steakhouse that costs $29 per person. I experienced sticker shock in a good way when I saw the price. Most cruise line steakhouses are $35 per person or a la carte; $29 is a steal. I wound up going with jumbo shrimp cocktail, Caesar salad, the 23 oz Porterhouse, and a fresh berry cheesecake.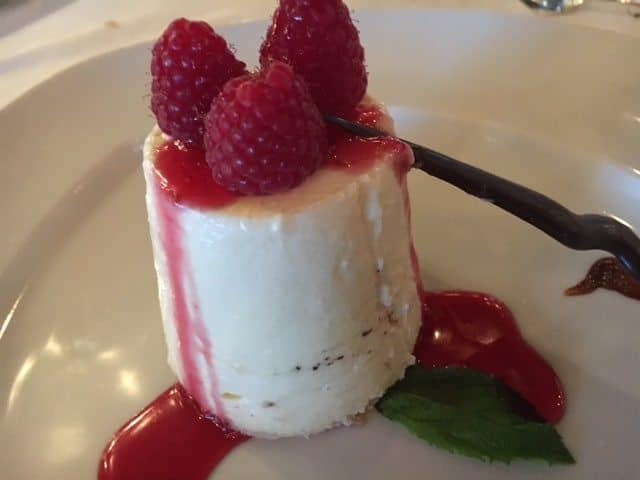 Dinner and a Movie
I'm taking advantage of the on-demand movie tonight because I am too full and lazy to go to the night club or the 10 pm show. My butt should be going to the gym…
The clocks go back an hour tonight. So we'll be -4 hours from the Eastern Time Zone.
Tomorrow morning we sail Tracy Arm Fjord and dock in Juneau, Alaska at 1 pm.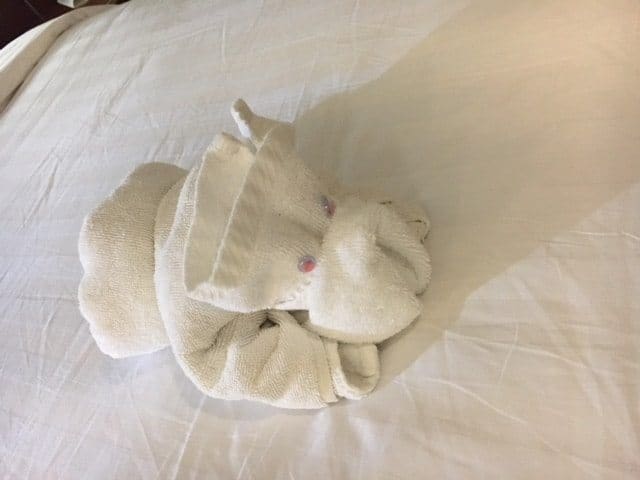 Check out yesterday's SeaBlog by clicking here!