Today we arrived in Skagway, Alaska at the crack of dawn (literally). At 5:45a we were already docked and the ship was tied up. I had no plans scheduled today except to get some food and take some photos around the port.
Joining us today in port was Star Princess, Crown Princess, Celebrity Solstice, American Cruise Lines' American Spirit, and us (Nieuw Amsterdam).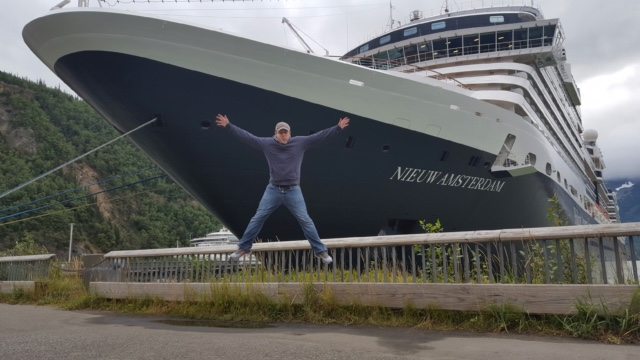 It should be noted that Skagway is one of the embarkation and debarkation points for Holland America's Land and Sea program. So we said goodbye to a lot of friends we made but also made some new ones.
Rain, Rain, Go Away!
Everyone who has visited Skagway told me that I have to take the White Pass Rail into British Columbia. I'm not one for organized shore excursions so I took a pass and went to find out what you could do on Skagway on your own. Turns out there were a lot of booths set up for whale watching, glacier viewing, and kayaking. It rained for a good part of the day so I decided to sit out the excursions and find crabs.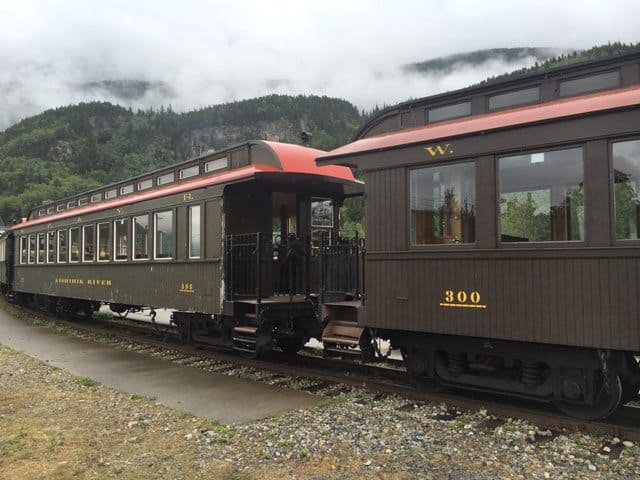 Crabs and Halibut
The local food speaks for itself in Alaska. As I mentioned in yesterday's blog, it's a little pricey but well worth the cost. Today we went in search for Halibut and Dungeness Crabs. We found a little quaint place called Wild Alaska Catch, and went in to check it out. It was super basic. The restaurant was set up under a big white tent and the menu was limited to seafood. All they had was rockfish, halibut, shrimp, oysters, Dungeness crabs and king crab legs. The saying a day late and a dollar short came to mind when I went to order because if I arrived 10 minutes sooner I could've gotten the all-you-can-eat crabs for $35. Instead, paid $25 for two clusters. After the two clusters of crabs, I was still hungry and went for a pound of Alaskan King Crab legs. That was $39.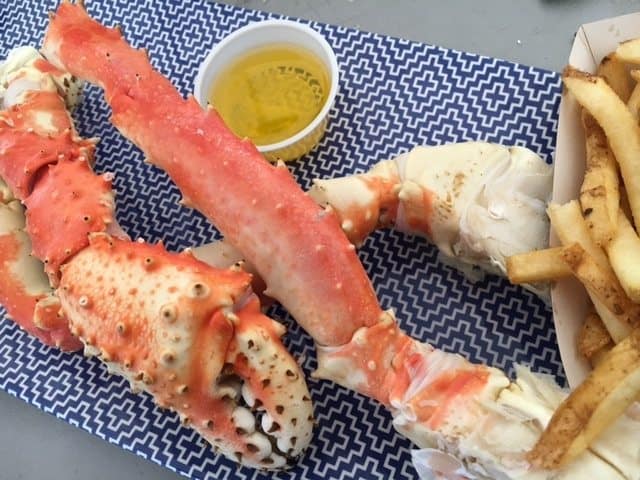 Evening Entertainment
There were a lot of music options that excited me this evening when I got back on board the ship. The B.B. King Blues Club had their first set at 8:45p, followed by country music (my favorite!) in the Piano Bar, followed by a 10p show time with Illusionist Leon Etienne. This guy was coined as America's Rock Illusionist – and rightfully so – he's been on America's Got Talent, Jimmy Fallon, and Penn & Teller's show Fool Us. He made people disappear, cut a woman in half, escaped from ropes and chains as well as got himself out of a straight jacket. It was pretty intense. It's safe to say that he stole the show when it came to shipboard entertainment tonight.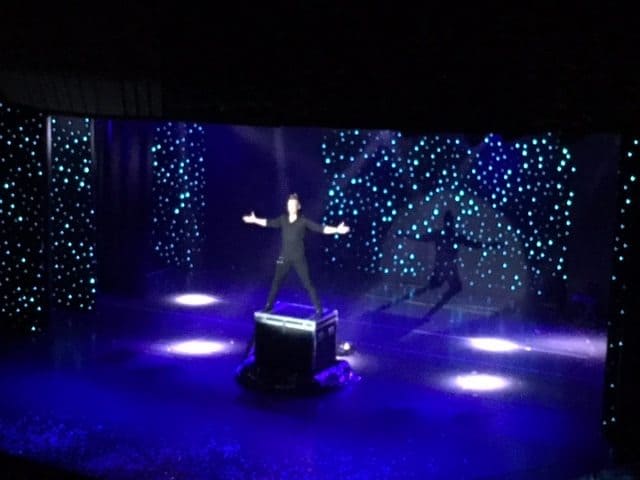 Looking Ahead
Tomorrow is scenic cruising in Glacier Bay. The National Park Service has rangers that come on board and will narrate the morning for us. They will open up the bow of the ship for guests for glaciers viewing, but with there being a 100 percent chance of rain, I might do the viewing from the Crow's Nest or my balcony.
I'm sure we'll have plenty to talk about tomorrow.
Check out my other SeaBlogs from this voyage!