Following her inaugural season of island-hopping in the Caribbean, Holland America's upcoming new ship Nieuw Statendam will cross the Atlantic in April 2019 and spend the summer and fall in northern Europe and the Mediterranean Sea.
The Pinnacle-class ship will homeport in Amsterdam for the summer, and in September, will head to warmer waters in the Mediterranean on a 12-day cruise from Amsterdam to Rome, Italy. Three 10-day roundtrip cruises will explore the eastern and western Mediterranean. After that, the ship will depart Rome on October 27 for a 14-day cruise back to Fort Lauderdale, Florida.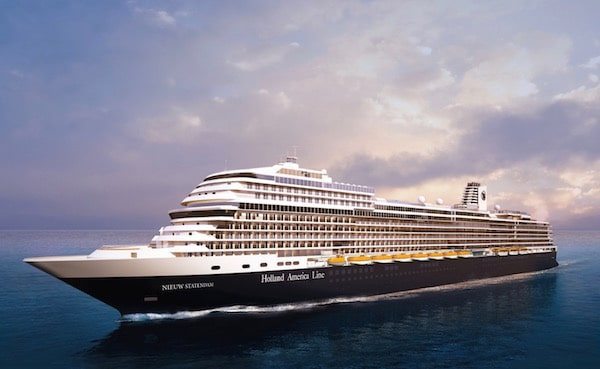 Nieuw Statendam Does Norway
Once arriving in Amsterdam, Nieuw Statendam will cruise on seven and 14-day itineraries. Two seven-day voyages offering nine departures from May to September will call at some of the country's most popular ports, featuring multiple scenic cruising experiences.
A longer 14-day Norwegian exploration departs June 9 and July 7, featuring eight ports in Norway while crossing into the Arctic Circle. Guests will also enjoy scenic cruising in Hardangerfjord, Geirangerfjord, the North Cape, and Sognefjord.
British Isles and Baltic
The Baltic awaits guests on two 14-day itineraries in May and August, sailing roundtrips from Amsterdam. The ship calls in Copenhagen and Aarhus, Denmark; Berlin and Hamburg, Germany; Tallinn, Estonia; St. Petersburg (overnight), Russia; Helsinki, Finland; and Stockholm, Sweden.
Those looking to visit Iceland and the British Isles can embark on Nieuw Statendam on August 4 for a 14-day cruise to Newcastle upon Tyne, England; South Queensferry (Edinburgh), Scotland, for an overnight permitting guests to attend the Edinburgh Military Tattoo; Reykjavik (overnight), Isafjordur, and Akureyri, Iceland; and ålesund and Bergen, Norway.
Mediterranean Cruises
In September, the ship will sail from Amsterdam to Civitavecchia on a 12-day journey that visits Ireland, Portugal, and four ports in Spain. There will then be two 10-day cruises roundtrip from Civitavecchia (Rome) to Croatia, Montenegro, Greece, and Italy, while another 10-day will visit ports in Spain, Gibraltar, France, Monaco, and Italy.
On October 27, the ship will head to Florida on a 14-day journey that visits Cartagena, Málaga (Granada), Cádiz, Spain, and Ponta Delgada, Azores.
The Premiere Voyage
Nieuw Statendam's Premiere voyage will depart Rome on December 5, 2018, for a 14-day transatlantic crossing to Fort Lauderdale. The ship will spend the winter and spring seasons cruises from Fort Lauderdale on three and four-day Bahamas cruises, seven-day eastern or western Caribbean cruises, and one 10-day southern Caribbean itinerary.
Those looking to spend more time onboard can choose from 11 to 17-day Collectors' Voyages that combine back-to-back Caribbean itineraries. The ship's Caribbean cruises call at Holland America's award-winning private island in the Bahamas: Half Moon Cay.