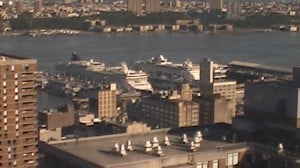 Cruise terminals in Baltimore, New Jersey, New York and Boston have resumed normal operations after Hurricane Irene practically shut down all all the northeastern ports.
"After having carefully surveyed the waterways in the harbor, we feel that it is appropriate to resume nearly all normal operations," said Coast Guard Captain of the Ports of New York and New Jersey, Capt. Linda Fagan.
Saturday, at the Manhattan Cruise Terminal, the Carnival Glory and Norwegian Jewel left port early to beat the storm while Holland America's ms Veendam weathered the storm out pier-side with tugboats helping hold the ship in place. Norwegian Gem spent an extra day at sea and returned to the pier this morning.
In Baltimore, Carnival Pride returned from Bahamas a day early, riding the storm out in Chesapeake Bay, embarking for their next cruise today.  
Black Falcon Cruise Terminal in Boston is back to normal operations after having Holland America's ms Maasdam leave port ahead of the storm for a Canada/New England cruise on Saturday.
The Coast Guard is still warning residents in affected areas that remnants of Hurricane Irene continue to pose a danger and waterborne leisure activities should be delayed for the next few days.
Photo credit: Wired New York web-cam