Norwegian Cruise Line has revealed their lineup for summer 2019. It includes five ships in Europe, three in Alaska, two calling in Bermuda, and other voyages in the Bahamas, Florida, the Caribbean, Canada, New England, and the Hawaiian islands.
Alaska
The youngest fleet to sail Alaska will again return in summer 2019, with Norwegian Bliss, Pearl and Jewel all cruising there. After making her debut in summer 2018, Norwegian Bliss will return for her second Alaska season, operating new seven-day Glacier Bay cruises departing each Sunday from Seattle from May 5 to September 22, 2019. The ship is being custom-built for Alaska, with panoramic observation lounges and an expansive waterfront. Norwegian Pearl will operate seven-day Alaska cruises from Seattle, departing on Saturdays from May 18 to September 21. Norwegian Jewel will return to Vancouver and Seward after a renovation in fall 2018 for her popular seven-day Glacier Bay northbound and Inside Passage southbound highlights cruises, which offer a great opportunity to combine them for a 14-day roundtrip experience.
Bahamas & Florida
For the first time since 2010, Norwegian Dawn will be returning to her first homeport of New York City. The ship will set sail from Manhattan on seven-day cruises to the Bahamas and Florida from May 25 to August 31, 2019.
Bermuda
In summer 2019, Norwegian Cruise Line will be offering cruises to Bermuda from two departure ports: Boston and New York City. Norwegian Gem will set sail from Boston from March 29 to November 8, 2019. Norwegian Escape, which moves to New York City for summer 2018, will continue her stay in the Big Apple through summer 2019, sailing to Bermuda from April 14 to October 20, 2019. Both ships will offer seven-day cruises to Bermuda with three full days and two overnights in port, so guests can experience Bermuda at their leisure.
Canada & New England
Early summer is the best time to enjoy New England and coastal Canada. Norwegian Dawn will be offering four, seven-day cruises to the coastline in May and June 2019, with calls in Halifax, Saint John, Bar Harbor, Portland, and Newport, Rhode Island.
Caribbean
After returning from her winter in New Orleans, Norwegian Breakaway will reposition to PortMiami for the first time ever. The 4,000 guest ship will operate a mix of eastern and western Caribbean itineraries during summer 2019. The seven-day western Caribbean cruises will visit Roatán, Cozumel, Costa Maya, and the line's private destination Harvest Caye, Belize. The seven-day eastern Caribbean itinerary will stop in St. Thomas, Tortola, Nassau, and San Juan.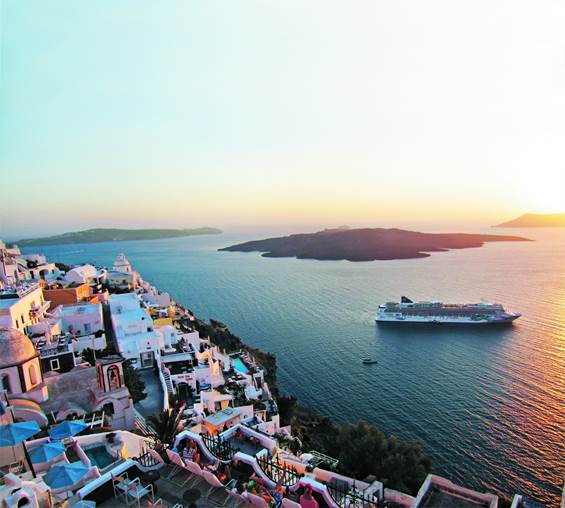 Europe
After a one year hiatus, Norwegian Getaway will return to the Baltic for bucket-list itineraries that depart from Copenhagen and visit several ports in Scandinavia, with an overnight in Russia. From June 7 to August 27, 2019, the ship will operate a variety of nine-day sailings, calling in places including Berlin, Estonia, Helsinki, Stockholm, an overnight in St. Petersburg, and scenic cruising past the Stockholm Archipelago.
Norwegian Epic will be returning to Europe in summer 2019 for seven-day western Mediterranean cruises, with embarkation in Barcelona and Rome to see the best of Italy, France, and Spain. With departures from May 12 to November 3, guests sailing on the seven-day western Europe cruises will visit some of the most iconic destinations in the world.
Following a renovation this year, Norwegian Jade will spend summer 2019 cruising the Greek Isles and Italy from May 12 to October 24, 2019. The ship's 10 and 11-day itineraries from Rome will visit Santorini, Athens, Mykonos, and Crete, Greece; Valletta, Malta; Messina, Sicily; as well as Naples and Florence/Pisa, Italy. Norwegian Star will undergo a refurbishment in spring 2018, and will also sail the Greek Isles and eastern Mediterranean with 9, 10, 11, and 12-day cruises from Venice, Italy. Star will call on some of Greece's best island destinations like Corfu, Santorini, Mykonos, and Cephalonia, as well as Kotor, Montenegro and Dubrovnik, Croatia.
Norwegian Spirit will homeport in Southampton for summer 2019 and operate a selection of 10+ day itineraries to the British Isles, Iceland, the Norwegian Fjords, Arctic Circle, and the Baltics.
Hawaii
Norwegian Cruise Line is the only line to offer a seven-day inter-island itinerary in Hawaii, on the US-flagged Pride of America. Guests will cruise through paradise on the itinerary that offers nearby 100 hours of port time in Hawaii's main islands, including an overnight in Kahului, Maui, a call in Hilo; Kailua, Kona; an overnight in Nãwiliwili, Kauai; and an afternoon cruising past the Nãpali Coast. Pride of America will depart from Honolulu every Saturday through April 2021.
Norwegian Cruise Line's new itineraries are now open for sale for returning guests, and will be available tomorrow, December 20, to the general public.