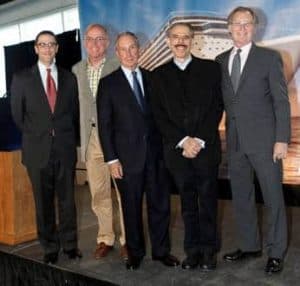 On the heal of Carnival Cruise Line's announcement on Monday in NYC, Norwegian Cruise Line had an announcement of their own today in the Big Apple. New York City Mayor Michael Bloomberg and Norwegian Cruise Line CEO Kevin Sheehan announced today that the 4,000-passenger Norwegian Breakaway will make her home in New York City beginning May 2013 doing Bermuda sailings. The ship's scheduled to make 88 cruises from the Manhattan Cruise Terminal through March 2015.
"New York City remains one of the top ten cruise ports in the United States, and we thank Norwegian Cruise Line for making Manhattan Cruise Terminal Norwegian Breakaway's year-round home port," said George Fertitta CEO of NYC & Company, New York City's marketing and tourism arm. "Approximately 583,000 cruise passengers embarked in New York City in 2010 and that number continues to grow helping the City to report record breaking tourism numbers year after year. We hope Norwegian Breakaway and all of the Norwegian Cruise Line passengers will have an opportunity to visit New York City pre- or post-cruise and discover the energy and vibrancy of all five boroughs."   
According to a release issued by the company, "Norwegian Cruise Line was the first cruise line to homeport year-round in New York City beginning in 2003. Since then, we have been committed to bringing our newest and largest ships to the Big Apple, with two ships calling in New York City since 2005. Norwegian Gem will continue to sail from New York City year-round and Norwegian Star will sail 15 times from New York in 2013 before being replaced."
Norwegian also announced today that they commissioned popular artist Peter Max to paint the hull design of Norwegian Breakaway.
Cruise bookings for the ship will be available to the general public on October 17, 2011.
For more information on Norwegian Breakaway go to www.ncl.com/breakaway.