Even before boarding the Norwegian Breakaway – which I've sailed a few times in the past – I had one goal: Snag a Vibe Beach Club pass. For those who don't know, Vibe is the adults-only sundeck with its own bar, hot tubs, wicked comfy loungers, and more. But the thing which makes it worth the price of admission – $99 per person for the week – is the fact that it is a child-free zone. (Don't get me wrong, I love kids. I like them to knock on my door, say "trick or treat!" and then go away.) And the key was going to be arriving at the port early. This was of utmost importance.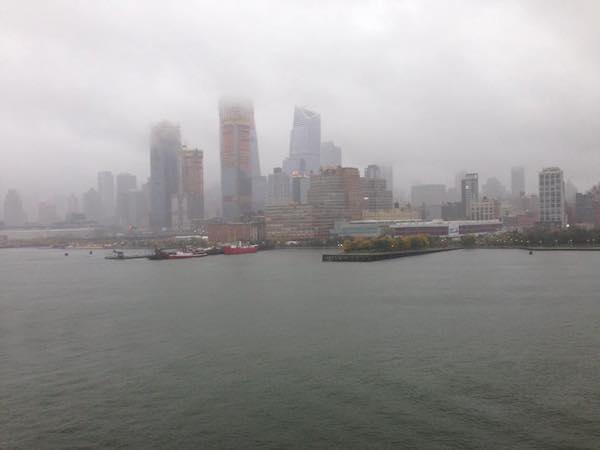 I could have stayed at a friend's place in Manhattan and walked over to the pier, but it was going to be a rainy day and that did not sound like fun. Instead, I ordered a Lyft for 9 a.m., putting me at the pier at 10 a.m. … or so I planned. But my Lyft driver cancelled, leaving me to scramble to book another, and I didn't arrive until after 10:30. Given my boarding group number, I saw that it was 23. Meaning 23 groups of people were getting on that ship before me. With only 60 Vibe Beach Club up for grabs, I was pretty sure I was screwed. I waited patiently for my number to be called, trudged on board ready to accept my sad fate and move on… only to find out that miraculously, I made the cut!
Read More: Anthem of the Seas vs Norwegian Breakaway
Embarkation was easy and quick, largely because they clearly wanted to get Breakaway out of the port before the approaching storm hit. I was on board by noon, had a drink in hand by 12:10 p.m. and was having a sit-down lunch in Savor, one of the Main Dining Rooms, by 12:30. I went with popcorn shrimp, an amazing cajun shrimp salad (over arugala with radishes and red onion in a tangy-but-light dressing) and the grilled grouper on a pretzel bun. I know that sounds like a lot, but NCL – no doubt knowing people over-order – does a great job with portions, so when I'd finished I was full… but not so stuffed I couldn't have a piece of peanut butter cheesecake. (I'm gonna take a LOT of stairs later to work that off!)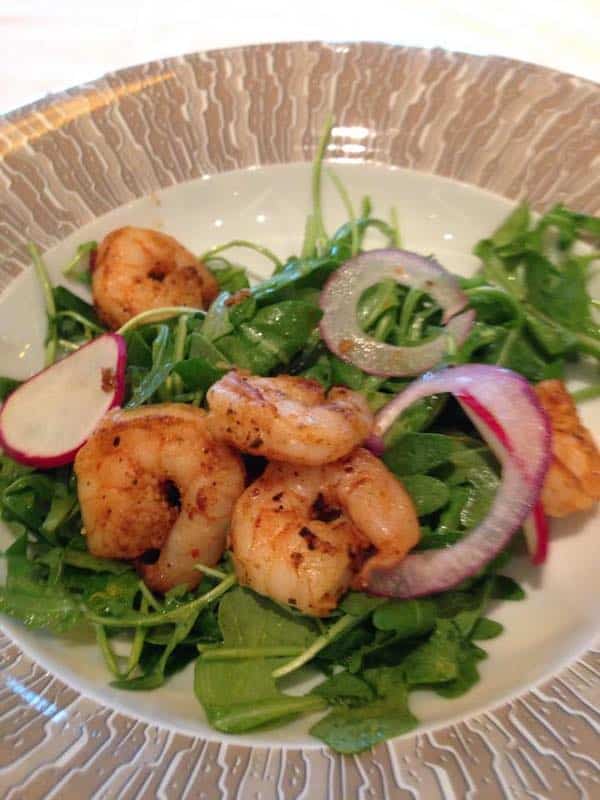 Pro Cruiser Tip: Skip the madhouse that is the buffet on embarkation day. Enjoy a nice, leisurely meal in one of the main dining rooms. It's a great way to start things off. 
After lunch, I did what you might call "housekeeping." Bought the internet package (which I totally should have done before getting onboard, but forgot), checked on my dinner reservations for the week etc. I have to admit, the first day of any cruise is probably my least favorite. Everything seems crowded, in part because some of the venues which will later help absorb the crowds (including the theater and casino) aren't yet open. The ship and her passengers settle into a pattern by day two, with the latter finding their niche and everyone gravitating toward what would ultimately be "their" space.
By this point, rooms were ready so I went in and… what the what??? There, in front of me, was the biggest bowl of fruit I'd ever seen in my life. And more important, a bottle of wine stuck in the center like the most drinkable centerpiece ever, courtesy of the hotel director. (I'm pretty sure this is because I'm organizing the Meet & Greet on this sailing. I'd heard sometimes, people get nice little "treats" for doing it, and this was amazing… if enough fruit to feed a starving village.)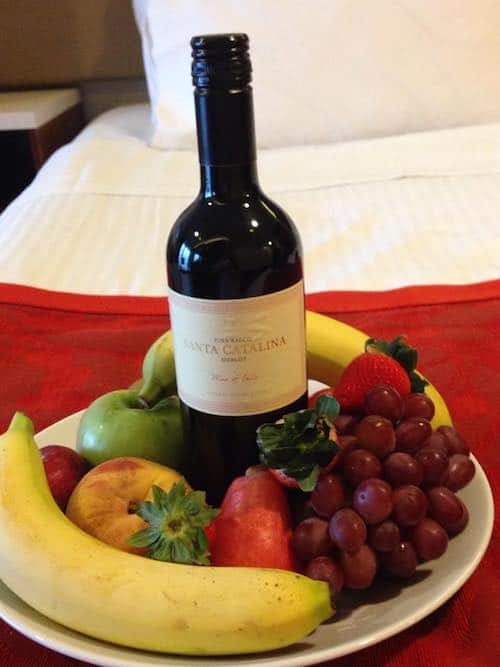 Speaking of the Meet & Greet (which will be tomorrow morning), I'd been talking to various members (we have about 100 people attending) on the internet for weeks, and started running into them in person even before getting on board. Pretty sure by week's end, George – one of the members – is gonna be my new best friend. Thanks to those contacts, I also arranged to share a cabana on the private island with five other people (assuming we get to Great Stirrup Cay… the weather's looking a little iffy.)
My Stateroom on Norwegian Breakaway
Which reminds me: I never told you where we're going! New York to Florida, then Great Stirrup Cay (NCL's private island) followed by Nassau and two sea days. It's not the most exciting itinerary in the world. In fact, I've done this same route about 8 times, many of those on this ship. But I'm one of those people who doesn't care where the ship's going as long as I'm on it.
I also forgot to mention that my stateroom is a "bump" balcony. This means that because of its location and the way the ship is designed, the balcony is at an angle. Breakaway's balconies are notoriously small (which is another reason the humongous aft-facing balconies are so popular), so any extra space is appreciated. This is actually a really nice size, especially for someone traveling solo, such as myself. If there's one thing I don't care for, it's the configuration of the room itself. I prefer having the bed close to the balcony, but this one is near the closet. And when I say "near" I mean practically in. There's not a lot of wiggle-room between the bed and the closet. For a solo like myself that's not a big deal (I don't have to sleep on that side and crash into the closet door every time I get out of bed), except when you are trying to get something out of the closet. I'm going to go out a limb and guess that after a few drinks, I'll wind up throwing my clothes on the couch until morning rather than risk life and limb to hang them up.
Dinner and a Show
I got a message from the ship's Box Office saying that my reservation for the Cirque Dinner Show (which was to be at 8:30) had, for some reason, been shifted to 7 p.m. instead. Around 6:30 p.m., I headed down to the Spiegel Tent theater in which the Cirque Jungle Dreams show is held.
By the time I entered the theater, the ship was rocking and several people were feeling ill. One of the people at my table – a young woman who was on her honeymoon – was green and fairly sure that she wouldn't make it through the performance. (Much to my surprise, she soldiered through it!) I'm somewhat surprised at the decision to put the Spiegel Tent and the show it houses at the front of the ship, where the movement is more intense. This is a performance featuring acts of agility and daring-do, as the old circus ads once claimed, and I actually wondered if the show might be cancelled due to the weather.
It's a very cool venue, with lots of great props and decor touches which make it worth wandering around to snap photos. I'll do a full review once I'm back home, but here are the basics: Wisely, dinner is served before the show, meaning you're not distracted once the performance begins. (This also assures that the cast members, who wander the room during the performance, don't have to worry about tripping over the waiters.) There aren't really options, meal wise: The appetizer is a mozzarella and tomato salad with sliced prosciutto, followed by steak and shrimp with a few roasted potatoes and a nice trio of desserts. Nothing fancy, but it's pretty tasty, all told.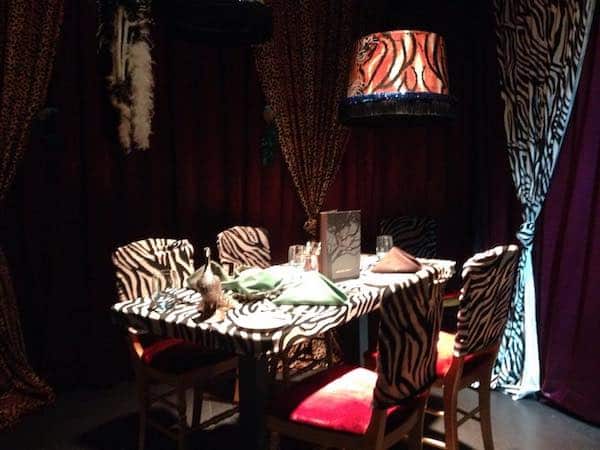 Helpfully, servers come around to warn you about 15 minutes before the show is going to start, warning there will be no drink service during the performance and that if you need to use the restroom, now's the time to do so. As to the show itself, the costumes are stunning and the performances amazing. If Jungle Dreams has one fault, it's that some of the performances go on a little too long… which I suspect is done to stretch out the running time. If there's one act I could have watched for literally hours, it was the young woman who, while laying on her back, spun various objects — including a friggin' table! — in the air above her. Truly amazing.
Once the show was over, I headed to the casino, figuring I'd drop a few bucks. But the machines I tend to like were occupied and the vibe just wasn't "calling" to me. Yes, I'm one of those people who lets the machines "speak" to me. I also talk to the machines while playing, ignoring the looks other passengers give me. The movement of the ship was also giving me something of a headache, so I opted to call it an early night. I was in my bed and asleep by 9:30 or so, and didn't regret it a bit. As I told a friend, cruising is a marathon, not a sprint…
SaveSave