When's the last time you took a nap? I don't mean a 20 minute cat nap, I mean like three hours in the middle of the afternoon? It's Day 2 of my cruise onboard the Norwegian Breakaway, and that was a major highlight… and it was amazing.
Never fear, however, I did actually earn that nap! As I mentioned yesterday, I'm the person who organized the Meet & Greet on this week's sailing, something I've never done before. We were scheduled to gather at 11 a.m. in La Cucina, so I went down early to get organized. The ship provides a great spread of breakfast rolls, cookies and the like, plus juices, coffee, and tea. I was providing the entertainment… which mostly consisted of me attempting to make jokes while raffling off a whole bunch of goodies.
A member of our Meet & Greet had asked people to donate toys that will be taken to shelter pups in the Bahamas, and I'm proud to say we took in a great haul for the little (and not-so-little) guys. I had about 100 people signed up to attend, but knew – having both attended and skipped my share – that we'd be lucky if 30 or so tore themselves away from their cruise activities to meet each other. Man, was I wrong, because we had an overflowing room. I was told by a few different people it was the best they'd ever attended, but I'm pretty sure that's just because I raffled off booze. We cruise people will do anything for free booze!
One thing that's cool about the Meet & Greets on Norwegian is that a whole slew of the officers show up, including the cruise director, the hotel director, the executive chef, and more. It's a great opportunity for people to tell them what they like (and, I'm betting, don't like) about their cruise so far.
Afterwards, we had a slot pull which, thankfully, I didn't have to organize. We each put in $20 and walked away with $18… which is pretty good odds for a ship casino. We had a surplus of $24 and decided to raffle it off to one lucky… okay, it was me. I won. I now have a whole slew of $1 bills, so some bartenders are gonna get lucky tonight!
"Hidden" Buffet On the Norwegian Breakaway
After winning all that cash (and having the strength to avoid putting it into a slot… I actually haven't done a single bit of gambling yet, which if you know me is almost impossible to believe), I went for a stroll along the waterfront before getting some lunch. The weather is still really chilly, but at least the sun came out for a while, so that's a step in the right direction.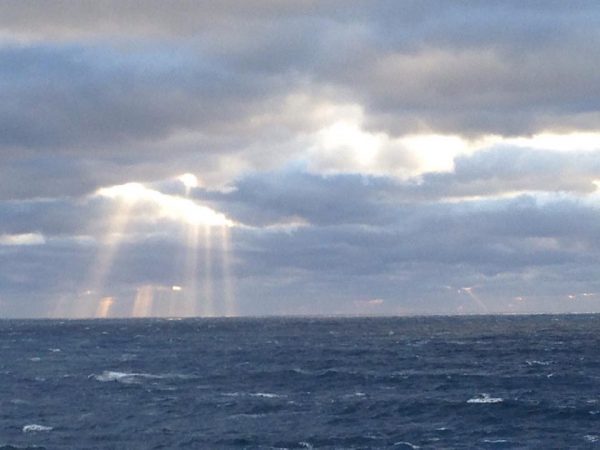 On Sea Days aboard the Norwegian Breakaway, Moderno Restaurant – which in the evenings is a Churrascaria (think: Brazilian steakhouse) offers buffets themed around a specific international cuisine. This isn't something that's really well known, although it is included in the section of the Freestyle Daily which lists the hours most venues are open. I suspect many people just glance right on by, not realizing it's an option. Today they put out a spread of Asian foods, including a fantastic sweet-and-sour pork, fried rice, spring rolls… everything you might expect. It was tasty, but proving that old jokes are often based on truths, I was hungry two hours later. And dinner was still hours away…
Commence napping.
Now I know there are people out there saying, "What? You only have seven days! What are you doing sleeping away part of it?" But for me, cruising is no longer about rushing around trying to do everything and staying up all night. Instead, it's about relaxing. Recharging. Call me Stella, 'cause I'm all about getting my groove back. In the immortal words of Men Without Hats, "You can nap if you want to. You can leave your friends behind. Cause your friends don't nap and if they don't nap well, they're no friends of mine."
Remember that Vibe Pass I was dying to get? Well, I finally swung by Vibe for a drink… only to freeze my tail off because of the winds. There were people in the hot tubs, but otherwise, the place was pretty deserted. Things should pick up there once we hit Florida tomorrow…
All Dressed Up With Somewhere To Go
Norwegian doesn't technically have a Formal Night. Instead, they do Norwegian's Night Out. As a result, you see everything from gowns to t-shirts. I tend to get dressed up… which doesn't happen often, whether on sea or shore. I'd been invited to the VIP Meet The Officers event held in the Haven, which is always fun. It also gave me a chance to thank the officers who'd shown up earlier in the day for our Meet & Greet. But my favorite moment came when I overheard a waiter and waitress laughing about a secret. "I love a good secret," I butted in, which was followed by 10 minutes of hysterical laughing with some of the hardest working, funnest people on the ship.
And no, I won't share her secret.
With a little time to kill before my 7:30 p.m. dinner reservation in The Manhattan Room, I went up to Spice H20 (the adults-only venue that's free for all and on the very back of the ship). It was fairly quiet (again, the winds were kinda cold), but I wound up meeting four or five people and, as is my way, talking and talking… right through my scheduled dinner time. I didn't actually show up at the Manhattan Room until 8:30, but they immediately had a table for me… and what a table it was.
If you don't know, the Manhattan Room is one of three Main Dining Rooms on the Breakaway. But what really set it apart is the fact that for several hours most nights, it has live entertainment. Tonight was an absolutely amazing singer crooning classics like Moon River and A Fine Romance, backed by a three or four piece band. This style of music is perfect for the venue, as it's sort of a 40's style Supper Club with a huge ceiling and a very period feel. I went with a great chorizo salad and maybe the best pot roast I've ever had (seriously… it was melt-in-your-mouth delicious).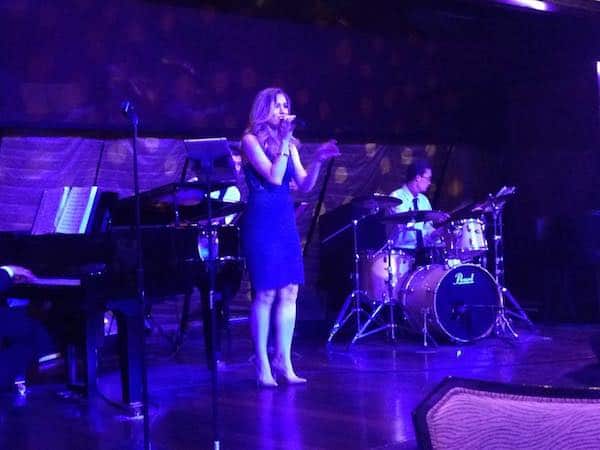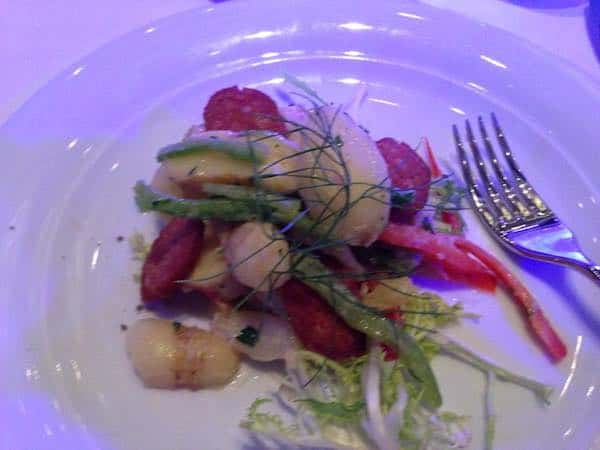 Somehow, I have managed to avoid the casino entirely this trip (except for the slot pull earlier today). I have no doubt that'll change at some point… I thought it might tonight, but since I'm planning to hit Disney World tomorrow and check out Animal Kingdom's new area, Pandora, I'm calling it an early evening again. Tomorrow is Florida and Pandora and, the weather gods permitting, some actual sunshine!
SaveSave
SaveSaveSaveSave