Halloween. It's not just for kids anymore. That was definitely true on day 3 of my Norwegian Breakaway cruise. But before we get to the costumes and dancing and overindulging let's back up to where the day started: Breakfast.
The main dining rooms on Norwegian Breakaway are open for breakfast, but the hours are very limited. So by the time I went down at around 10 a.m., I'd missed the opportunity to have a sit down meal in the MDR. Instead, I wound up going to O'Sheehan's. Unfortunately, because both Taste and Savor were no longer serving, O'Sheehan's was packed… and it definitely showed in the service. Although I was seated immediately, it was about 15 minutes before a server came to take my order. (There were, on the other hand, a whole lotta people serving coffee. I must have been approached at least 6 times by people offering caffeine, but what I really wanted was something to eat. When eventually my server did come around, I went with the corned beef hash and two eggs, and it was pretty dang satisfying.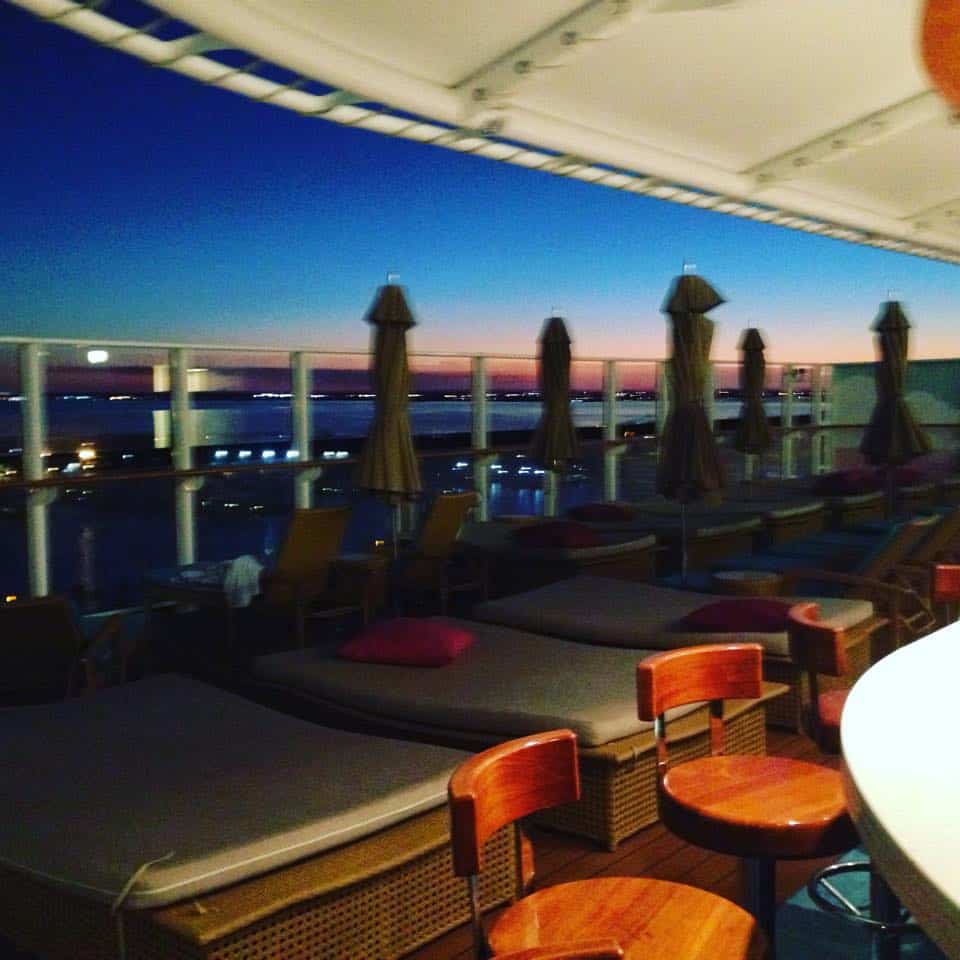 After a quick swing by the Vibe Beach Club for a mid-morning cocktail, I went down and prepared for my shore excursion to Walt Disney World. Now, NCL used to offer a shore excursion which included transportation to the park as well as admissions, but a crew member told me that they got so many complaints about the limited amount of time passengers were getting in the park for the price, they now only offer transportation to the park (which runs $59 round trip). Honestly, this seems like a smart decision. We didn't dock until around 1 p.m., and by the time the bus departed at 2 p.m. — followed by an hour-long trip from Port Canaveral to the Ticket & Transportation Center, it was 3 p.m. Given that you have to be back on the bus by 6:45 p.m., you wind up getting about 3.5 hours of actual park time. And if you've ever been to a Disney theme park, you know that ain't a lot of time.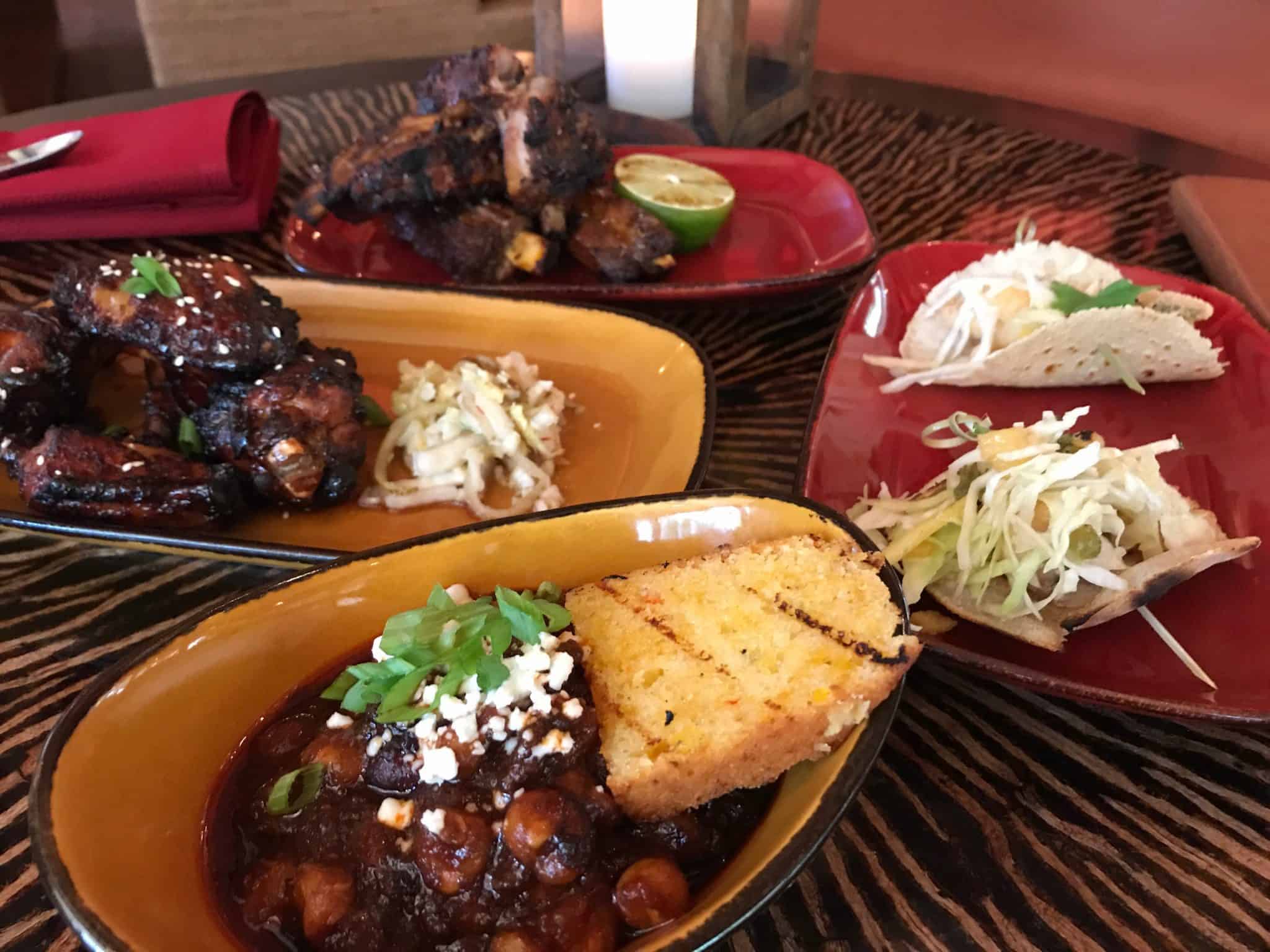 Fortunately, I wasn't there so much for park time as I was to visit the Nomad Lounge, a new upscale bar/small-plates venue at the Animal Kingdom. The spot is fantastic – one of the best lounges on Disney property – and offers an assortment of cocktails and tapas-style appetizers. My friend and I ordered everything from poutine to pork ribs, fish tacos to an African-style chili, and everything was fantastic. The venue itself is beautiful, offering both indoor and outdoor seating. We had fastpasses for a few attractions, but missed the window for all but one because we wound up sitting, talking, and just enjoying the ambiance of the Nomad Lounge.
Halloween Aboard Norwegian Breakaway
The bus from Disney arrived at the ship around 8 p.m., with the Breakaway leaving the dock at 9 p.m. The maneuevering the ship has to do to leave Port Canaveral is pretty impressive. After pulling away from the pier, the ship does a 180 degree turn so that it can sail down the channel and back out to open waters. After hanging out in my stateroom for a while and getting some work done (yes, I'm one of those people who tries their best, but fails miserably to disconnect from the office), I donned my costume and headed out for the night.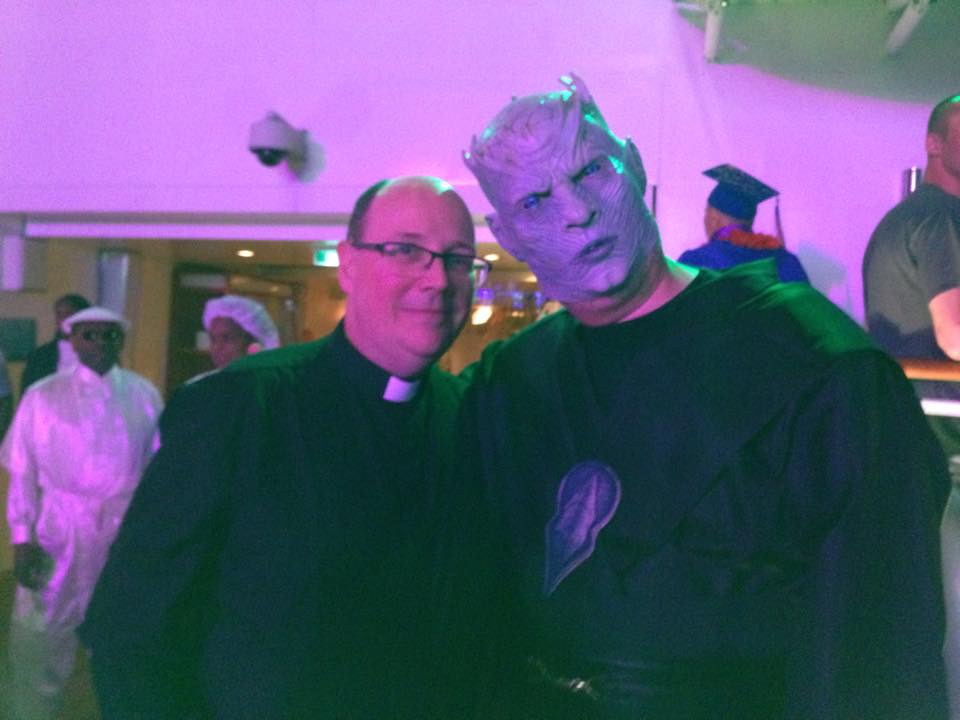 As it turns out, my priest costume was pretty darn convincing, with people all night long asking if I was a real padre. (This would especially prove true in the casino, where several folks asked me to bless their machine!) One of my favorite things about the Norwegian Breakaway is the nighttime parties, which are held at Spice H20. There's nothing like partying to loud music while in the middle of the ocean under the open sky. While I hadn't really been "getting my money's worth" out of the drink package up until now, that definitely changed during the Halloween party.
Pro Tip: If there's a venue you know you're going to be drinking at, find a bartender and tip him well. He will definitely take care of you.
The party didn't really get started until 10:45 (and if you've been reading the trip report so far, you know I've been in bed long before that all week). Prior to the actual festivities, they'd set up a pretty elaborate Haunted House in the Entourage area (which is, under normal circumstances, a teen club). NCL did a fantastic job, turning the space into a real frightfest with great decorations and creatures coming at you when you least expected it.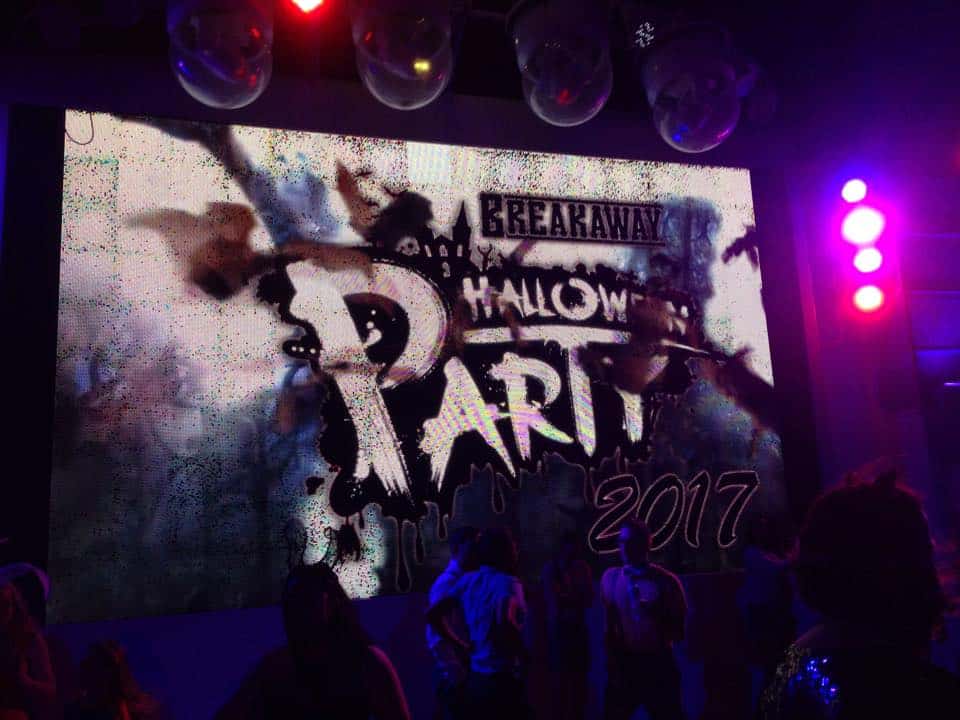 My normal routine is damned, because once the party got started, it was rocking, and I was on the dance floor, blessing people and boogying until nearly 1 a.m. After that, I hit the casino where I didn't necessarily have a whole lot of luck, but I did make $120 last for a couple hours. For those keeping track, that means I didn't actually return to my stateroom until nearly 3 a.m.
Despite being hungry, I managed to somehow avoid a late-night visit to O'Sheehan's (which is open 24 hours) for some wings and instead went to bed hungry. But with a 10 a.m. call time tomorrow for my tender to Great Stirrup Cay, NCL's private island, here's hoping there's not a hangover in my future…
You can read yesterday's trip report here.
SaveSave