Today the Norwegian Breakaway stopped at the cruise line's private island, Great Stirrup Cay. Belinda Carlisle sang that heaven is a place on earth, and I'm pretty sure she meant this island.
Before heading over to the island on tender boats (more on that in a moment), I realized I wanted to have a little breakfast. With time limited, as it was 9 a.m. and I was supposed to meet the group with whom I was sharing a cabana, I hit the buffet for the first time on this sailing. Rather than load up a plate and sit down to eat, I sort of grazed, cow like, grabbing a hash brown patty from here, a couple sausage links from there. Then I headed down to the Spiegel Tent, where those with priority tendering were meeting.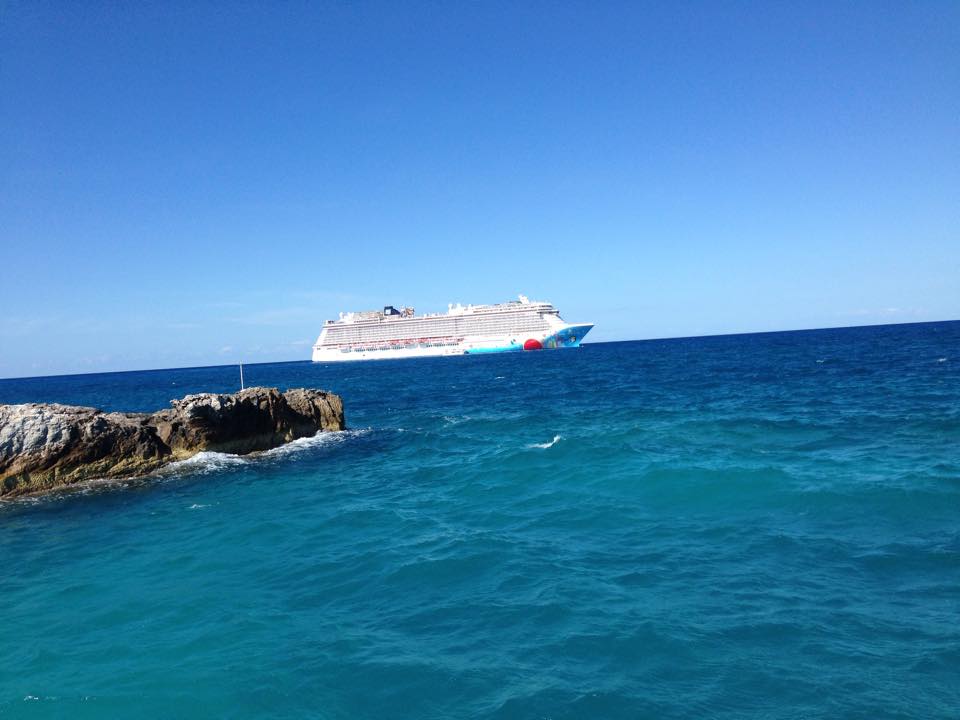 For those unfamiliar with the tendering process, when ships can't actually dock (the way then do in say, Port Canaveral or Nassau, they anchor off shore and use smaller boats (called tenders) to ferry people back and forth. Via the meet and greet group I'd been in charge of, I connected with several people who wanted to rent one of the private cabanas on the island and split the cost. Those who rent the cabanas get priority tendering. My group had agreed to meet at 10 a.m. in the tent, but I headed down early when they began announcing that the tendering process was starting.
No one from my group was in the designated meeting space, so I assumed they'd already gotten on a tender and jumped on the first one available, which left around 9:30 a.m. As it turned out, they all showed up at 10 a.m. and, thinking I was running late (as opposed to early), the woman who'd arranged the cabana sat waiting for me totally unaware I was on the island waiting for her!
Spoiler alert: It all worked out fine in the end. We had an amazing day on the island, with warm weather and a beautiful breeze that kept it from being too hot. (If you've ever been on Great Stirrup Cay when there's no breeze, you know just how brutal it can be!) A few tips to our amazing server, Rowena, and the drinks were flowing. We'd pre-ordered some food and life was good.
Update On Great Stirrup Cay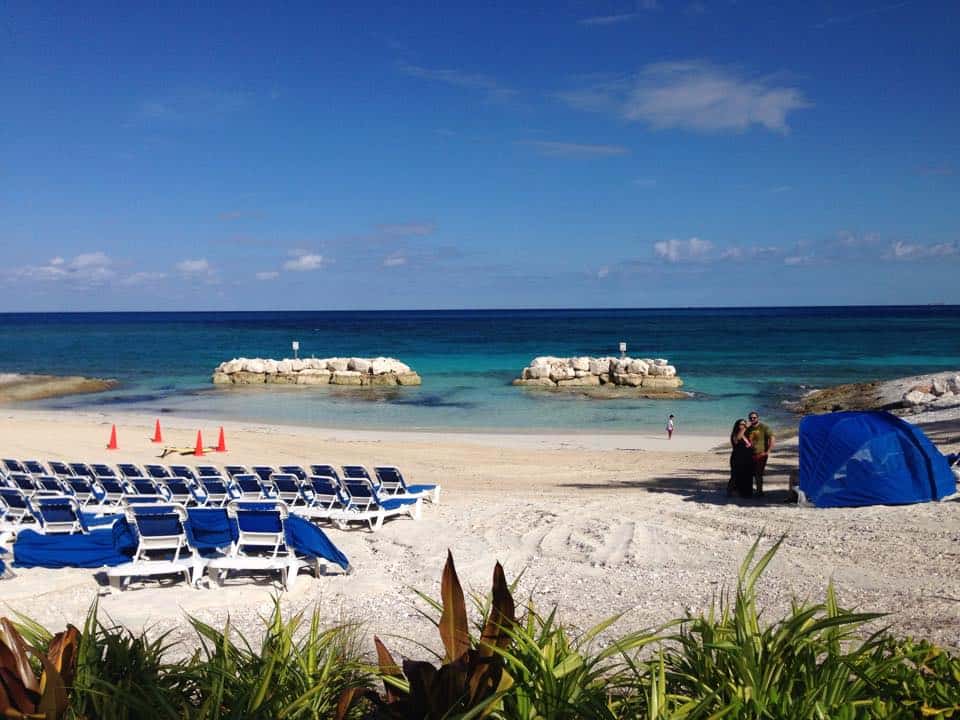 As many know, Norwegian has been working hard to renovate their private island. Everything is still under construction, but you can already tell just how fantastic it will be when completed. In the middle of the island is an under-construction lighthouse which will, like its sister structure on Harvest Cay (NCL's other private island, in Belize), offer breathtaking views and the opportunity to zipline over the island. At the far end, the lagoon area is still closed off, but construction is well under way on what promise to be incredibly high-end cabanas (featuring air-conditioning!) for Haven guests.
Currently, there are two types of cabanas available on Great Stirrup Cay: Large and small. While the recently-refurbished large cabanas are gorgeous and chock-full of amenities, they also seem to be more about the view than access to the ocean. Elevated as they are, with a ramp leading up to them, they are a bit removed from the beach. The smaller cabanas, on the other hand are a bit further away from the crowded main area and much closer to the water.
Nightlife On The Norwegian Breakaway
After a full day of fun on the island, I headed back to the ship around 3:30 p.m. to collapse for my daily siesta. I eventually roused myself for dinner at the Manhattan Room — easily my favorite dining spot on the ship, and complimentary to boot — where I had an incredible lime dill shrimp appetizer, a peking duck salad and a roasted lamp main course. While the lamb (and accompanying au gratin potatoes) were fantastic, the appetizer and salad were so extraordinary I almost wish I'd eaten the entire meal in reverse!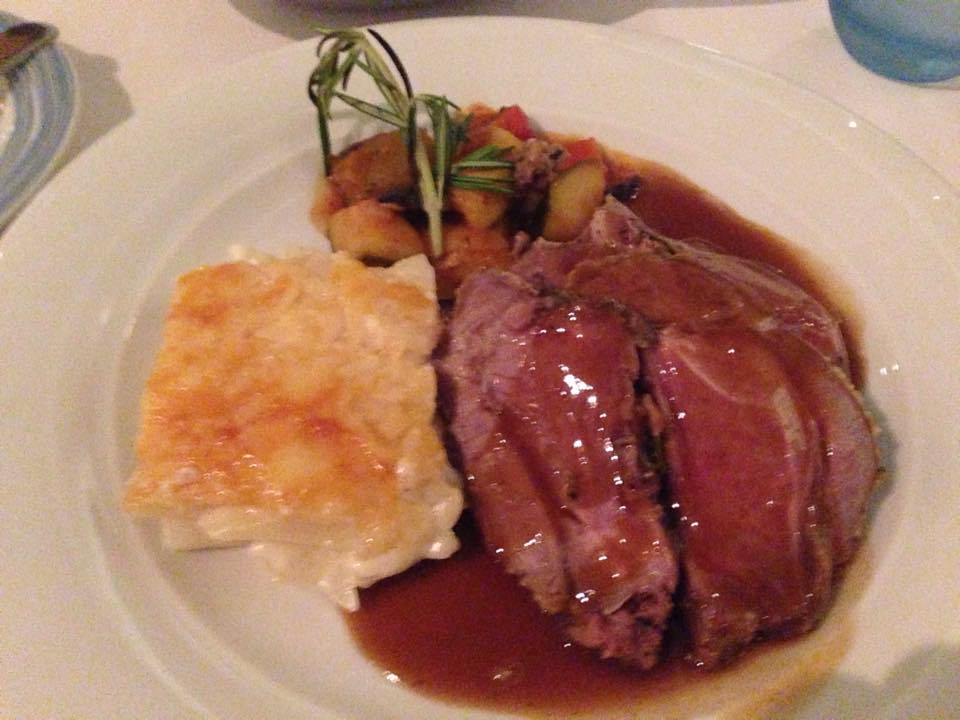 If the previous night had been all about dancing until dawn at the Halloween party, tonight was, at least for me, more mellow. Wandering somewhat aimlessly, I first wound up on the Waterfront, sitting outside Fat Cats. One of the amazing things about the Waterfront is that venues such as Fat Cats offer both indoor and outdoor seating. That meant I could sit outside, enjoying the warm breeze and the view of the ocean, while inside Charlie Love and his band crooned their tunes.
When the jazz band took a break, I wandered over to the Shakers Martini bar, where an amazingly talented young woman named Aliyah was playing the piano and singing the kind of soul-stirring tunes that can't help but make you wistful. This young woman is the kind of talent that shows like The Voice claim to be looking for. She's the real deal. Between Aliyah and Charlie Love, the evening left me thinking that all those folks who mock "cruise-ship entertainers" (thanks largely, I'm sure, to their memories of Charro performing on The Love Boat) have no idea what they're missing.
Eventually, I wandered up to SpiceH20 for that night's Latin Sizzle party. Before the DJ kicked in with some amazing tunes, the cruise director's staff taught the basics of salsa. And while they insisted it was so simple that "anyone could do it," I quickly proved the exception to the rule. I might spend the rest of my life praying that video of me attempting those moves never, ever surfaces.
A quick note about the cruise director's staff: On past Breakaway voyages, I've had several cruise directors, including the wildly popular Dan Dan, who — like the best in his business — seemed somehow to be everywhere at once. You couldn't turn around without Dan Dan being there. I can't say the same about Alvin. Even at events which I'd normally expect the cruise director to host (such as the Halloween party), it has been his staff who've been the public face of the ship. And for the record, they've been fantastic.
At around midnight, I wandered down to the casino to do a little gambling. Again, I haven't really spent nearly as much time in the casino as I normally do, whether because it's been incredibly crowded or maybe I've just been finding other (cheaper) ways to pass the time. I put $100 in a Quick Hits slot machine and watched it vanish in about 5 minutes. A Total Meltdown machine was kinder, giving me at least a half hour or more of play, but it, too, eventually stole all my cash. Hey, they aren't called One-Armed Bandits for nothin'.
Tomorrow is our final port of call, Nassau. Having been numerous times (and especially enjoyed the Atlantis water park in the past), I'm debating whether or not I'll explore. Time will tell…