There are two kinds of vacations: Those on which you run around trying to do everything (think: Walt Disney World), and those like the one I'm enjoying this week on the Norwegian Breakaway, where it's more about relaxing than checking things off a to-do list. So when we arrived in Nassau yesterday, I ignored the impulse to get off the ship and find something to do in favor of laying low. It was a slow day in Nassau, with only one other ship — the newly refurbished Carnival Elation — in port.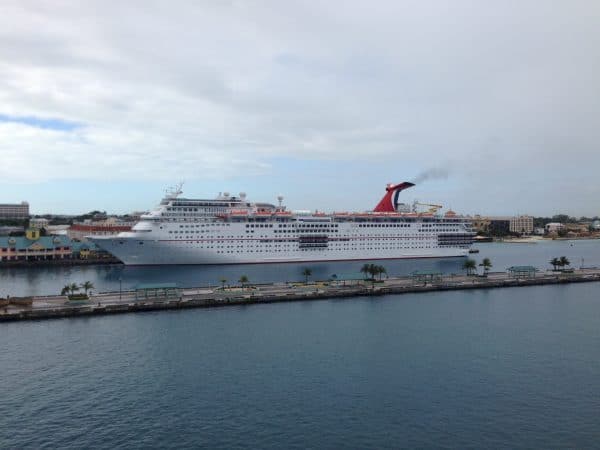 I had a huge lunch at O'Sheehan's (wings, nachos and a grilled chicken sandwich), after which I spent the entire day in my stateroom, reading… and by "reading" I mean "napping."
Norwegian Breakaway Tips
Which means today's trip report isn't going to be particularly exciting… so instead, I'm going to go with some random observations and tips about the Norwegian Breakaway and the week in general.
Remember the Vibe Beach Club pass I was willing to kill to get? I probably could have saved the $100 and just hung out in Spice H20 (the free adults only area on the ship). I'm glad I got it, and even with the limited time that I've actually spent there it's been great (in fact, I'm sitting there as I write this), but it's been so windy this week that I tend not to stay longer than an hour or so at a stretch.
I've said it before, and I'll say it again: find a bartender and treat him well. I tend to be the kind of person who likes to drink all day, so I ask for weak drinks. I now have three or four bartenders all of whom not only know me, but refer to me as "Half-Shot."
The casino has been brutal. I haven't spent nearly as much as I normally do, but I also haven't felt all that compelled to… whether because the one-armed bandits are robbing me blind or because it's just not what I'm looking for on this trip, I'm not entirely sure.
Need someplace to store your dirty laundry? Staterooms have a sort of cube-shaped chair that slides beneath the counter in the sitting area. If you lift off the top, it proves to be hollow… making it a great laundry hamper!
One of my favorite things to do is bop from one bar to another, talking to strangers. Yesterday, I spent a couple hours talking to a couple who'd come on the cruise as a last-ditch effort to save their marriage. Pretty sure, thanks to all my years of Dr. Phil watching, I managed to help them a little. So now I'm wondering… is Cruise Counselor a thing? Like, maybe ships should hire me to sit in their bars and offer people advice. Someone get on that.
Something I highly recommend shoving in your suitcase or purse: lip balm. After a few days in the sun and wind, you'll thank me.
I bought the unlimited internet package when we left shore. $200 (plus an initial $3.95 connection fee, which you can avoid by purchasing the package in advance) for the week. The internet on Norwegian Breakaway definitely isn't great… it can't begin to compare to the Zoom internet I had on Anthem of the Seas back in March. But if you need to be connected, you'll find that it does the job… especially when you are somewhere other than in your stateroom.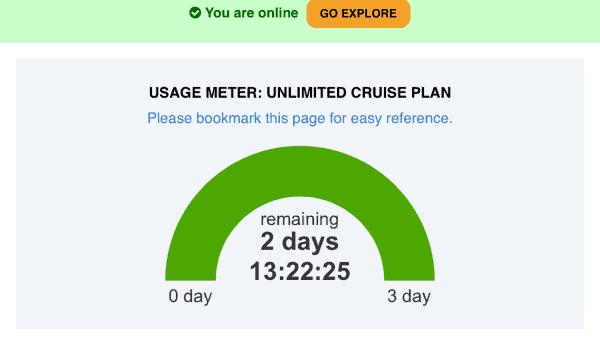 If there's a downside to the internet package, it's that each time you sign on, you get sort of a reverse-countdown clock (shown above), showing how much time remains in your package and, by extension, how little time remains of your trip. You know how much we all love sharing our countdown clocks indicating when we'll next sail? This is sort of the depressing counter to those!
There are a lot of kids on this sailing, making the adults-only venues (Vibe and Spice H20) a Godsend. I'm not anti-kid by any means, but I am kinda anti-bad-parenting… and there are examples of that everywhere you look. Too many parents tend to let their children run wild. One woman, when asked by her husband at around 11 p.m. where there kids were, replied, "How do I know? This is my vacation from parenting." Um, no. There is no vacation from parenting. It's one thing to drop your kids off at the various kids programs, where counselors will keep them occupied. It's another to set them loose on the ship with no clue where they are or what they're doing.
Naps are your friend. The best parties (Glow, the 80's party, etc) don't start until 10:45 p.m., and they are a blast. Last night was the Glow party, which I'd intended to hit, but slept through. Tonight, however, is the 80's party, which is always my favorite night. Because we had a Halloween party earlier this week, I feared that might have taken the place of the 80's party… but someone up there (perhaps the captain?) is smiling down at me and making sure I get the party I'd been hoping for. There's really nothing better than being on a ship in the middle of the ocean, 80s tunes blasting, people dancing, all underneath the open sky. The real challenge now is to make sure I stay awake for it!