I love sea days. People often get bent out of shape when their itinerary changes and they have to skip ports, but I joke that the ship could go out into open waters and do figure eights and I'd be happy. That's one of the reasons I like the Norwegian Breakaway itinerary I've been doing this week — and have done numerous times in the past — it ends with two sea days, the first of which is today.
Like most mornings, this one began with an hour or so of just sitting on the balcony, watching the ocean while thinking about life. (Okay, truth be told, I attempted to think about pretty much anything but life, given that I was here to relax, not stress about everything back home.) Eventually, I roused myself and went upstairs to the Vibe Beach Club… where I proceeded to sit and watch the ocean.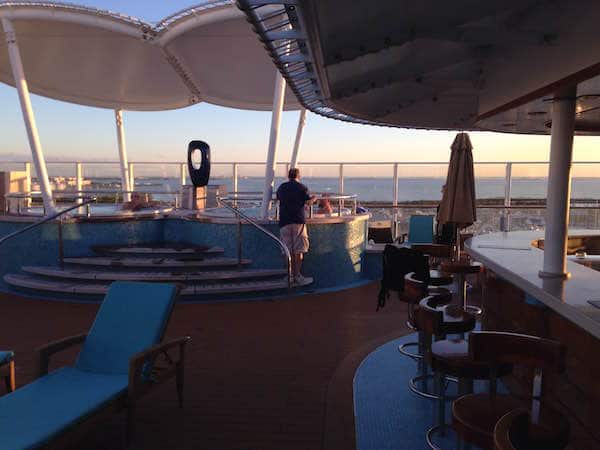 Lunch on the Norwegian Breakaway
As I mentioned a few days back, they do special, themed brunches on the Norwegian Breakaway, held in Moderno restaurant, on sea days. I headed down to check today's out, but the American picnic theme — with ribs, corn on the cob, coleslaw and more — didn't grab me. It looked great, but wasn't what I was in the mood for. Instead, I headed down to Taste (or possibly Savor… the sister dining rooms, located across from one another, are pretty much indistinguishable to me) for a sit-down lunch. First up? A crab-stuffed baked potato skin. I'm not sure what I thought it was going to be, but it so caught me off guard when it arrived that I thought the waiter had given me someone else's appetizer. Being game to try new things, I bit into it, realized it was what I'd ordered and found it so delicious I was tempted to order another. This was followed by the cajun shrimp salad (a favorite of mine) and, for the main course, a spicy shrimp arrabbiata.
Just as I was finishing lunch a hullabaloo — that's right, an actual, honest-to-God hullabaloo — arose from outside the restaurant. As it turned out, a pub crawl of about 30-40 people had arrived at Mixx bar, which sits between the Main Dining Rooms. I'm sure the noise they were making ticked off some diners, but I wasn't anything but jealous. They sounded like they were having a blast! I actually might have tried to crash their party (it was clearly a group travelling together, given their matching T-shirts) were it not for the head cold I contracted a day or two ago. I'd vowed that I was going to avoid drinking and medicate all day so I'd be ready for tonight's main event: The 80's Dance Party at Spice H20, always my very favorite night of a cruise.
Pro Tip: If you even suspect there's a chance you're going to get ill — whether from eating too much or because you're susceptible to the germs of others — pack whatever meds you might need. Otherwise, you'll pay an arm and a leg for basics like cold meds in the store aboard the ship! 
As has become my shipboard habit, I headed back to my stateroom after lunch for a little napping and reading. I managed to finish an amazing novel called Do Not Be Alarmed (by Maile Meloy), about a cruise gone horribly horribly wrong; and then I finally had an opportunity to binge-read (and thereby catch up on) my favorite thing on all the internet (aside from Cruise Radio, of course!), the always hysterical Dark Shadows Every Day blog. If you were ever a fan of the long-ago spook opera, I can't recommend it enough.
I managed to snag a late reservation at Cagney's, NCL's steakhouse and one of the best meals you'll have on any cruise ship. Before dinner, I swung by the Waterfront to again listen to jazz man Charlie Love and his band entertain the crowds at Fat Cats. It was raining outside, and I began to wonder if my beloved 80's Dance Party would wind up being cancelled. But rather than dwell on that, I headed to Cagney's.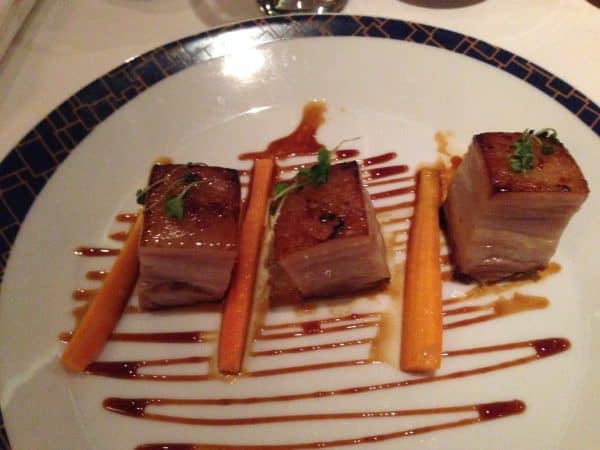 Now, lemme tell you: Most people go with the shrimp cocktail appetizer, and I can't blame them one bit. But if you want to try something that'll melt in your mouth, order the pork belly. As a friend of mine used to say, "It's so good, it'll make you slap your mama." I started with that and the baked potato soup, then followed it up with a ginormous slab of prime rib served with Cagney fries (coated with truffle oil and a little bit of Parmesan) and onion rings. I hear you out there: "What? You went to the steakhouse and got prime rib?" Well, calm your nerves, because I've also got reservations tonight, and I'll be getting the prime rib.
Here Comes The Rain Again
After dinner, I swung back to the room for a quick change of clothes before heading up to Spice H20 for the 80's Party. It was just getting started, and people hadn't really gotten into it yet when… the rain began. The cruise staff did their best to keep things going, and it looked as if the weather might cut us all some slack. Just as a conga line got started (to Gloria Estefan's similarly-named hit, of course), the skies opened and people abandoned the dance floor quicker than a house on fire.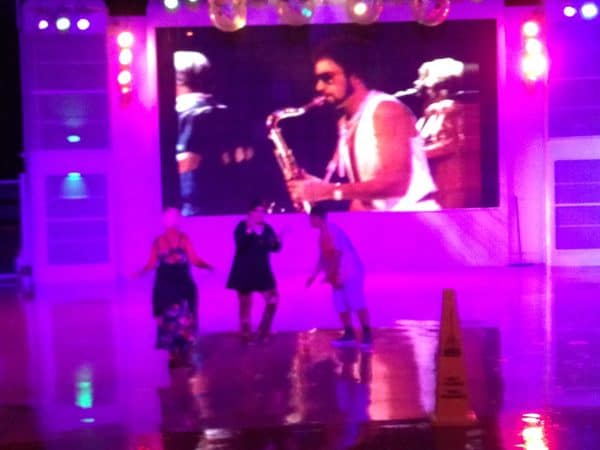 My favorite night of the cruise… it couldn't end like this, could it?
Nah. Two minutes later, they announced that the party would move to Bliss nightclub. And while not the same as dancing under the stars, there was still a whole lot of 80's music and enough dancing that, as I told one of my favorite bartenders, there was a good chance I'd be feeling pain in places I haven't for a long time.
Here's something I'll never understand, and I've seen it happen on other ships, too (most recently, Anthem of the Seas). You have a theme party that has packed the space (on Anthem, it was the Music Hall) and an hour or so into it, you change gears. In this case, they went from classic 80s tune to modern club music on a dime… and lost half the crowd, who wandered out. Now, maybe that's on the assumption they will go somewhere else and spend money, although by this time, it was midnight, so their only real options were the casino or bed… and it sure seemed as if most were choosing bed.
Most, but not all… because of course, I hit the casino. And again, it hit back… hard. I don't remember ever being on a trip where the casino treated me as badly as the Norwegian Breakaway's has this week. Usually, I have at least a few small wins, some periods were I get a lot of play before eventually losing. But that has not been the case at all this week. In fact, I doubt I'll do more gambling — and if so, not much — on this trip as we head, tomorrow, into the final day.