All good things must come to an end, and that includes my week on the Norwegian Breakaway. By morning, we'd be back in New York City, but for now we had one last sea day — and night — to enjoy. And I intended to do exactly that.
One Final Day On The Norwegian Breakaway
Often when sailing in and out of New York City in the late fall or early winter, your first and last sea days can be frigid. Only a few short years ago, we had a terrible ice storm in the New York City area that left some without power for days. So it was a nice surprise to wake up on this early November morning and find that it was a pretty decent day. Sure, the winds were blowing and there were clouds on the horizon, but it wasn't snowing and that, in and of itself, was a victory. I spent several hours on the balcony reading before heading up to Vibe Beach Club.
One of the benefits of a Vibe pass is that you often wind up bonding with some of the other folks who've purchased access to the private retreat. So this was a nice opportunity to say farewell to new friends (and give one final tip to the bartenders who'd been taking care of me all week). Afterwards, it was time for the dreaded "lasts." You know… the last $20 bucks you'll put in a slot machine on this trip; the last lunch in the main dining room; the last sunset over the ocean. All those things that you've been dreading all week.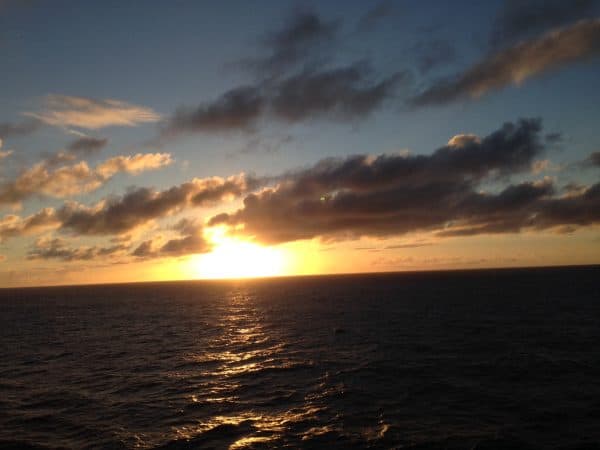 For lunch, I had chicken nachos followed by fried chicken with cole slaw. Not wanting to put it off until the last minute, I headed back to my room to get everything packed up and give my room steward a final tip. (I tend to tip at the beginning, middle and end of the trip, with the amount varying based on service. I can't say the young woman who was taking care of me this week was particularly great, but she was fine. I've had better and worse, over my various trips.)
The rest of the afternoon and early evening is something of a blur, comprised of equal parts napping, reading and wandering aimlessly about the ship, soaking in the atmosphere. Afterwards, I got dressed and headed downstairs for a few pre-dinner cocktails.
As usual when I sail on a Norwegian ship, I'd arranged for my final meal of the trip to be at Cagney's Steakhouse. Another order of the amazing pork belly, followed by a decent Caesar salad and an amazing ribeye with chimichurri sauce and, of course, a side of the restaurant's signature truffle fries. It was a perfect meal, making it a great way to end the trip.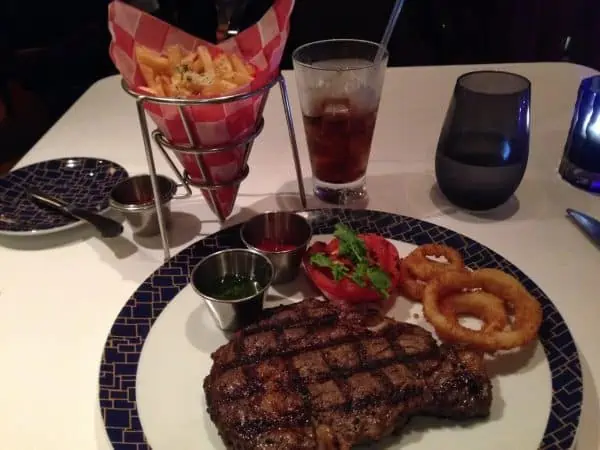 Returning to my cabin, I realized that I'd never received information on disembarkation. As a gold-level member of Norwegian's Latitudes program, I knew that priority disembarkation was available to me (especially since I always carry on and off my own luggage), but wasn't sure where the designated gathering spot was. A quick visit down the guest services gave me the info I needed, and I called it an early night.
Sunday morning, I woke early to enjoy the trip up the Hudson river as we returned to New York City. Heading down to the Manhattan Room as instructed the night before, I waited while the ship cleared customs and was surprised at just how smooth disembarkation was: I was one of the first people off the ship and walked into a completely empty customs hall. (This was an especially pleasant surprise given that in the past, I've experienced some absolutely hellish disembarkations from the Norwegian Breakaway.) Walking a few blocks away from the crowded pier, I was able to grab a Lyft and be back home less than a half-hour later.
All too quickly, real life — a leak in the basement, a problem on the work front — reclaimed me. But I signed onto my computer and smiled at seeing the countdown clock indicating it was exactly 90 days until my next cruise, this time on the Norwegian Gem…