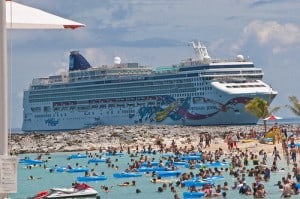 Norwegian's private island 'Great Stirrup Cay' will re-open for ship calls on September 1 after Hurricane Irene delivered a lashing last week. The island, located approximately 55 miles north of the Nassau, Bahamas received some structure and landscaping damage from the hurricane.
Spokeswoman Amanda Graham told us, "As a result of Hurricane Irene, Great Stirrup Cay, Norwegian's private island in the Bahamas, received some damage to the beaches and landscaping, as well as one of the structures that housed the Dive In Center."
The currently have a team working around the clock to restore the island for Norwegian Sky's call there on Thursday.
Photo credit: Creative Commons happyskrappy