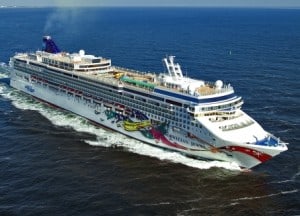 Norwegian Cruise Line (NCL Corporation Ltd., "Norwegian" or "the Company") today reported results for the quarter ended June 30, 2012.
Improved revenue performance in the quarter coupled with business improvement initiatives resulted in a 14.1% increase in operating income to $87.0 million along with an 8.6% increase in Adjusted EBITDA to $135.1 million. Net Revenue increased 2.7% in the quarter due to an improvement in Net Yield and a 1.5% increase in Capacity Days. Net Yield increased 1.2% (1.9% on a Constant Currency basis) as a result of higher average ticket pricing.
Interest expense was $48.9 million compared to $46.7 million in 2011 reflecting a write-off of $2.4 million of deferred financing fees in 2012. The Company posted a 23.3% increase in net income to $36.0 million on revenue of $583.2 million from $29.2 million on revenue of $568.6 million in 2011.
You can read their full earnings report here.
Source: NCL
Subscribe to our Cruise News Updates.