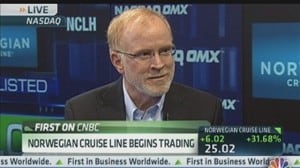 Norwegian Cruise Line (NASDAQ: NCLH) announced today the closing of its initial public offering of 27,058,824 shares at $19 per share.
The number of shares sold includes 3,529,412 shares sold as a result of the full exercise by the underwriters of their option to purchase additional shares.
After expenses the cruise line brought in approximately $477.6 million, according to a release earlier today.
"They are using a large portion of the money to pay down some of their high interest debt, they carry twice the amount of debt that Royal Caribbean and Carnival carry," said Stewart Chiron, The Cruise Guy® on Cruise Radio this week.
The line will take the money to pay down debt, which currently sits in the $3.1 billion range. The shares amounted to approximately 12% of the parent companies that own Norwegian Cruise Line.
The stock closed on Thursday afternoon at $27.34.
Subscribe to our Cruise News Updates.
Related articles