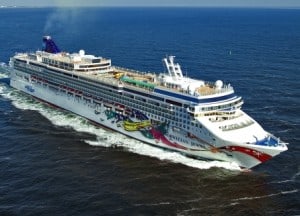 By: Sarah Phillips
On a different kind of maiden voyage, Norwegian Cruise Line, the 3rd largest cruise operator in North America, priced shares of its initial public offering on Thursday, with shares set to begin trading today on the Nasdaq stock market under the ticker symbol "NCLH."
Initial pricing was expected to be in the $16-$18 range. Due to strong investor reception, the initial stock offering price will be $19 a share.  UBS and Barclays are the lead underwriters on the offering.
Many investors see this as a strong move for the company as it continues to grow and expand. The proceeds from the offering, estimated to be about $447 million, are being used to pay down some of the company's $2.9 billion of debt.
Norwegian Cruise Line currently operates 11 ships, with three ships on order over the next three years, including an option for a fourth ship. Norwegian's newest ship, the 4,000-passenger Norwegian Breakaway, debuts in May 2013.
Subscribe to our Cruise News Updates.
Related articles