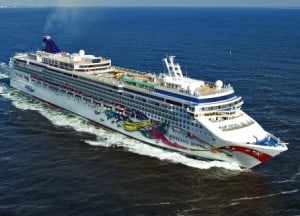 Norwegian Cruise line launched a repositioning sale today (August 6) giving guest opportunities to sale transatlantic, Panama Canal or the Pacific Coastal region. Guests who book these sailings with receive $100 on boarding spending credit and a booklet with more than $300 in savings.
Norwegian Epic will set sail from Barcelona to Miami on a 13-day voyage departing October 21, 2012 and for those looking to plan ahead; in 2013, Norwegian Epic will offer two Transatlantic options: an 11-day cruise on April 20, 2013 from Miami to Barcelona and a 13-day cruise on October 20, 2013 from Barcelona to Miami.
Norwegian Sun will sail a relaxing 14-day Transatlantic voyage from Copenhagen to Miami on September 30, 2012 and Norwegian Star will make two Transatlantic voyages in 2013: a 16-day cruise from New Orleans to Copenhagen on April 21, 2013 and a 12-day cruise from Copenhagen to Miami on October 1, 2013.
Cruisers looking to take an unforgettable voyage through the Panama Canal can do so onboard Norwegian Jewel, Pearl, Star or Sun with fares starting at $949 per person. Panama Canal repositioning cruises range from 14 to 17 days, sailing from Miami, New York and Los Angeles. Guests can bask in the historical wonder as they sail through the narrow passage of the Panama Canal and have the opportunity to visit amazing ports such as Cabo San Lucas, Puerto Vallarta, Huatulco and Puerto Chiapas, Mexico; Puerto Quetzal, Guatemala; Puntarenas, Costa Rica and Cartagena, Colombia.
Norwegian Star will offer a 14-day Caribbean Escape from New York to New Orleans on October 21, 2012 visiting exotic destinations such as St. Thomas, Virgin Islands; St. John's Antigua; Bridgetown, Barbados; Willemstad, Curacao; Oranjestad, Aruba; and Cozumel, Mexico. Norwegian Dawn will set sail on a 12-day Caribbean Escape from Tampa to Boston on April 21, 2013; and on November 1, 2013 the ship will sail back to Tampa from Boston on a 14-day Caribbean Escape with fares starting at $449.
The foliage of the Pacific Coast awaits, on a Pacific Coastal Repositioning cruise, and with rates starting at $339 guests can enjoy spectacular coastal views from the decks of Norwegian Jewel, Pearl or Sun from Vancouver, British Columbia or Los Angeles.
Reposition cruise typically consist of more days at sea verses port days.
Subscribe to our Cruise News Updates.
Related articles