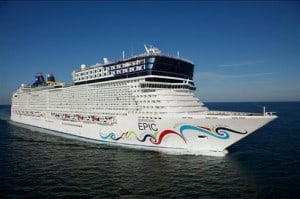 Norwegian Cruise Line announced today that the line's children's program, Splash Academy, has implemented a brand new "Guppies" program offering exciting, interactive programming for kids' ages six months to three years old. The new program gives parents, with children under the age of three, the opportunity to engage in a variety of sensory-based programs with children including baby art, featuring organic, vegetable-based "Wee Can Too" art products, baby "Rhyme Time," where a storyteller recites popular nursery rhymes featuring puppets, and "Motion in the Ocean,"  a parent and baby mini-workout.
With the new programs, kids and teens have the chance to participate in a variety of innovative events and activities throughout their cruise, specially tailored to their individual age groups. Both Splash Academy and Entourage feature a different theme each day, such as "Rumble in the Jungle," and "Under the Big Top," offering new surprises every time the children return to the program.
Kids of all age groups love participating in the sporting activities that were developed through the partnership with The King's Foundation and Camps, a United Kingdom-based organization. The sports component of the youth programs offers high quality sports activities designed to make a positive impact on the children. Examples include soccer skills; physical challenges; and icebreaker action games. Bowling tournaments, soccer challenges and "dodge ball under the stars" are just a few of the active offerings for teens. The new program also offers the family a chance to play along in a variety of sporting activities including dodge ball, tug-of-war and other exciting family challenges.
One of the most popular aspects of the new program is the circus workshop, developed through the partnership with Hilario Productions' Cirque du Jour, which offers fun circus activities for the whole family.  Through the program, children have the rare opportunity to learn a variety of unique skills such as balancing feathers, juggling, plate spinning and even stilt walking. Classes take place within the youth program, but a family circus school performed in a circus ring, hosted by the Cruise Director, who acts as ringmaster, is also offered.
Parents also love participating in activities and events with their children, including cupcake decorating; pizza making; family game shows; family charades; Family Deck Party; and a special Family White Hot Party.
Additional information about Norwegian's family offerings can be found at www.ncl.com/family.
Source: Norwegian
Subscribe to our Cruise Updates.
Related articles