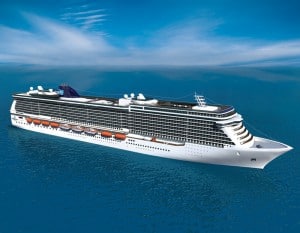 It was announced this morning that Norwegian Cruise Line has selected the five finalist names in their "Norwegian Cruising for Names." The contest, which was held with USA Today, gave readers of the paper and fans of the cruise line a chance to name their two upcoming 'Project Breakaway' ships. The two ships are due out April 2013 and April 2014.
Over 230,000 entries were submitted. "We received an overwhelmingly positive response to our naming contest, showing the passion and enthusiasm cruisers have for our new ships," said Kevin Sheehan, Norwegian's chief executive officer.  "We thank everyone who took the time to reflect on a name for our ships. It was very challenging to select just five finalists."
So what are the names?
Norwegian Bliss, first submitted by David Menker of Dallas, Texas
Norwegian Breakaway, first submitted by Kimberly Powell of Lafayette, Louisiana
Norwegian Escape, first submitted by Joseph Funigiello of Naples, Florida
Norwegian Getaway, first submitted by Dennis Hultman of Vienna, Virginia
Norwegian Journey, first submitted by Florence Pflaster of Carolina Shores, North Carolina
The line will pick two names from the fiv and announce them on September 13, 2011.
The two Project Breakaway ships will be 144,017 gross tons and will carry approximately 4,000-passengers.
Photo credit: Norwegian Cruise Lines