No guest, no matter what their palate is, will go hungry aboard Norwegian Cruise Line's newest upcoming ship purpose-built for China, Norwegian Joy.
Don't believe me?  Try this on for size: there will be a whopping 28 different food and beverage venues onboard – the most for any purpose-built cruise ship for China to date.
One thing that sets Norwegian apart from other cruise lines is their "Freestyle" dining concept.  They offer a ton of flexibility which means there are no fixed dining times or assigned seating.  So literally, you eat where you want, when you want.  Norwegian Joy will include a wide range of complimentary options, as well as additional specialty restaurants for a fee.
Included Dining Options
Guests will be able to dine at these venues aboard the ship as included in their cruise fare:
Garden Café – This brimming buffet will include a wide range of Chinese and Western cuisine, as well as live stations where food is cooked to order.  The venue will be open for breakfast, lunch, and dinner.
Manhattan Room – The Manhattan Room is the ship's main dining room, and will offer a traditional, elegant experience with a wide variety of Chinese cuisine, as well as Western-style classics like steak and seafood.
Savor and Taste – These restaurants will serve everything from traditional Chinese cuisine, to forward-thinking Chinese fusion with Korean and Japanese accents.
Specialty Dining Options
To dine at a premium venue aboard the ship, guests will pay a small fee which varies depending on the restaurant.
Food Republic – Diners will take a culinary tour of the world at this restaurant.  An eclectic menu will draw inspiration from flavors of Japan, and far away places such as Peru.  There will be an extensive sushi selection, and creative fusion dishes for guests to try.
Teppanyaki – The authentic taste of East Asia comes out at Teppanyaki.  Japanese hibachi chefs will cook right at guests' tables.
Sakura & Hibiscus and Korean Barbecue – Guests will be able to prepare their own meals at these venues, with a selection of meats and fresh vegetables to include.
Noodle Bar – As in the name, the noodle bar will offer fresh hand-pulled Chinese noodles, as well as exquisitely crafted dim sum.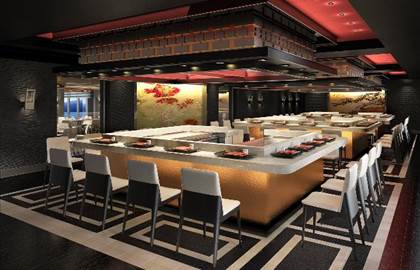 Other Food Venues
Cagney's Steakhouse – Anyone who's been on a Norwegian ship will probably be familiar with their signature steakhouse, Cagney's.  This venue offers filet mignon, bone-in ribeyes, lamb chops, and more.
American Diner – This venue will offer the best in American comfort food, like meatloaf, pot pies, fried chicken, and burgers.
Neptune's – Sailing on the ocean gets guests thinking about fish, and chances are they'll want a place to grab some tasty seafood.  Neptune's is exactly that.  This specialty restaurant will feature a buffet of fresh seafood, both chilled and raw, on ice.  Guests can also enjoy an expertly prepared catch on the venue's a la carte menu as well.
La Cucina – Norwegian's classic Italian restaurant will, of course, be included aboard Norwegian Joy.  The venue will specialize in a mix of contemporary Italian pastas and handmade gnocchi, along with meat and seafood dishes.
Le Bistro – Another classic aboard the cruise line, Le Bistro serves the best French cuisine on the high seas.
The Bake Shop – The perfect place to satisfy your sweet tooth, this boutique bakery will offer baked goods such as cupcakes, macarons, pralines, Japanese mocha sweets, and more.
The Grand Tea Room – This venue will serve high-end loose leaf teas from China, as well as elegant snacks and finger foods.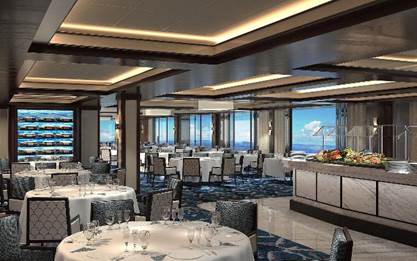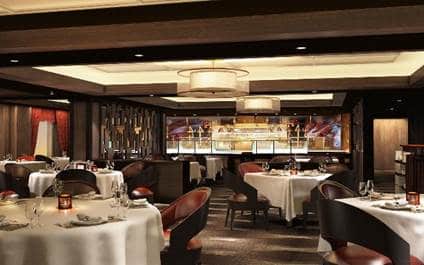 For a Drink…
La Cave – French for "The Cellar," La Cave will serve fine wines and spirits.  Guests can enjoy whiskey and wine at the bar, and can make a retail purchase of anything they like to take home.
Humidor – Humidor is Norwegian Joy's cigar lounge, where guests can relax in style.
Mixx Bar – Mixx Bar is the best place on the ship to get handcrafted cocktails, such as martinis, manhattans, and more.
Prime Meridian – Prime Meridian is the perfect bar for pre or post-dinner drinks.
Spice H20 – The place to go if you want frozen cocktails poolside.
Atrium Bar – The bar in the ship's atrium will serve guests specialty coffees and teas – perfect for a quick grab-and-go if you're headed out for a busy day in the ports, or to sip and relax during a leisurely afternoon.
Norwegian Joy is currently being built in Germany, and will hold 3,850 guests.  Unique amenities for the Chinese market aboard the ship will include the ship-within-a-ship Haven complex, an observation deck with 180 degree views, a two-level racetrack, multi-story waterslides, and an upscale shopping district.  She will begin sailing from Shanghai on June 28, 2017.
Renderings courtesy of Norwegian Cruise Line