Norwegian Escape, soon to be the largest ship in the Norwegian Cruise Line fleet, departed MEYER WERFT in Papenburg, Germany on Friday, September 18 for her approximately 24-hour long conveyance along the Ems River.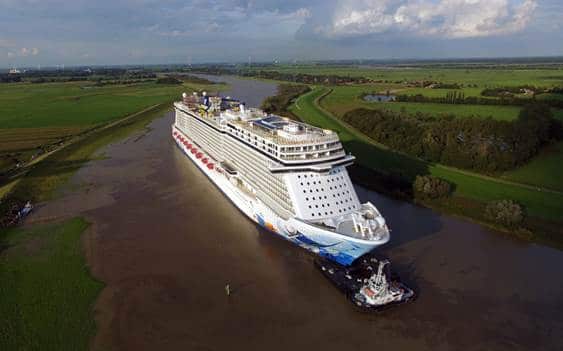 Norwegian Escape's river conveyance marks another key milestone in the ship's highly anticipated delivery. Measuring 1069 feet long and 136 feet wide, the ship is the first in the line's Breakaway Plus class. Three additional ships in the class are on order at Meyer Werft.
What Happens During Conveyance?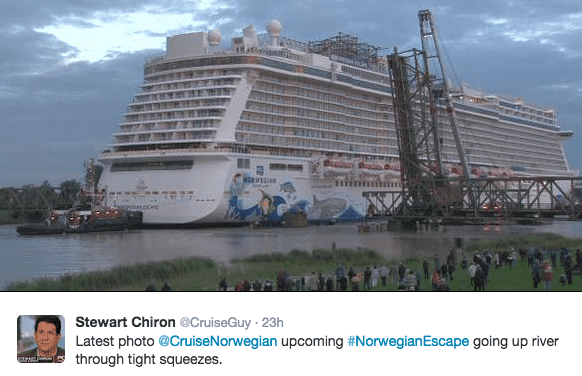 The ship leaves the shipyard through a narrow passage through the ship yard's locks, with only 1.2 meters clearance separating the ship from the "bumpers" that were specially installed along the starboard side of the locks.
After passing through the locks, Norwegian Escape continued along the river, stern first. Due to the strong propulsion in the aft section of the vessel, traveling stern first helps with maneuverability, which is a key component when navigating the vessel through such narrow passages.
Once the ship reaches Eemshaven, she will take on additional provisions and materials to welcome guests in late October, before heading toward the North Sea for sea trials later this month.
About Norwegian Escape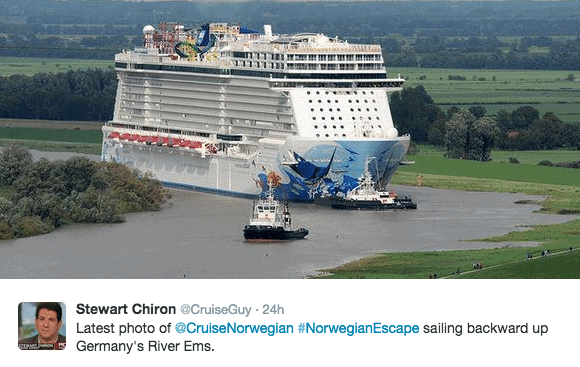 About Norwegian Escape
Norwegian Escape will sail weekly seven-day cruises from her year-round homeport of Miami to the Eastern Caribbean beginning on November 14, 2015.
Source: Norwegian Cruise Line