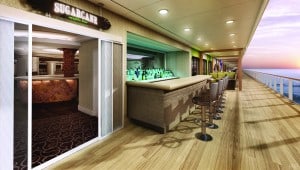 Norwegian Getaway, Norwegian Cruise Line's newest ship set to debut in January, will feature several restaurants and bars that evoke the tropical feel of Miami and South Florida. The Tropicana Room, Flamingo Bar & Grill, Sunset Bar and Sugarcane Bar will be new and unique additions to the largest ship to homeport in Miami year-round.
The Tropicana Room, a complimentary restaurant on Deck 7 aft, is inspired by the glitz and glamour of the Miami Beach night life of the 1940s and 50s. Rich woods, dark purple and silver fabrics and mirrored columns, along with nostalgic photos from Miami Beach in her heyday, will make guests feel as if they are dining in a retro supper club. Featured menu items will represent the flavor of Miami with several Latin-inspired choices, including ceviche (ceviche de camarón), churrasco steak (churrasco con chimichurri) and chicken with yellow rice (arroz con pollo).
The Flamingo Bar & Grill, a complimentary restaurant on Deck 16, will serve food with a Latin flair throughout the day. An extensive menu is offered, including traditional favorites like pulled pork (pierna asada); steak chimichurri (bistec con chimichurri); fried yucca (yuca frita); spinach empanadas (empanadas de espinaca); and guava turnovers (pastelitos de guyaba). Desserts include caramel custard (flan de leche); rice pudding (arroz con leche) and three milks cake (tres leches). A variety of regional drinks and Cuban coffee will be available to complement the meal.
Sugarcane Mojito Bar will serve mojitos and rum-based cocktails from an island-themed setting on Deck 8 with both indoor and outdoor spaces. The bronze bar features banana leaves made of bronze relief which also circle the dual columns. The atmosphere is tropical and relaxed with leather and rattan furniture.
The Sunset Bar on Deck 8 takes its inspiration from Ernest Hemingway's Key West, with design elements that are eclectic, masculine and adventurous.  A large Marlin mounted behind the bar serves as the space's focal point, while leather furniture and animal prints round out the décor in this eclectic lounge. Drinks include a Hemingway-inspired daiquiri, Key Largo's Secret Chest, which includes Bacardi Superior rum infused with mixed herbs, sweet vermouth, Campari and fresh orange and lemon juice, topped with sparkling wine.  Just next to the Sunset Bar is the Humidor Cigar Lounge offering a range of cigars for purchase.
For those who prefer self-service, Norwegian Getaway will feature the wine dispensers first introduced on Norwegian Breakaway. Located in the Garden Café and Studio Lounge, each dispenser offers a selection of four wines. Guests can sample a taste or a full glass. Prices range from $2.75 to $13 per glass, depending on the wine.
Throughout the ship, guests will find murals and artwork inspired by her tropical homeport. On the Waterfront, there will be a collage of the flora, fauna and architecture of Key West and the Southernmost point, along with the signature Miami skyline. On Deck 18, murals will highlight the famous lifeguard houses of Miami Beach and other elements of South Beach.
Subscribe to our Cruise Updates.
Related articles