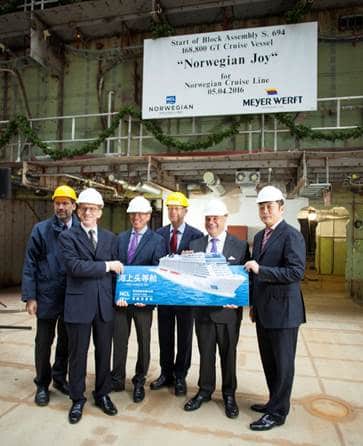 The keel for Norwegian Joy has officially been laid at Meyer Werft shipyard in Germany.  Norwegian Cruise Line held a ceremony Tuesday for the first ship built specifically for Chinese guests, which will arrive summer 2017.
The first of 80 blocks that will make up the vessel was lifted into the building hall, officially starting the ship's construction during the ceremony.  Norwegian Cruise Line Holdings executives were there and laid the traditional "lucky coin" before the first block was placed by a crane.
In a ceremony held at XingTian Temple in Shanghai on March 31, Norwegian Cruise Line Holdings China executives gathered for a traditional prayer and pledge ceremony to Mazu, the Chinese Goddess of the Sea.  They prayed for blessings over the coins, the ship, and the guests who will sail on her.  The same coin was then put under the block during the ceremony.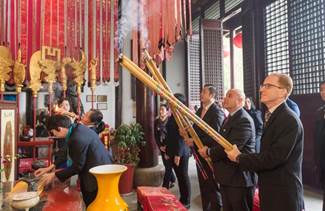 Norwegian Joy is being designed by the NCL team to provide first-class experiences tailored for the Chinese traveler, with amenities that will cater to their unique vacation desires.  Her experiences will include The Haven suite complex, a new Concierge category, and an interactive Galaxy Pavilion with bumper cars, car racing simulators, and more.  The vessel's top decks will feature a race track, laser tag, two waterslides, and an open space for relaxing.  Joy will homeport in Shanghai and Beijing.
Photos courtesy of Norwegian Cruise Line.