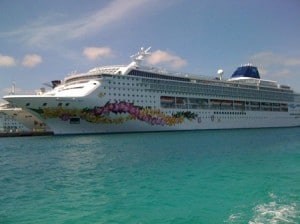 Norwegian Cruise Line is helping leading multichannel retailer HSN celebrate 35 years of innovation by launching a "Cruise a Day Giveaway," on June 30, 2012.  Throughout the month of July, HSN customers will have the opportunity to win a free cruise every day. Winners will receive a cruise for two, plus airfare, to one of Norwegian's exciting cruise destinations, including Hawaii, Alaska, the Caribbean, Bermuda, Europe and the Bahamas. Cruise enthusiasts are invited to enter to win several times a day by visiting the HSN Arcade, a place to shop, watch and play casual online games. Each day's winner will be announced live on HSN at 8 p.m. (EDT).
In addition, HSN shoppers who request a Norwegian Cruise Line brochure on HSN.com will also be eligible to receive a $100 on board credit to use towards their next Norwegian cruise of five days or longer, when they book before August 31, 2012.
HSN also invites Norwegian guests to shop in style via the HSN Travel Store, a specially designed online store that features a specially-selected assortment of cruise wear, accessories and electronics.  This, combined with a series of promotional offers throughout the month of July  for first time HSN customers, makes HSN the perfect shopping destination for Norwegian guests to visit when they are getting ready for their next Norwegian cruise vacation.
For more information about the Norwegian Cruise a Day Giveaway on HSN, visit HSN.com, keyword: cruise.
Subscribe to our Cruise News Updates.
Related articles