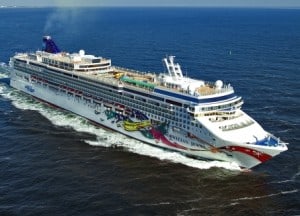 Norwegian Cruise Line reported results for the quarter ended September 30, 2012. 
Operating income increased 8.8% to $174.1 million in the third quarter of 2012 compared to $160.0 million in 2011 with an improvement in operating margin to 25.8% from 24.0%.  Adjusted EBITDA grew 7.2% to $223.6 million from $208.6 million with an increase in Adjusted EBITDA margin to 33.2% from 31.3%.  Net Revenue increased 1.8% to $498.4 million primarily due to an increase in Net Yield.  With increases in both ticket and onboard and other revenue, Net Yield improved 1.0%, or 2.6% on a Constant Currency basis.
Net Cruise Cost per Capacity Day decreased 3.3% in the period, or 2.1% on a Constant Currency basis.  This decrease reflects lower ship operating expenses, timing of repair and maintenance expense, and efficiencies from business improvement initiatives partially offset by a 13.5% increase in the per metric ton cost of fuel to $679. Excluding fuel expense, Net Cruise Cost per Capacity Day decreased 7.7%, or 6.2% on a Constant Currency basis.
"Posting these great results, despite the challenging economic environment in Europe where we had a record deployment, is a testament to the discipline and rigor instilled at Norwegian to continuously improve quarter after quarter," said Kevin Sheehan, the Company's President and Chief Executive Officer.  "Our results reflect strategic pricing programs, benefits from process improvements and other enhancement initiatives which resulted in a nine percent improvement in operating income," continued Sheehan.
Quarter Highlights
During the quarter, the Company announced upcoming enhancements to Pride of America, Norwegian's US-flagged ship which sails exclusive seven-day itineraries in Hawai'i.  Twenty-four new suites and four new studio staterooms will be added, bringing the ship's capacity to approximately 2,200 Berths.  The new suites will include two 566 square foot Owners Suites with the remainder designated as Family Suites ranging in size from 363 to 416 square feet.  All suites include dedicated butler and concierge services and access to private dining for breakfast and lunch.  During her 14-day dry-dock, Pride of America will also be outfitted with Norwegian's signature Brazilian steakhouse, Moderno Churrascaria.  Other enhancements include shipwide Wi-Fi, flat screen televisions in all staterooms and upgrades to the fitness center, gift shop, and photo and art galleries.
Norwegian also added two interactive experiences to Great Stirrup Cay, its private island in the Caribbean.  These include the Stingray Encounter which allows guests to swim with the island's friendly stingrays and the Fate of the Fancy Snorkel Adventure which takes guests on an underwater journey to discover the abandoned wreckage of The Fancy.  For guests preferring to relax on the sandy beach there is the new Light House Beach Bar presented by Patron.
Source: Norwegian
Subscribe to our Cruise News Updates.