Norwegian Cruise Line has unveiled details on the new enhancements coming to their private Bahamian island, Great Stirrup Cay.  Since acquiring the island in 1977, the cruise line has done several updates throughout the years, and they're at it again.  This time, the upgrades are part of the $400 million Norwegian Edge investment program.  Here's a look at what the enhancements will entail.
Island Experiences
Details are what's in focus for Norwegian in their upgrades to the island.  There will be larger scale new restaurants, a new oceanside boardwalk on the beach, and new shaded areas with benches for relaxing.  Adjacent to the beach will be a new half-acre entertainment and activity complex, featuring a stage for live music, games and entertainers, basketball and volleyball courts, ping-pong tables, and a shaded picnic area ideal for families.  The central hub will be a new air-conditioned reception area, where guests will be able to plan their day, reserve activities, rent board games, and use expansive changing rooms.
Visitors seeking more adventure and thrill will be able to utilize a new zip line course, allowing them a bird's eye view of the island and ocean as they soar through the air.  Two parallel zip lines will offer the chance for friends and family to race each other.  Those who are looking to spend more time in the sea can snorkel through the island's new underwater sculpture garden.  Using a waterproof map, guests can discover nautical creatives that tell tales of the deep beneath the ocean.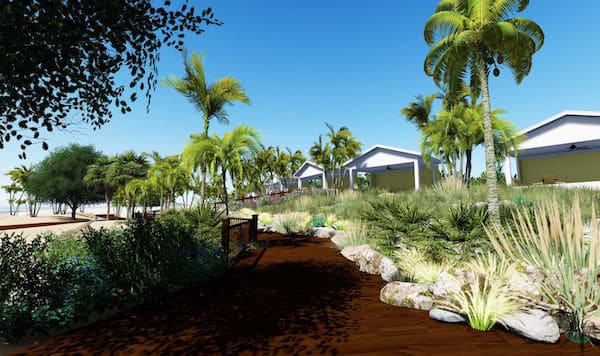 Dining
All of the dining and bar venues across the island will be updated, adding resort-style decking, shaded areas, high-top seating at the bars, and family-style seating as well.  This will at 50 percent more seating capacity at every dining outlet.
A new complimentary taco bar, Abaco Taco, will be put in near the entertainment hub, where guests can make their own tacos.  Great Stirrup Cay's 8,500 square foot buffet will be redesigned, and the deck surrounding it will be expanded.  The center of the island will feature a shaded lounge area with modern furniture and bar service, for guests who want to enjoy paradise with style.
Building on Norwegian's partnership with Margaritaville, the island will also feature an à la carte LandShark Bar & Grill, inspired by the traditional beach bars on the Atlantic Coast.  It will offer a mix of casual dining, flowing drinks, and fun with indoor and outdoor seating and panoramic ocean views.
Lagoon Retreat
Beginning in Summer 2017, guests can experience a private area of the island that features a secluded beach, oceanview restaurant, a spa, family area, and 22 air-conditioned private villas available for reservations.  The lagoon will be available on a complimentary basis to The Haven and Suite guests, along with those who buy an on-island Mandara Spa service.  Additionally, a limited number of passes to the Lagoon will be available or purchase on each sailing.
The Lagoon will feature a modern reception area with floor to ceiling windows, where guests can reserve activities, rent equipment, or relax on the outdoor terrace.  The center of the lagoon will feature a floating swim-up bar.  There will also be a family beach area for kids and parents, with grassy areas, swing sets, and picnic tables.  Those celebration a special occasion or in a large group can reserve a private room for functions of up to 75 guests, with food and beverage service available.  Guests looking to be pampered can indulge in the full range of treatments offered at Mandara Spa, which will have four treatment rooms.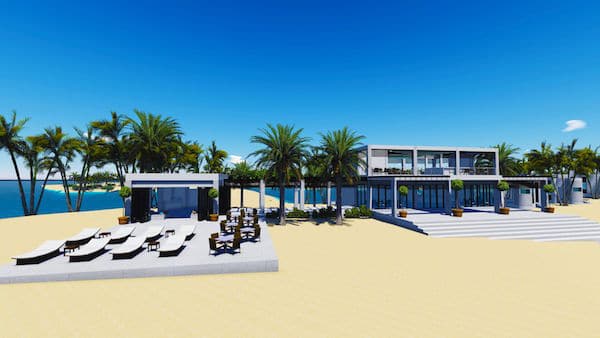 Guests who reserve one of Great Stirrup Cay's luxury beach villas will be taken to their villa in an air-conditioned shuttle.  Studio villas feature an outdoor terrace, bathroom and living/dining area, and can accommodate 2 to 4 people.  One bedrooms accommodate 4 to 6 and feature a bedroom, bathroom, living and dining areas, and an outdoor terrace with hot tub.  The two bedroom villas are the ultimate escape on the island, and can accommodate 10 people, featuring two bedrooms, two bathrooms, living and dining areas, and an outdoor terrace with dining area and hot tub.
Exclusive for lagoon guests will be a two-story Silver Palm restaurant that offers complimentary dining, with indoor and outdoor seating, as well as a rooftop terrace with ocean views.  All luxury beach villas will also include food and beverage service for guests who want to enjoy refreshments in their villa.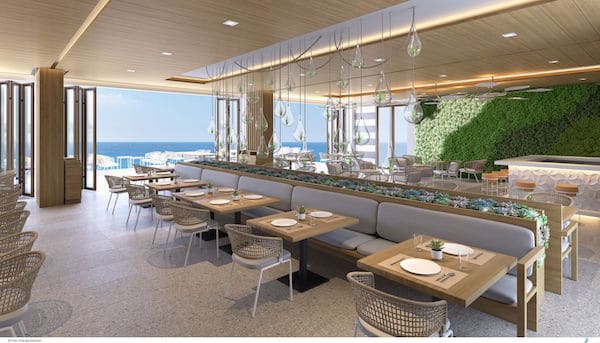 Guests will be able to enjoy the newly updated Great Stirrup Cay on a variety of Caribbean and Bahamas itineraries available in 2017.
renderings: Norwegian Cruise Line