Norwegian Cruise Line's Norwegian Dawn is basically a new ship as of her recent month-long dry dock.  She sailed into her new homeport of Boston this morning, and will sail to Bermuda throughout the summer.  The enhancements included two new restaurants, three new bars and lounges, updated décor, and stateroom makeovers.  All existing dining venues have also been extensively renovated.
Restaurants & Bars
The new restaurants and bars aboard Norwegian Dawn are:
Los Lobos Cantina – A new concept for the Norwegian fleet is the Los Lobos Cantina – an upscale Mexican restaurant that offers a modern take on traditional favorites, like guacamole prepared tableside, al pastor tacos, and hand-crafted margaritas.  The restaurant will open onboard on July 1.
O'Sheehan's Bar & Grill –  Debuting aboard the ship today, O'Sheehan's features sports décor, pub fare, and beers on tap.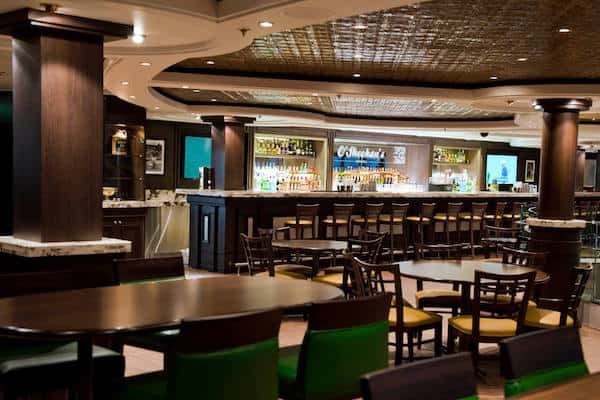 The Cellars – this Michael Mondavi family wine bar is where the Pearly King Pub used to be, and is a modern upscale wine bar that offers tastings and educational events.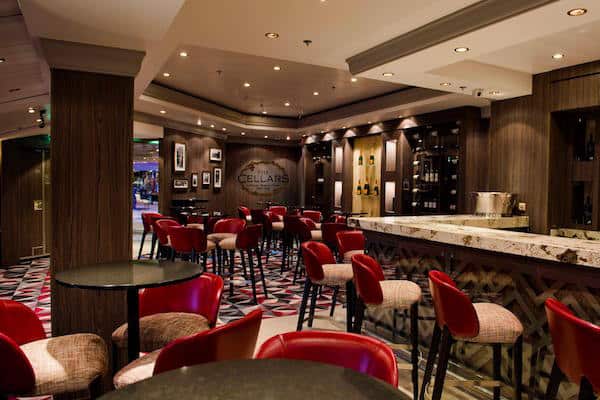 Sugarcane Mojito Bar – this specialty bar will serve over 15 varieties of mojitos in a modern lounge area on deck 13 adjacent to the new location for Moderno Churrascaria.
Bliss Lounge – The old Spinnaker Lounge has been transformed into Bliss Lounge, and offers a larger space for guests to relax, and features refinished bar fronts, new modern accents, furniture, and carpeting.
Renovated existing dining venues and bars are:
The Venetian and Aqua – both of the ship's main dining rooms have been updated with a new look, with enhancements including new carpet, hardwood flooring, artwork, lighting, and more.
Bamboo Asian Restaurant – this Asian restaurant features fresh flooring, new furniture, updated artwork, new lighting, and updated treatments and wall finishes.
Garden Café – the Garden Café has undergone a redesign with a new layout, artwork, lighting, signage, and furniture.
Le Bistro and La Cucina – these two venues have switched locations, and have new carpet, furniture, lighting, and signage.
Moderno Churrascaria – this restaurant lives in a new location on Deck 13 and features new décor, furniture, window treatments, and artwork that will evoke the venue's Brazilian theme.
Teppanyaki – Teppanyaki was doubled in size with two more tables, new flooring and décor, and a divider between Bamboo and Teppanyaki for a more private experience.
Cagney's Steakhouse – Norwegian's signature steakhouse features a more modern look with new furniture, artwork, carpet, lighting, and a modified, more open layout.
Gatsby's Champagne Bar – this bar is debuting brand new furniture, flooring, lighting, artwork, window treatments, and an art-deco chandelier.
The Cigar Bar – features new tile flooring, draperies, furniture, and an enhanced new humidor.
READ MORE: Norwegian Upgrades Private Island
Staterooms
Every stateroom on the ship was touched during the renovation, and received new carpets, bedding, artwork, flat-screen TVs, and furniture.  The dry dock also brought forth a makeover of Dawn's two Garden Villas, which feature a more modern, clean look with new flooring and furniture, ceilings, lighting, bedding, décor, and 42″ TVs.
Public Spaces
Norwegian Dawn's public spaces, elevators, and bathrooms were all refreshed from top to bottom to receive a new contemporary design.
The Atrium features a new modern look with plush carpet, new lighting, chic furniture, and a new lounge seating area.
Tides is a brand new shopping venue for fine jewelry that was added to the Atrium.
Tradewinds is the new name for the ship's existing shopping venue, Ports O'Call, and received a complete makeover with new finishes, lighting, and flooring, as did the ship's Library.
The Photo Gallery received new digital monitors and larger photo display panels, along with sleek furniture and tile flooring.
The Pool Deck was completely overhauled and features new decking and awnings to give the open deck a yacht-like feel.  Additionally, the main pool deck received new showers, upgraded loungers, and updated corridors.  The Bimini Bar was also completely refurbished and features a new design and look.
The Entourage teen space and the video arcade have been updated for kids and teens with built-in entertainment areas, new modern furniture, and updated finishes.
The Dawn Club Casino now features more colorful signage, new artwork, finishes, and a more luxurious VIP area.
The Stardust Theater is where guests will now be able to enjoy shows such as Band on the Run, Showdown, and Elements in a refreshed space.  It features redone seating, new carpets, and new drapery throughout.
The Mandara Spa and Pulse Fitness Center have both been completely redesigned, and the gym features state-of-the-art gym equipment.  The spa received a new layout and look, with sleek décor, updated treatment rooms, and new spaces including a barber shop, nail salon, spa pool, and eight heated loungers.
Norwegian Dawn will sail from Boston to Bermuda each week until October, spending three nights there.  In the winter season, she will sail from New Orleans to the western Caribbean, including a call in Harvest Caye, Belize, beginning in November.
photos: Norwegian Cruise Line