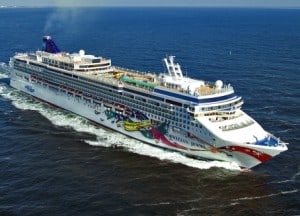 By: Sarah Phillips
It's nothing but smooth sailing for Norwegian Cruise Line after a strong response to its Initial Public Offering on Friday. Priced at $19 when sales started at 10 AM ET, the price moved to almost $26 a share, ending the day at $24.79 – a 31% increase overall.
Norwegian, who has a market value of $3.8 billion after the IPO, is looking to capitalize on the timing of industry growth and building excitement over their new ships. The proceeds from the offering, estimated to be about $447 million, are being used to pay down some of the company's $2.9 billion of debt.
Norwegian Cruise Line currently operates 11 ships, with three ships on order over the next three years, including an option for a fourth ship. Norwegian's newest ship, the 4,000-passenger Norwegian Breakaway, debuts in May 2013.
Subscribe to our Cruise News Updates.
Related articles