Norwegian Cruise Lines announced today that they'll start offering around-the-clock pizza delivery to its 11 ship fleet which is already offered aboard Norwegian Epic.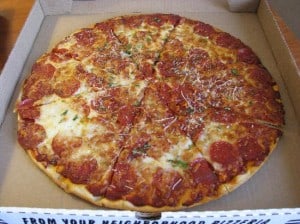 "Our guests have deemed the 24-hour pizza delivery on board Norwegian Epic a popular addition to our innovative Freestyle Dining options," said Michael Flesch, Norwegian's senior vice president of hotel operations. "We wanted to make it easy and convenient for our guests to enjoy a delicious pizza any time on our ships, whether it's during a game of bowling, watching a movie in the Atrium or in the comfort of their stateroom."
Don't be fooled though, the service isn't entirely free. The 16-inch handmade, stone baked pizzas are $5 each and are available with mozzarella cheese and tomato sauce; pepperoni; or vegetarian with roasted peppers, mushrooms, red onions and mozzarella cheese.
Also, an after hours $3.95 surcharge applies with this service (as with any room service item from midnight to 5 am).
Pizza 24/7 has already been rolled out to eight more ships and on its way to Europe for Norwegian Jade and Norwegian Sun, scheduled this month.