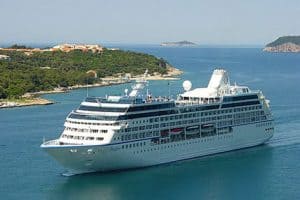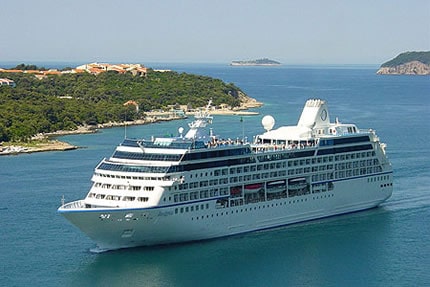 (Miami, October 17, 2011) – New for 2012, Oceania Cruises will offer theme cruises for the first time. The new "Signature Sailings" are comprised of 10 voyages exploring culinary, wine, music and health & wellness themes. Guests will enjoy seminars, hands-on classes, concerts, wine tastings and more. Depending on the voyage, Chef Jacques Pépin, up-and-coming jazz musicians, and noted editors will be special guests.
"We are delighted to introduce theme cruises for 2012," said Bruce J. Himelstein, the line's president. "While groups that share the same interests have regularly sailed with Oceania Cruises in the past, our new 'Signature Sailings' create a special opportunity for guests to experience the cruise in the company of fellow travelers who share their passion for the theme."
Food and Wine Feature Prominently on 2012 Signature Sailings
Jacques Pépin Cruise
Master Chef Jacques Pépin has served as Oceania Cruises' executive culinary director for eight years. On this sailing, he'll be sure to hold court in Jacques – his first namesake restaurant – as well as in the Bon Appétit Culinary Center leading Q&A sessions, cooking demonstrations and signing books. Marina "Tuscan Artistry" – May 12, 2012; 10 days, Barcelona-Rome
Spring Music Fest
A broad range of jazz styles will be featured. Six guest musicians, including four headliners, will perform individual main stage shows in addition to more casual jam sessions. There will also be special dance sets and dance instructors. Nautica "Mediterranean Tapestry" – May 14, 2012; 10 days, Athens-Barcelona
Oceania Club Reunion Cruise – two sailings
Oceania Cruises loyal past passengers are the guests of honor for two special reunion cruises, which include memorable surprises both onboard and ashore. Riviera "Iberian Odyssey" – June 17, 2012; 10 days, Lisbon-Rome and Regatta "Radiant Rhythms" – March 6, 2013; 12 days, Buenos Aires-Rio de Janeiro
Italian Wine Immersion Cruise
Highlights include lectures, tastings and special Wine Bars, where guest experts and special musical performers will create the perfect vibe to explore and experience great wines. Regatta "Italian Interludes" – July 27, 2012; 12 days, Rome-Venice
Vitality & Wellness Cruise – two sailings
In addition to healthy eating and fitness tips, guests will gain insights on enhancing their mental wellness to live life to the fullest. Spinning, yoga and Pilates classes are also offered at the Canyon Ranch SpaClub and gourmet Canyon Ranch spa cuisine is available.
Regatta "Pearls of the Aegean" – August 8, 2012; 10 days, Venice-Athens
Riviera "Accent on Italy" – October 24, 2012; 10 days, Rome-Venice
 Bon Appétit Wine & Food Festival – two sailings
Epicureans rejoice! The experts at Bon Appétit magazine are assembling culinary stars and wine experts or editors for a palate-pleasing voyage. Riviera "Enchanted Grandeur" – October 14, 2012; 10 days, Athens-Rome and Marina "Temples & Palaces" – October 22, 2012; 10 days, Athens-Istanbul
 President's Cruise
Oceania Cruises President Bruce Himelstein and his wife Brigitte will host a 10-day voyage through Southern Europe. Special highlights are in store, both aboard ship and ashore. Nautica "Mediterranean Tapestry" – October 26, 2012; 10 days, Barcelona-Athens.
Source: Oceania Cruises