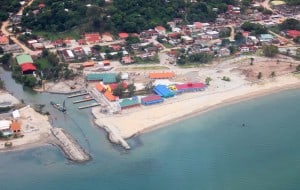 Oceania Cruises' 1,250-passenger Riviera is scheduled to call at Banana Coast in March 2015. Oceania is the third cruise line to commit to calling at the first mainland cruise destination in Honduras.
The 66,000-ton Riviera, which debuted in May 2012, is the largest and newest member of Oceania's fleet. The mid-size luxury vessel features a country club-casual ambiance with an emphasis on gourmet dining, well-appointed accommodations and shipboard enrichment experiences.
"Oceania Cruises guests are experienced and discerning travelers, and we are confident they will find Banana Coast offers sights and experiences available nowhere else in the western Caribbean," said Michael Greve, president of Global Destinations Development. "Our 17th-century Spanish fort and colonial city, rivers and waterfalls, and mountains and mangrove ecosystem provide a diverse cultural and nature experience on the mainland of Central America — a first for most cruisers."
Themed "Where the Rainforest Meets the Sea," the $30 million Banana Coast project is the newest cruise destination in the western Caribbean. Construction on the passenger-reception and shopping center was completed in February and a full slate of shore excursions has been designed. Future plans call for construction of a two-berth, post-Panamax pier.In March 2012 Banana Coast developers unveiled a diverse shore excursion program that includes cultural, historical, soft-adventure and eco-tour offerings.
Last November, luxury operator Silversea Cruises was the first line to commit to calling at Banana Coast, in December 2014. In May, Banana Coast announced the signing of Holland America Line, the first cruise line to schedule a series calls at the port, beginning in November 2014.
Source: NewmanPR
Related articles