Every month we feature a rock star in the travel industry and give you a closer look into their lives. This month we feature journalist, videographer, and photographer Ralph Grizzle of Avid Cruiser.
1. Where does your love of travel come from?
As a kid (in many ways I still am one) I loved looking at the photos in National Geographic magazine. As a teen, I imagined myself being one of the writers for National Geographic, on assignment in some distant place. In my late teens, I pedaled out of the small North Carolina town where I grew up to cross the country by bicycle – a true adventure. That started a lifetime of travel. I've been going now for more than three decades.
2. Is there a reason you stuck with covering cruises?
My first journalism job was for the American Society of Travel Agents. I covered all the boring stuff to begin with – car rentals, travel agency management, etc. Then cruising came into the picture for me, and I got to do my first cruise on Princess. That was followed quickly by Royal Viking Line, on a small ship that now operates for Seabourn. Needless to say, after experiencing two weeks in the Med on a luxury ship, I was quickly hooked. Two decades later and look at me. I am the avid cruiser. I am a bit surprised to find where my journey has taken me.
3. How many miles to do travel per year?
Delta tells me that I travel more than 150,000 qualifying miles with them each year. Part of the reason I fly so much is that I have children in Asheville, North Carolina, and for the past five years, I have had a relationship in the south of Sweden, about an hour from Copenhagen. I probably cross the Atlantic two dozen times a year (each way). Plus, I do fly on other airlines, so like the Clooney-inspired character, I am "Up in the Air."
4. Do you have a favorite destination?
I do like Planet Earth. It is so hard to choose beyond that. Every destination I've visited has some sort of merit. I love my hometown, Asheville (the Hunger Games was shot there in case you didn't know). I just did a bike ride along the coast of Sweden today, and I love that too. I could live almost anywhere. I loved Vietnam when I traveled there with my daughter a couple of years ago. That said, I also love Northern Europe – and Southern Europe – and Central Europe. And of course I have a soft spot in my heart for North America. I could go on!
5. You are known in the travel industry for your writing, photography and videos – does one resonate with you more than the other?
I think video is my future, but my ambition was always to be a writer. I suppose I look at myself as wanting to offer the complete package, digital storytelling through video, photography and writing.
6. You pretty much exclusively cover cruise travel, is there another form of travel you love?
I love cycling.  I enjoy the physical part of it and therapy it provides. It really does allow for escaping the stress of our modern world while actually getting somewhere and passing some pleasing scenery along the way if we are lucky. I'm lucky to be in Copenhagen, where tens of thousands ride bikes everyday. I am out there with them when possible, cycling in this great symphony of bikes. I also enjoy land travel, going to a place and hanging out. Cruises are great, and of course, cruises have many sectors, river cruising, expedition cruising, big ship cruising. There are many experiences in the cruise industry.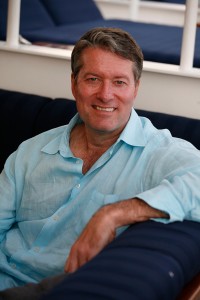 7. When it comes to luxury travel, what cruise line really "brings it?"
There are a few, and I say them so often I can recite their names with ease – Silversea, Seabourn, Crystal, Regent, SeaDream, and for the German-speaking market and English speakers who are willing to give it a go, Hapag-Lloyd's Europa. I'm sure I may have missed a cruise line that offers a luxury experience, but that covers the well-known players. Does one do a better job than the other? Well, it's a competitive sector so they all do a great job. It would be hard to single out one player.
8. How do you feel about travel technology in 2012?
Love it. I enjoy what the mobile devices can do – from reading books to booking travel to updating blogs. Your own app, Cruise Radio Live, offers some great features.

9. Any advice for folks who want to embark on a career in the travel industry?
If you're wanting to do something similar to what I do – and to what you do – the key of course is to create the best content you can create – and hope to find an audience. So for digital story-tellers, the field is wide open. It does take a lot of hard work and dedication, but you can succeed if you give it your best shot.
10.  To quote Barbara Walters, "What's on Ralph Grizzle's bucket list?"
Showing my children, ages 16 and 17, what I have seen, and exploring new places with them. I've never been to Antarctica and would love to see that. Spitzbergen is also on my list, that is if I am guaranteed to see polar bears.
You can check out Ralph's videos, articles and photos on his website www.AvidCruiser.com or Twitter @AvidCruiser.
Subscribe to our Cruise News Updates.