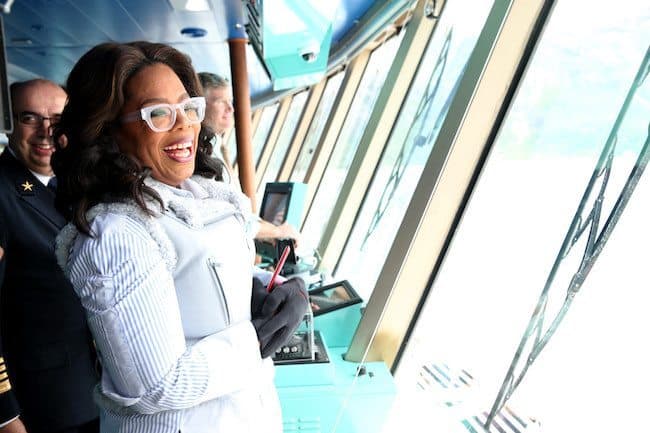 Holland America and O, The Oprah Magazine Share the Adventure Cruise set sail from Seattle to Alaska on July 15, bringing together some of the top visionaries for a week of talks and activities aboard Eurodam.
Throughout the week, guests enjoyed morning meditation and explored eating well with Impatient Foodie founder Elettra Wiedemann.  The magazine's editors shared a peek behind the scenes of the publication, explaining how they bring the pages to fruition.  Bestselling author Elizabeth Strout led a discussion with Editor in Chief Lucy Kaylin and books editor Leigh Haber, and creative director Adam Glassman shared fashion trends and styling tips with guests.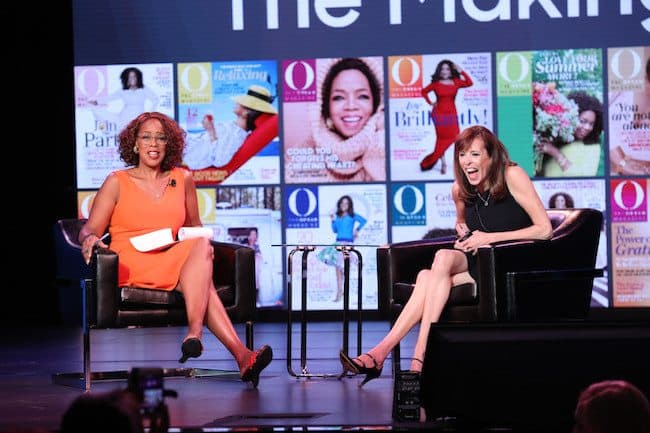 Highlights include:
Oprah on The Mainstage
After viewing Glacier Bay, Oprah took to the ship's Mainstage to host "A Conversation with Oprah."  Speaking at two full-house engagements, Winfrey shared her journey to success and Year of Adventure.  She also expressed desire for the cruise to be the beginning of something meaningful for those onboard. "I want it to be more than just a trip. I want it to be the start of something big that started with this adventure of a lifetime…" At the end, she took audience questions for a lighthearted Q&A.
SuperSoul 100 Members
Fitness guru Angela Davis had guests on their feet during a enriching performance.  The SuperSoul 100 member made emotional connections while promoting change from within for guests.  One key thought included "Stop cheating your future with your past."
SuperSoul 100 member and grammy award-winning singer India.Arie took to The Mainstage for her SongVersation performance that intertwined words with song.  She shared stories about her life and encouraged guests to find peace, even in their everyday lives.
On Deck for a Cause
While sailing to Victoria, BC, breast cancer survivor Jayne Jamison (Senior VP/Publisher and CRO of the magazine) led over 150 walkers on a non-competitive 5k walk on deck to help raise funds and awareness for cancer research.  Holland America, O, The Oprah Magazine, and cruise guests raised over $10,500 for five international cancer organizations.
Work hard, play hard—and give back. Today's "On the Deck for a Cause" walk raised $10K to beat cancer! #OMAGonHAL @HALcruises pic.twitter.com/62871Sn46L

— O The Oprah Magazine (@O_Magazine) July 22, 2017
The July 15th voyage was the first of several special cruises with O, The Oprah Magazine.  Four more voyages with SuperSoul 100 Members (to be announced) will set sail on November 29, 2017 to the southern Caribbean, March 3, 2018 to the Caribbean, August 11, 2018 to Alaska, and October 28, 2018 to the eastern Caribbean.
In addition, over 300 Holland America cruises sailing from North America from August through 2018 will offer a variety of activities developed with the magazine's editors.
Photos: Holland America
SaveSave
SaveSaveSaveSave
SaveSave