Royal Caribbean's newest ship Ovation of the Seas is setting sail from the UK on her 52-day Global Odyssey voyage to China, and she is carrying quite an extensive, and expensive art collection.  Guests aboard the vessel will be able to enjoy the 11,000 piece, $4.5 million dollar collection, inspired by these words of Confucius: "Wherever you go, go with all your heart."
33-Foot Panda and Cub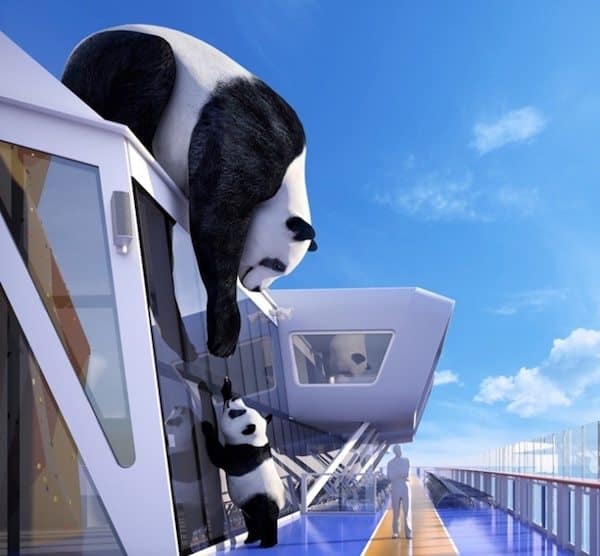 This larger-than-life sculpture aboard Ovation of the Seas is probably the ship's ultimate photo op.  "Mama and Baby," on deck 15, depicts a mother panda and her cub reaching for each other.  The black and white creatures are a symbol of treasure and good luck in Chinese culture, and are meant to bring peace and prosperity to anyone who interacts with them.  Together, they weigh about 6.5 tons.  Mama is around 33 feet high, and baby is about 10.
Smart Art
A smart ship isn't complete without smart art, and Ovation has got it covered.  "Sky Wave" is a piece that is sure to be a favorite, and is the first ever kinetic moving sculpture at sea.  The piece curves and pivots at different points to mirror the flow of both water and wind.  Each petal is made of handcrafted fiberglass, and vary in length.  The art installation was created specifically for Ovation, and is located on deck 5.
Elevator Fun
Quantum-class ships are known for their elevator art that guests love to take pictures with, and Ovation will be no exception.  The ship is bringing the selfie art game to new heights with imagery from Chinese photographer Huainan Li's series, "The World of the Senses."  The series features futuristic faces accented in metallic hues and sporting glasses that reflect whimsical scenes.  The collection of 10 pieces will surprise guests each time they ride an elevator, and wow them as soon as the doors open.
The Red Thread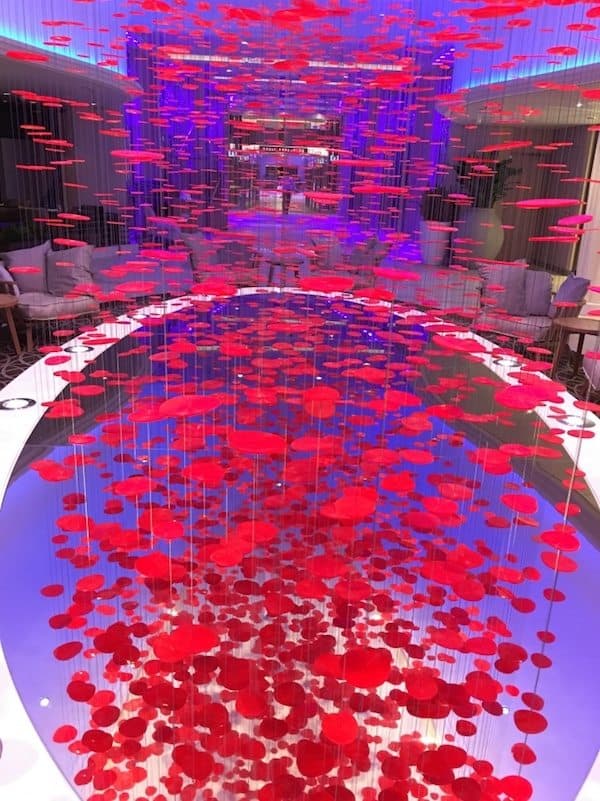 The rotunda is an iconic art area on Quantum-class ships, and connects Jamie's Italian and Vintages.  On Ovation of the Seas, guests passing by can enjoy the work of Bieli Liu who used the ship's natural movement as an inspiration to her "Lure" series of installations.  The sculpture represents an ancient Chinese legend that depicts the red threads that connect Chinese children with their soulmates.  It hangs suspended from the ceiling, and responds to movement and subtle air currents as the red coils turn, and strands of thread become tangled.
All of the art throughout the ship was inspired by the exotic locales that the ship will visit.  Artist Zheng Lu created a sculpture that's located outside of Two70, and was inspired by the artist's father, a Chinese poet.
Heading into the theater is an interactive piece called "Flutter Wall."  The screen shows butterflies on a black canvas that seem to fly away as guests walk closer.  All of these special pieces of art, and many, many more are available for guests' enjoyment aboard Ovation of the Seas.
Photos: Royal Caribbean International