Royal Caribbean has announced the godmother for their newest upcoming ship, Ovation of the Seas.  The world's most technologically advanced cruise ship has been crafted specifically for the Chinese market, and Chinese actress Fan Bingbing has been named her godmother. She is the first Chinese notable to be selected as godmother for an international cruise line, and will officially name the ship at its inaugural ceremony in Tianjin, China on June 24.
Ovation of the Seas is the second Quantum-class ship to be deployed to China, and will sail her inaugural season from Tianjin after a mini season from Hong Kong.  After that, the ship will reposition to Australia for the winter season.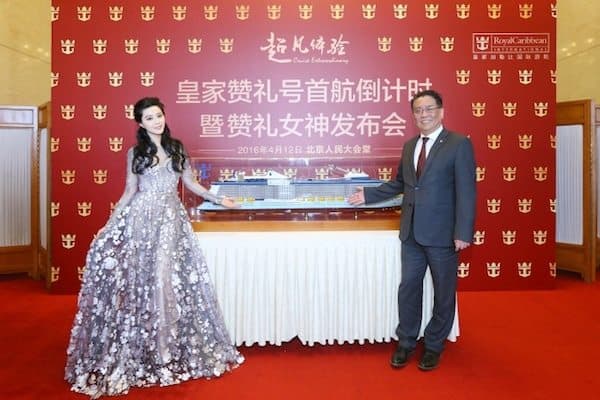 Michael Bayley, President and CEO of Royal Caribbean International said "We are delighted to welcome Fan Bingbing to the Royal Caribbean family…Bingbing is number one on the Forbes China 'Celebrity 100' list and has held that top position for three years making her one of the most influential Chinese stars and in the world."
Fan added, "My father was a singer in the art troupe of the Political Department of the Navy in China.  My childhood was filled with the melodies of the sea and I often dreamed about sailing out to sea for an adventure.  Now, thanks to this invitation from Royal Caribbean, my dreams will come true."
The role of godmother to a ship is a lifetime title for an individual, who figuratively presides over the ship and imparts good luck and divine protection to the vessel and all of the people who sail onboard.
Ovation of the Seas was officially delivered on April 8 and will sail from the UK to China on a 52-day Global Odyssey.  Ovation, together with Quantum, Mariner, Voyager, and Legend of the Seas, will make up the largest fleet of any cruise line sailing in China.
To find out more about this exciting upcoming ship, click here and here.
Photos: Royal Caribbean International