Royal Caribbean has unveiled their entertainment lineup for their first ship built specially for the Chinese market – Ovation of the Seas.  The ship's entertainment will include the brand's standard of combining technology, talent, and special effects with an impressive lineup of stage shows and events.  Unique venues and top-notch performers will come together to deliver some of the best entertainment options available at sea.
Two70 Entertainment Room
An endless stream of unique entertainment will be available in Two70 – a multi-level great room that fuses technology with entertainment seamlessly.  The venue will feature immersive experiences all around the room, and integrate Vistarama, which are floor to ceiling windows that can be set into any scene by combining 18 projectors to create an ambient surface over 100 ft. wide and 20 ft. tall.  Additionally, six agile Roboscreens combined with live performers, music, and special effects will give guests a great show with stunning visuals that can only be found aboard Royal Caribbean's Quantum-class ships.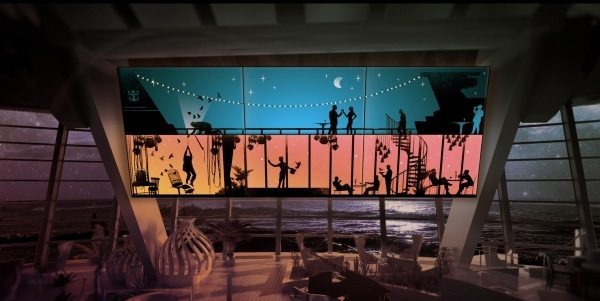 An original production called Spectra's Cabaret will take the stage aboard Ovation.  Already a favorite aboard Anthem of the Seas, it features the Maestro and his Agents of Rhythm as they invite the audience to a multi-dimensional cabaret that transports them to invisible realms.  Each night, guests will be dazzled by the multi-media show filled with sounds, colors, and delightful movement.  The show blends live performance and cinema with contemporary music for a production that introduces guests to a whole different world.
The Main Theater
The Royal Theater will seat 1,300 guests and be home to two new production shows:
The Dream – this production follows the story of a man that's visited by his departed soul mate in a dream.  In his sleep, he confronts some of his most secret fears and takes a journey towards his eventual awakening.  This unique combination of storytelling, soulful performances, and production values will surprise and wow guests over and over again.
Live. Love. Legs. – the same creative team behind "Sequins & Feathers" aboard Quantum has brought together their artists, performances, and beauty for yet another exciting theatrical experience.  Live. Love. Legs. brings aerial acrobatics, modern choreography, and outstanding vocal performances together for a jaw-dropping show that guests won't soon forget.  It will feature lavish costumes, impressive video effects, and a talented group of international artists for a full-on sensory experience for guests aboard Ovation of the Seas.
The entertainment doesn't end on stage with Royal Caribbean.  Ovation will offer guests a lineup of exciting late-night parties and events as well.  There will be live music and themed parties, including ones hosted in Two70 such as Twist & Shout and a Fireworks Party.
The ship will also offer fun entertainment for its youngest guests, with activities and events featuring DreamWorks film characters, like a character breakfast, meet and greets, photo ops, and themed merchandise.  Guests can also watch the latest DreamWorks films in the ship's movie theater or on the TV in their stateroom.
Ovation of the Seas will launch this coming April, when she departs England for China on a 52-day "Global Odyssey" sailing.  She will begin her first homeport season in China in June.
Photos courtesy of Royal Caribbean International