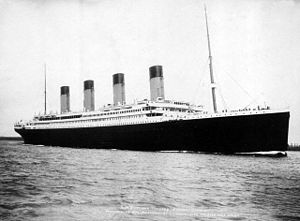 Two cruise ships, two different departure ports, and almost two-thousand people, all to pay tribute to the ship that even God couldn't sink, the RMS Titanic.
That's what one UK based travel seller is doing on the 100th anniversary of the sinking of the Titanic. Miles Morgan, of Miles Morgan Travel chartered two cruise ships for this monumental event, one that will retrace the exact course of the Titanic and the other will pay tribute by visiting the site and cemetery.
The ships being chartered for this sailing are the 694-passenger Azamara Journey and 1,230-passenger Balmoral.
The Azamara Journey will leave New York City on April 10, for an 8-night sailing, exactly the 100th anniversary that Titanic left Southampton bound for NY. After a day at sea the ship will stop in Halifax,Nova Scotia, to visit the Fairview Lawn Cemetery where victims of Titanic are buried.  At 2:20 am, Sunday, April 15, the Azamara Journey will stop at the site where the Titanic sank where a memorial service will be held. The ship will return back to New York. Prices start as $4,900.
The Balmoral will depart Sunday, April 8, from Southampton, England, with a stop in Cobh,Ireland (just like Titanic did). The Balmoral will then spend a few days at sea heading to the site where Titanic sank. On April 15, at 2:20am, a memorial service will be held before the ship heads to Halifax,Canada, visiting the cemetery where the victims are buried before ending in New York. This sailing is sold out.
"The whole voyage will be steeped in Titanic history. The food served will match the sumptuous menus on the original voyage; the entertainment will include music and dancing in the style featured in those glorious times and there will be a chance to hear first hand from historians who have studied the Titanic story – it promises to be a truly memorable cruise," said Mr. Morgan of Miles Morgan Travel.
Additional details for the sailing can be found: https://www.titanicmemorialcruise.co.uk/.
Doug Parker/Cruise Radio